News > Business
Amazon showcases progress of West Plains fulfillment center
Sat., Nov. 3, 2018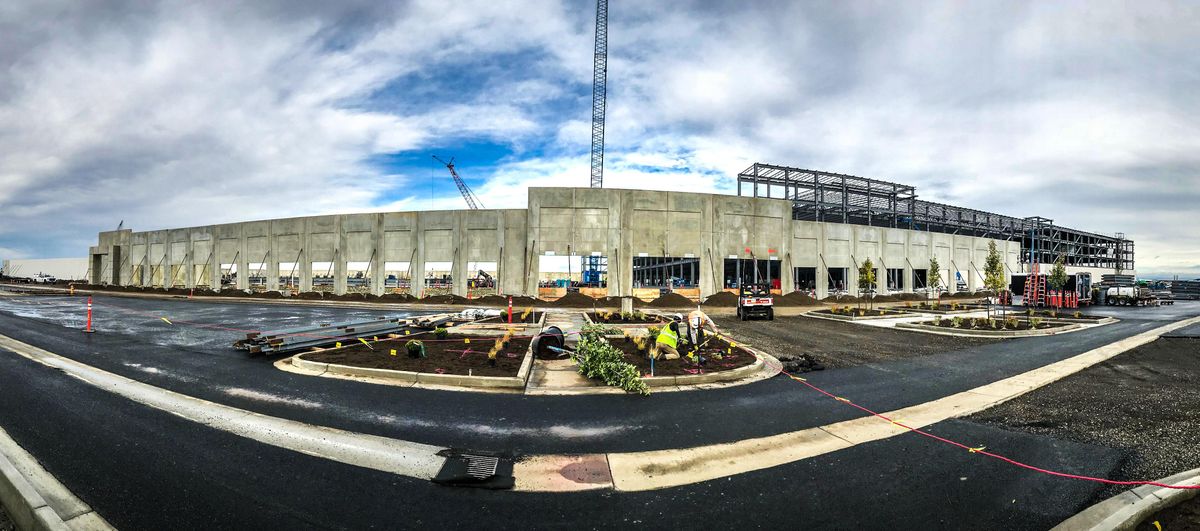 The new 640,000 square-foot Amazon fulfillment center, seen here on Friday, Nov. 2, 2018, is taking shape on the West Plains near Spokane. (Dan Pelle / The Spokesman-Review)
A flurry of activity was underway Friday morning at the new Amazon fulfillment center's West Plains construction site.
Ironworkers stood on the four-story building's steel framework, guiding a beam hoisted by a giant crane into place while local TV crews captured the moment for the evening news.
Trucks hauling gravel crisscrossed the 80-acre parcel at 10010 W. Geiger Boulevard, while landscaping crews planted trees and shrubs in areas of the parking lot.
Within two weeks, people driving by the site on Interstate 90 will see metal panels enclose the upper floors of the 2.5 million-square foot structure, said Anish Talati, Amazon's construction manager.
Company officials provided colorful details about the $181 million fulfillment center during an event Friday attended by local dignitaries.
More than 80,000 cubic yards of concrete will be used during the construction of the fulfillment center. That's enough to fill 34 Olympic-sized swimming pools, Sally Smith, Amazon's director of operations, told the crowd.
About 25,000 tons of steel will be used in the project, roughly equal to the weight of 6,250 African elephants.
When the fulfillment center is completed next fall, it will contain more than 400 miles of electrical wire – enough to stretch from Spokane to Bozeman.
The center will rank among Inland Power and Light's 25 largest commercial customers. A second transformer is being added to a nearby substation to accommodate the project's energy needs.
Robots and forklifts in the fulfillment center will run on rechargeable batteries, contributing to the center's demand for electricity. The building will have more than 9,000 electric light fixtures. It will rely on computerized systems to track orders and shipments from all over the world.
About 300 construction workers – roughly 90 percent of them from local companies – are laboring on the fulfillment center.
"We've got jobs before this building opens," said Smith, referring to the construction activity.
Layton Construction of Salt Lake City is the general contractor. Company officials were at Friday's event, but declined to comment, saying they were still bound by nondisclosure agreements. Local contractors working on site also said they've been told not to talk about the fulfillment center.
Amazon initially was secretive about its plans, filing permit applications under the name "Project Rose." The company publicly revealed its plans in July.
Amazon's Talati confirmed Friday that Oldcastle Infrastructure of Spokane Valley supplied 420 precast concrete panels that enclose the fulfillment center's lower levels. Each concrete panel is about 22 feet high and 13 feet wide.
Equipment from Airway Heights-based Piersol Construction was seen grading the site this past summer, and Garco Construction is a subcontractor. A Coeur d'Alene company, Inland Waterproofing Services, was hired to waterproof the structure's elevator pits.
About 1,500 people will work at the center. Hiring of employees will begin several months before the fulfillment center opens for business, but "we don't know the date yet," said Lauren Lynch, an Amazon spokeswoman. The center's employment is expected to grow over time.
Goods will be shipped to the new fulfillment center by truck and plane. Working in conjunction with the robotic system, employees will fill orders from Amazon customers worldwide.
The Spokane fulfillment center will ship smaller items – ones that fit into bins the size of a microwave, Lynch said. Larger items such as bikes, canoes and furniture are shipped out of a different type of Amazon fulfillment center.
"It's heavy with robotics, and they're still adding 1,500 people to start," said Al French, a Spokane County commissioner.
He's expecting two other companies to announce their intent to locate near the Amazon fulfillment center in early 2019. Together, those two companies could bring another 400 jobs to the West Plains, he said.
That's good news for the area near the Spokane International Airport that's been targeted for growth since the 1990s, French said. Water and sewer lines are already in place. About two miles of Geiger Boulevard will be widened to three lanes and updated to accommodate heavy truck traffic.
"I get excited about all the work the community has invested in this area," French said of the West Plains. "And now we're starting to see the payoff."
During Friday's event, Amazon officials noted the company's minimum wage has risen to $15 per hour. Workers also are eligible for benefits the day they start work and can qualify for a program that prepays 95 percent of tuition for courses related to in-demand, high-wage fields.
That's true whether the workers are interested in getting a commercial license to drive a truck or want to become a radiologist, Smith said.
Amazon presented Spokane Public Schools with a $15,000 check for the district's STEM program, supporting science, technology, engineering and math classes.
Brian Coddington, the district's spokesman, said Spokane Public Schools is grateful for the support and excited about jobs that could allow local residents to get training and advance to career-path opportunities.
Local journalism is essential.
Give directly to The Spokesman-Review's Northwest Passages community forums series -- which helps to offset the costs of several reporter and editor positions at the newspaper -- by using the easy options below. Gifts processed in this system are not tax deductible, but are predominately used to help meet the local financial requirements needed to receive national matching-grant funds.
Subscribe now to get breaking news alerts in your email inbox
Get breaking news delivered to your inbox as it happens.
---