News > Further Review
Alternative funding sources in 5th District congressional race
Mon., Nov. 5, 2018 The totals included in this analysis do not include joint fundraising groups created by both McMorris Rodgers and Brown.
The McMorris Rodgers American Dream Project, a PAC created by the congresswoman, has accepted donations beyond the individual cap limit directly to her campaign.
If a donor, say, attended one of the rallies this fall with either Kellyanne Conway or Vice President Mike Pence, they could make a donation to the American Dream Project PAC if they'd already given the congresswoman $5,400.
Not all of the money raised by the American Dream Project PAC went to the McMorris Rodgers campaign.
The group has raised $3.3 million, and about $700,000 of that went back into the congresswoman's campaign coffers.
Brown has set up her own joint fundraising committee, Flip WA Blue 2018, with fellow Democratic candidates Kim Schrier, who's running against Dino Rossi, and Carolyn Long, who is facing off with Rep. Jaime Herrera Beutler.
So far, the group has raised about $750,000. Of that total, Brown has received about $120,000 for her campaign.
Note: The Spokesman-Review did not include these totals, nor the fundraising for McMorris Rodgers' congressional leadership PAC, in our analysis of campaign contributions because not all of the money raised went directly toward the candidate's re-election efforts.
PACs, super PACs and 'dark money'
Candidates often use the phrase "special interests" interchangeably. It can refer to a number of organizations, all of which have their own reporting requirements and spending limits (or lack thereof) according to federal law. Here's a look at some of the most frequent types of "special interests" and what their limitations are.
Political action committees (PACs): Contributors to political action committees must be disclosed to the Federal Election Commission (FEC), and an individual may give up to $5,000 to a PAC per year. PACs that give to at least five federal candidates in an election cycle may contribute up to $10,000 directly to a candidate during an election.
Super PACs: These organizations are allowed to raise and spend money in unlimited quantities by the FEC, with two important caveats. They may not give money directly to a federal candidate, and all donors must be disclosed to the FEC.
Dark money groups: These tax-exempt organizations may collect and spend unlimited amounts of money, and their donors do not have to be reported to the FEC. The organization must declare that its primary purpose is not political.
PAC type
The Center for Responsive Politics divides PAC contributions from candidates into three categories: business, ideological and labor.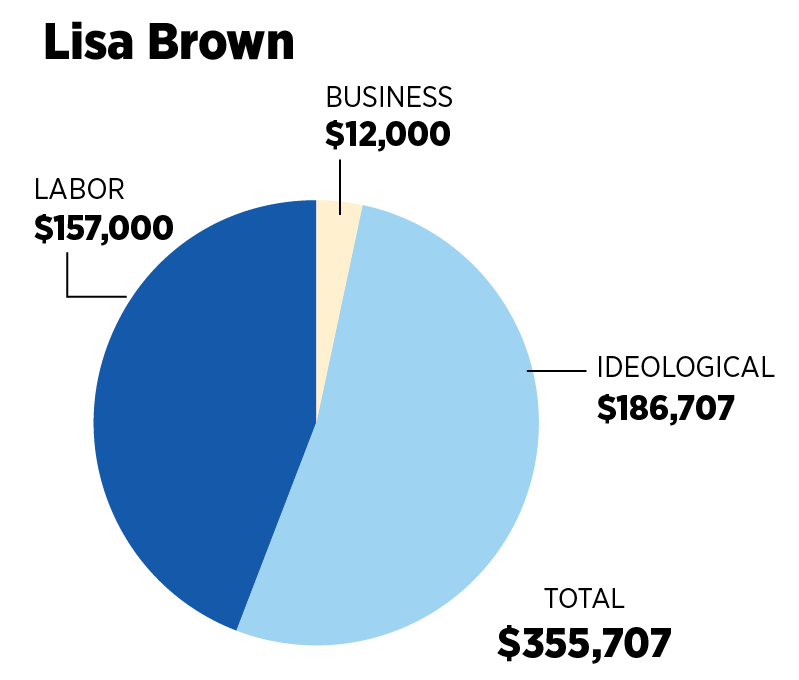 McMorris Rodgers takes most of her PAC money from business interests, according to the organization, while Brown is backed almost evenly by ideological and labor interests. McMorris Rodgers has taken significantly more PAC money than Brown during the election cycle, a common trait shared by incumbents in races for Congress.
Committee donations
Political action committees can, by law, give more money to federal candidates than individuals.
If a PAC has more than 51 contributors and spreads its money out to more than five federal candidates, they can give a candidate up to $10,000 during a complete election cycle.
An individual may only give up to $5,400 on their own.
Local journalism is essential.
Give directly to The Spokesman-Review's Northwest Passages community forums series -- which helps to offset the costs of several reporter and editor positions at the newspaper -- by using the easy options below. Gifts processed in this system are not tax deductible, but are predominately used to help meet the local financial requirements needed to receive national matching-grant funds.
Subscribe now to get breaking news alerts in your email inbox
Get breaking news delivered to your inbox as it happens.
---