News > Spokane
Further Review: A deeper look at the finances behind the Rep. Cathy McMorris Rodgers, Lisa Brown race
Mon., Nov. 5, 2018 Rep. Cathy McMorris Rodgers and challenger Lisa Brown have set fundraising records in the race for Eastern Washington's Congressional seat, a contest that will likely cost greater than $10 million when the dust settles later this month.
That has included frenzied advertisement buys on TV, radio and the internet, fueled in large part by both political action committees and individual donors.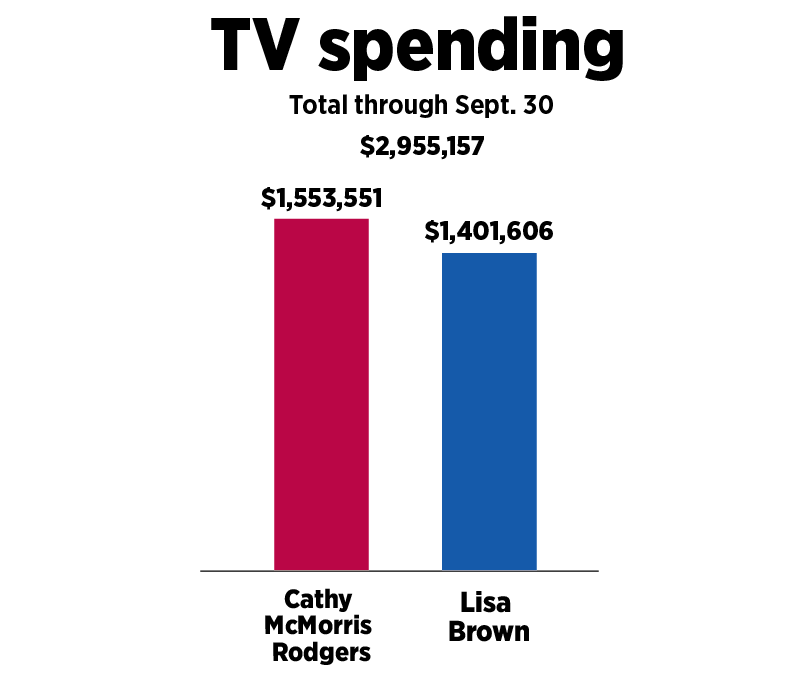 Both campaigns have touted their numbers as evidence of grassroots support, but it's Brown who earned recognition from the New York Times as among those Democrats who are seeing the greatest support from small donors, in part fueled by the online fundraising tool ActBlue.
The Massachusetts-based firm allows donors to make small, recurring contributions to candidates that are then aggregated in financial reports submitted to the Federal Election Commission.
McMorris Rodgers has held major fundraisers in the district this fall, which have brought marquee Republicans Kellyanne Conway and Vice President Mike Pence to Spokane.
As an incumbent, the congresswoman had a massive money lead that Brown has narrowed closer to Election Day.
Both have combined to spend more than $3 million on TV ads alone, not to mention the radio, digital and mailed advertisements that have been hitting airwaves and mailboxes since July.
While the candidates have been spending at a record-breaking pace, the influence of outside money has largely steered clear of Eastern Washington.
Just $200,000 has been reported in Eastern Washington's congressional race as "independent expenditure," spending to influence the election that is not tied to either candidate.
Instead, interest groups have been focused on the competitive races in Western Washington. The contest between Dino Rossi and Kim Schrier alone has attracted more than $20 million in spending by such groups.
That's not to say it hasn't appeared in the district. McMorris Rodgers condemned ads purchased by a group called Equity Forward targeting what that group argued has been a lack of action on immigration issues at the federal level.
And just last week, according to the national news magazine the Hill, a tax-exempt organization funded by the conservative Koch brothers began sending bilingual mailers that praised the congresswoman's work on immigration policies and urged support for McMorris Rodgers.
The Brown campaign condemned the spending as a last-minute desperate ad buy that ignored her record on immigration policies.
Local journalism is essential.
Give directly to The Spokesman-Review's Northwest Passages community forums series -- which helps to offset the costs of several reporter and editor positions at the newspaper -- by using the easy options below. Gifts processed in this system are not tax deductible, but are predominately used to help meet the local financial requirements needed to receive national matching-grant funds.
Subscribe now to get breaking news alerts in your email inbox
Get breaking news delivered to your inbox as it happens.
---