News > Nation
Jury selection starts in 'El Chapo' trial and touches on his interview with Sean Penn
UPDATED: Mon., Nov. 5, 2018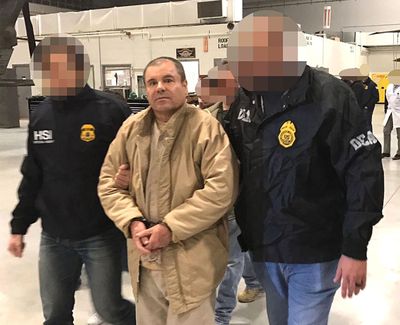 NEW YORK – Mexican drug lord Joaquin "El Chapo" Guzman started his trafficking trial in Brooklyn on Monday with fortress-like security, jittery jurors and multiple mentions of the actor Sean Penn.
It was the first day of jury selection in the long-awaited proceeding, with U.S. District Judge Brian M. Cogan quizzing the first group of prospective panelists.
"I don't know any of your names. The lawyers who are sitting here don't know any of your names. The defendant doesn't know your names," the judge said. "No one here knows who you are … I did this out of respect for your privacy. This is a high-profile trial."
One excused juror admitted she was skittish.
"What scares me is that him and his family will come after jurors and their families," the middle-aged woman said, citing an article she read in a newspaper. "He has two sons and they're conducting his business and they're looking (for jurors)."
A different woman told the judge she learned from news reports that Penn interviewed Guzman while he was a wanted man in 2015.
The woman said she also heard security was so tight leading up to the trial, authorities closed the Brooklyn Bridge when Guzman was transferred from his high-security cell in Manhattan to the federal courthouse.
Cogan asked the woman if she could set aside any curiosity about Penn's meeting with Guzman.
"There might be nothing about Sean Penn in this trial. Will that leave you wondering, 'What's this about Sean Penn?'" the judge asked.
The woman laughed and said it wouldn't be an issue.
The judge said another prospective juror wrote in his questionnaire that he had some opinions about the justice system dating back to Michael Jackson's California criminal case in which the "King of Pop" ultimately beat charges he molested a minor.
The man invoked Jackson's case and also said he had an upcoming tour that might interfere with the trial. The judge asked him to explain what the tour was.
"I'm actually an official Michael Jackson impersonator," the man responded, eliciting some laughter.
Prosecutors said they wanted the man excused for cause because they worried there aren't many Jackson impersonators in the area and the man's anonymity and safety could be at risk.
Guzman, 61, appeared relaxed and engaged during the proceeding Monday, writing notes and whispering with his defense team.
He wore a blue suit, no tie, and a white shirt unbuttoned several notches, disco-style.
He later buttoned the shirt a little higher, apparently in response to people in the courtroom noting the flamboyant fashion statement.
The accused head of Mexico's Sinaloa drug cartel got shot down last week in his last-minute bid to delay the trial.
He has pleaded not guilty to 17 counts of drug trafficking, murder conspiracy, weapons offenses and money laundering.
In his Penn interview published in Rolling Stone magazine, Guzman boasted he was the world's most successful drug baron.
"I supply more heroin, methamphetamine, cocaine and marijuana than anybody else in the world. I have a fleet of submarines, airplanes, trucks and boats," he said, according to Penn.
Guzman, who previously escaped two Mexican prisons, failed to win a trial delay last week by citing a mountain of evidence handed over by prosecutors on Oct. 5.
Though Cogan refused to delay Monday's start, he said opening statements would begin no sooner than Nov. 13, which could give the defense "extra prep days" if a panel is seated quickly.
The process was off to a slow start Monday after Cogan questioned only 45 of the 100 prospective jurors he said he hoped to interview on the first day.
Of the 45 prospective jurors, 17 were stricken for various reasons ranging from medical issues to worries about bias related to news coverage and the Netflix show "Narcos."
One prospective juror, a middle-aged white man whose favorite book is "Twelve Angry Men," said he might have trouble with impartiality due to his favorite sandwich.
"You noted one local deli menu near (your) work has a sandwich called the 'El Chapo,'" Judge Cogan said.
The prospective juror said the "spicy" bagel includes salmon, lox, cream cheese and capers.
"I don't know why it's called the 'El Chapo,' but it's delicious – that's all I gotta say," the man replied.
"The sandwich, does it have any bologna in it?" one of Guzman's lawyer William Purpura asked, jokingly referring to the bologna sandwiches served to federal inmates.
The judge closed jury selection to the public and allowed only five pool reporters to watch from the jury box Monday.
"Defendant is accused of leading a violent criminal organization with an alleged history of threatening and harming witnesses and interfering with the legal process," he wrote in a ruling last week.
"The prospective jurors may be concerned that if they voice an unpopular or biased view, members of the public observing the proceedings – who, unlike the press, are not vetted – will connect that response to their appearance in a way that could put their safety at risk," he wrote.
He said juror questionnaires will not be released to the public and any prospective jurors who aren't comfortable speaking openly in the courtroom would be able to request sidebars.
"In some ways, this case is unprecedented; the amount of public attention has been extraordinary," the judge wrote.
"It suffices to say that there are not many cases whose allegations are dramatized in popular television productions and podcasts before the trial has even begun," he wrote.
In one win for the defense last week, Cogan told prosecutors he likely would bar introduction of their 30-plus murder conspiracies at trial.
"It is way too much," Cogan said. "This is a drug conspiracy case that involves murder. I'm not going to let it become a murder conspiracy case that involves drugs."
Local journalism is essential.
Give directly to The Spokesman-Review's Northwest Passages community forums series -- which helps to offset the costs of several reporter and editor positions at the newspaper -- by using the easy options below. Gifts processed in this system are not tax deductible, but are predominately used to help meet the local financial requirements needed to receive national matching-grant funds.
Subscribe to the Coronavirus newsletter
Get the day's latest Coronavirus news delivered to your inbox by subscribing to our newsletter.
---