A&E > Food
25 years of Luna: Landmark South Hill eatery marks a quarter century
UPDATED: Wed., Nov. 7, 2018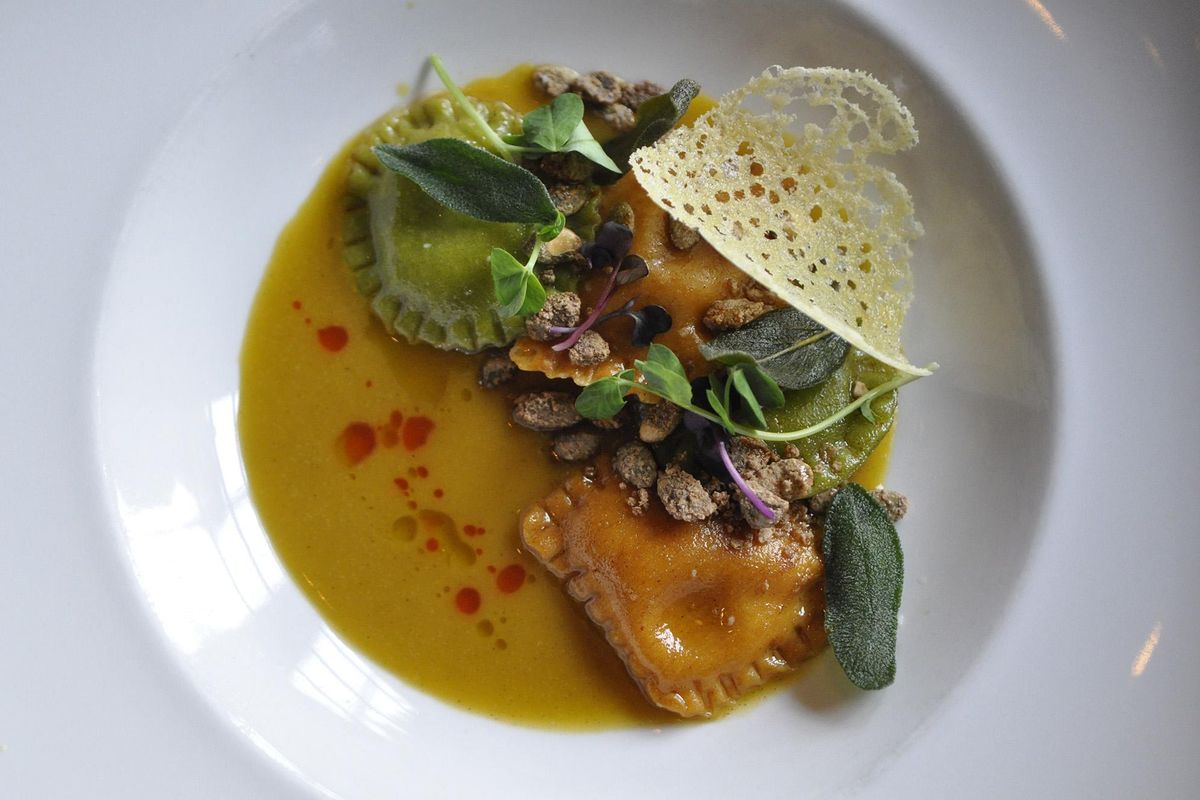 This autumnal ravioli from executive chef Joe Morris of Luna is featured on the restaurant's special 25th anniversary prix fixe menu. (Adriana Janovich / The Spokesman-Review)
Choose from butternut squash bisque or the classic Luna salad – candied walnuts, dried cranberries, Gorgonzola, red onion – to start.
Then, there are three options for the entree, and it's going to be difficult to decide: grilled pork loin with fingerling potatoes, bacon, caramelized onion and Dijon mustard sauce; oven-roasted trout with a crispy risotto cake, lemon-caper buerre blanc and apple-fennel slaw; and butternut squash ravioli with butternut squash and browned butter puree, fried sage and Palouse greens.
Dessert is either apple cobbler made with fruit from the restaurant's own Pink Lady trees and topped with house-made vanilla gelato or a modern take on an old favorite: carrot cake with cream cheese frosting, walnut praline and caramel.
"It's a celebration," said Aaron DeLis, who owns the restaurant with his wife, Hannah. They bought it four years ago from its founders, William and Marcia Bond.
"It's honoring what they started," Hannah DeLis said.
Luna, the longtime neighborhood eatery on Spokane's South Hill, is celebrating its 25th anniversary with a special three-course menu. The "25th Anniversary Throwback Menu" is being offered through Nov. 30 at lunch and dinner for $25.
"The goal is to showcase what we're doing and, at the same time, pay homage to some of the classic Luna dishes," said Luna pastry chef Taylor Siok. This is, he said, "a really good time for people to come in and try Luna if they haven't been in before and, at the same time, it's a way to thank our guests who have been coming for five, 10, 25 years. I think it's a big deal. Luna has been a staple of Spokane for a long time."
Luna opened the day after Thanksgiving 1993 and quickly became known for its fresh, seasonal ingredients and extensive wine list. The cellar boasts some 6,000 bottles, and the wine list – which spans 22 pages – has been recognized by Wine Spectator magazine. Bread is baked in-house. Some herbs and produce are grown on site. Most come from local farmers.
The Bonds had, according to a Spokesman-Review story from 2012, "fallen in love with small eateries in New York, Chicago, Los Angeles and San Francisco and wanted to bring that feel to Spokane's South Hill, a second career for both of them."
They specialized in elegant fare in a welcoming atmosphere. It wasn't unusual for Marcia Bond to greet guests herself. In fact, it was the norm.
"They came in through the door, and she was there and she said, 'I'm so glad to have you here,' " said Mari Clack, a friend of the Bonds who has frequented Luna since it opened. "They educated people, and I think that's what good restaurants do. It requires being there. And William and Marcia, they were here."
The Bonds built Luna into an upsacale restaurant with a loyal following. But Luna also reached beyond its locale, becoming a dining destination at which chefs were encouraged to pursue their passions and explore their creativity.
Jeremy Hansen – of Santé Restaurant and Charcuterie, Inland Pacific Kitchen, Hogwash Whiskey Den, Biscuit Wizard and Common Crumb Artisan Bakery – worked here. So did Anna Vogel, the chef and co-owner of Italia Trattoria. Both are James Beard Award semifinalists. So did – albeit briefly – Kevin Gillespie, who went on to become a finalist during the sixth season of "Top Chef" as well as the "fan favorite" and has since written two cookbooks. He, too, has been in the running for James Beard Awards.
The chefs, Clack said, "were always wonderful."
She loves all of Luna's dishes, the fish dishes in particular – the sea bass, the scallops, the salmon, the tuna tartare, the coconut curry prawns.
"The crab cakes are to die for," she said. "And the cioppino, they know how to do that."
Also of note: the "cheese cookies" – crispy, lacy-looking garnishes of fried Parmesan – that come with the Caesar salad. Clack loves those, too. But her new favorite salad is the roasted beet with arugula, micro greens, beets, candied pistachios, chevre, radish and citrus vinaigrette.
The Bonds sold Luna in early 2015 to Aaron DeLis and his then-fiance, now wife, Hannah.
"It was really big shoes to fill, and it was kind of scary," Hannah DeLis said. "But I think we've come into our own."
And Aaron DeLis agreed. "The Bonds were so ahead of their time back in the day. They laid the groundwork, for sure. They passed the torch. We've only been here four years, but I think we've embraced the role that Luna plays in the community. It's special. You can't duplicate a place like Luna."
This is a place where generations of diners have made memories, the site of bridal and baby showers, birthday, graduation and rehearsal dinners, engagements and weddings, too. In fact, Hannah and Aaron DeLis got married here shortly after they bought it.
They were Luna customers before they became Luna owners.
"We used to come here a lot," Hannah DeLis said. "The staff was always so warm and welcoming. They always made sure we felt special. You feel like a long-lost friend, even if it's your first time in."
Buying Luna, Aaron DeLis said, "was probably the best decision of our lives."
Since they took over in January 2015, they've added a parking lot, updated the garden and removed the old bakery building. Luna still bakes bread – the classic Luna loaf, ciabata, herbed ciabatta, and brioche cinnamon bread – but it's done in-house.
The DeLises also have added a terrace bar with outdoor lounge furniture and a fire feature, painted the interior, replaced kitchen equipment, bought new tables and chairs, added banquette seating in the bar, and refinished the floor.
And they have contracted with CasaCano Farms in Valleyford to grow produce for Luna all year long.
"We're in it for the long haul," Aaron DeLis said. "That's what's important here."
During November, Luna owners and staff are hoping guests treat their monthlong celebration as a homecoming. They're looking forward to seeing longtime customers and former employees, including chefs, folks who maybe haven't been in for a while and the Bonds.
"This was William and Marcia's baby, and they wouldn't just pass their baby onto anybody," said longtime server Mary Sloan.
She started working here in July 2000, and today she's Luna's longest-serving employee. She works three or four nights per week, commuting from Twin Lakes. And she plans to continue as long as she can.
"My parents used to entertain a lot," she said. "I grew up with food as a focus, a way to celebrate with others. I get to do that on a nightly basis. We have a really loyal family here, both guests and employees. People here take their jobs very seriously. It really is a passion. The philosophy is that you treat guests like they're guests in your home.
"You'll have a group of guys come in right off the golf course at one table and a group of kids from prom at the other," she said. "Here, it's elegant but in a comfortable way. People ask, 'Well, what's the dress code?' And it's whatever. We're not pretentious.
"We have so many people like (Mari Clack). You meet their children and their grandchildren. Their children grow up and have children of their own."
Regulars have their preferred tables. They'll get calls when their favorite dishes are on special. Executive chef Joe Morris has even worked with guests to create dishes for them that stay on the menu for months.
Morris started as a dishwasher 10 years ago, "but I never left Luna. There was never anything better in this city to me. It's just as exciting and new as ever before."
He's excited for November's special prix fixe menu, particularly the ravioli. "I wanted to capture fall," he said. "Fall in Spokane is really beautiful, all the color. That's what I wanted to capture in this dish."
He and Sloan encourage customers to come back more than once.
"You have a whole month," Sloan said "You can come back every week. We want you to come and experience the philosophy of Luna, and that is the joy of food. And I will do everything I can to make them comfortable and have a great experience."
Aaron DeLis and sous chef Eric Biondi have an in-house bet going on November's desserts. Aaron DeLis thinks the apple cobbler – one of Luna's most-requested recipes – will be most popular. But Biondi is betting the carrot cake will be the month's top-seller.
He's worked here on and off for a decade, most recently for about three and a half years. "It's like my home,'" he said. "I love working here. I'll go venture out but I always find my way home."
Local journalism is essential.
Give directly to The Spokesman-Review's Northwest Passages community forums series -- which helps to offset the costs of several reporter and editor positions at the newspaper -- by using the easy options below. Gifts processed in this system are not tax deductible, but are predominately used to help meet the local financial requirements needed to receive national matching-grant funds.
Subscribe to the Spokane7 email newsletter
Get the day's top entertainment headlines delivered to your inbox every morning.
---