Rep. Cathy McMorris Rodgers wins eighth term with decisive victory over Democrat Lisa Brown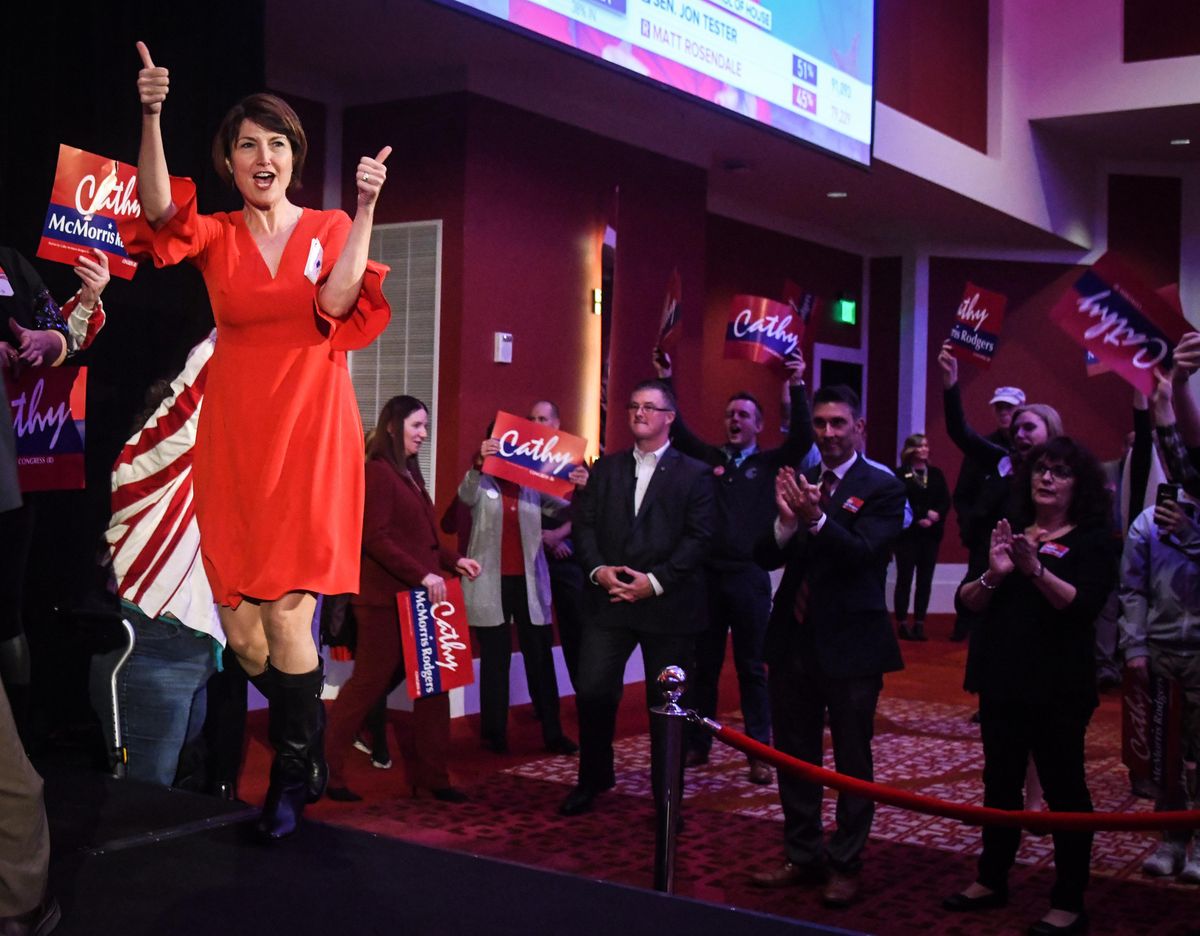 Rep. Cathy McMorris Rodgers withstood a national blue wave for congressional seats on Tuesday, decidedly defeating a strong Democratic opponent even as her party appeared to lose control of the House of Representatives.
Democrat Lisa Brown called McMorris Rodgers to concede the contest just minutes after the first election results were posted after 8 p.m. The congresswoman, up by nearly 12 percentage points when the dust settled Tuesday night, took the stage at the downtown Davenport Grand Hotel to deliver a victory speech that stressed unity.
"This election was tough. It was a battle," McMorris Rodgers told a room of boisterous supporters in what became a victory speech just an hour after polls closed. "I stand before you tonight stronger, better, and more convicted in what we are fighting for."
McMorris Rodgers carried all of Eastern Washington's counties in early returns, a return to the dominance she's seen in general elections after besting Brown by just a few hundred votes the night of the August primary. The race had drawn attention from national political groups and seen unprecedented levels of fundraising, but in Tuesday's count, McMorris Rodgers' tally was only 4 percentage points lower than her victory over Joe Pakootas two years ago. There are still tens of thousands of votes left to count in the district, but Brown took the stage to somewhat bewildered Democratic supporters at the Old Masonic Temple downtown and revealed she'd called to congratulate the congresswoman on her eighth term in Washington, D.C.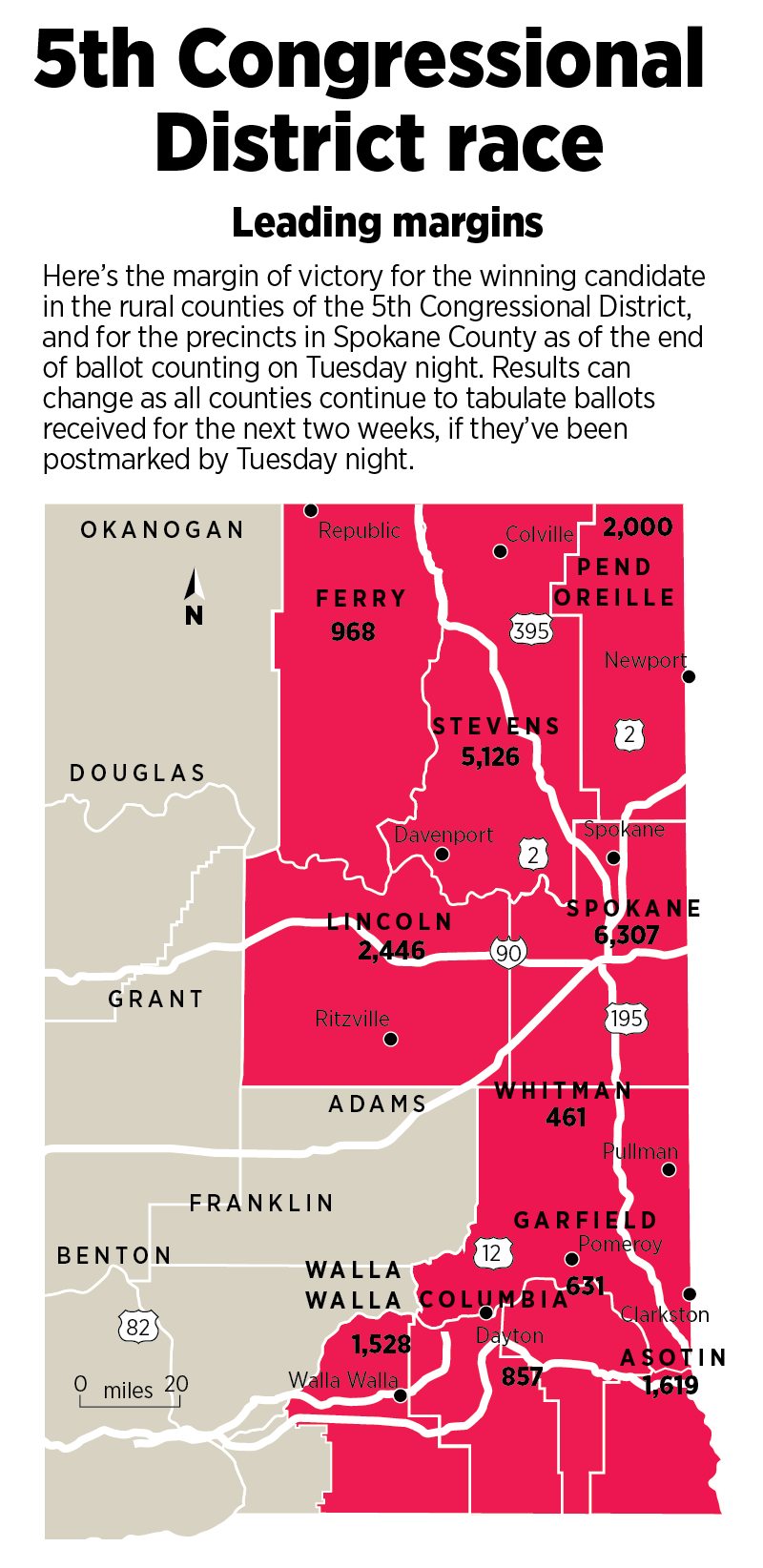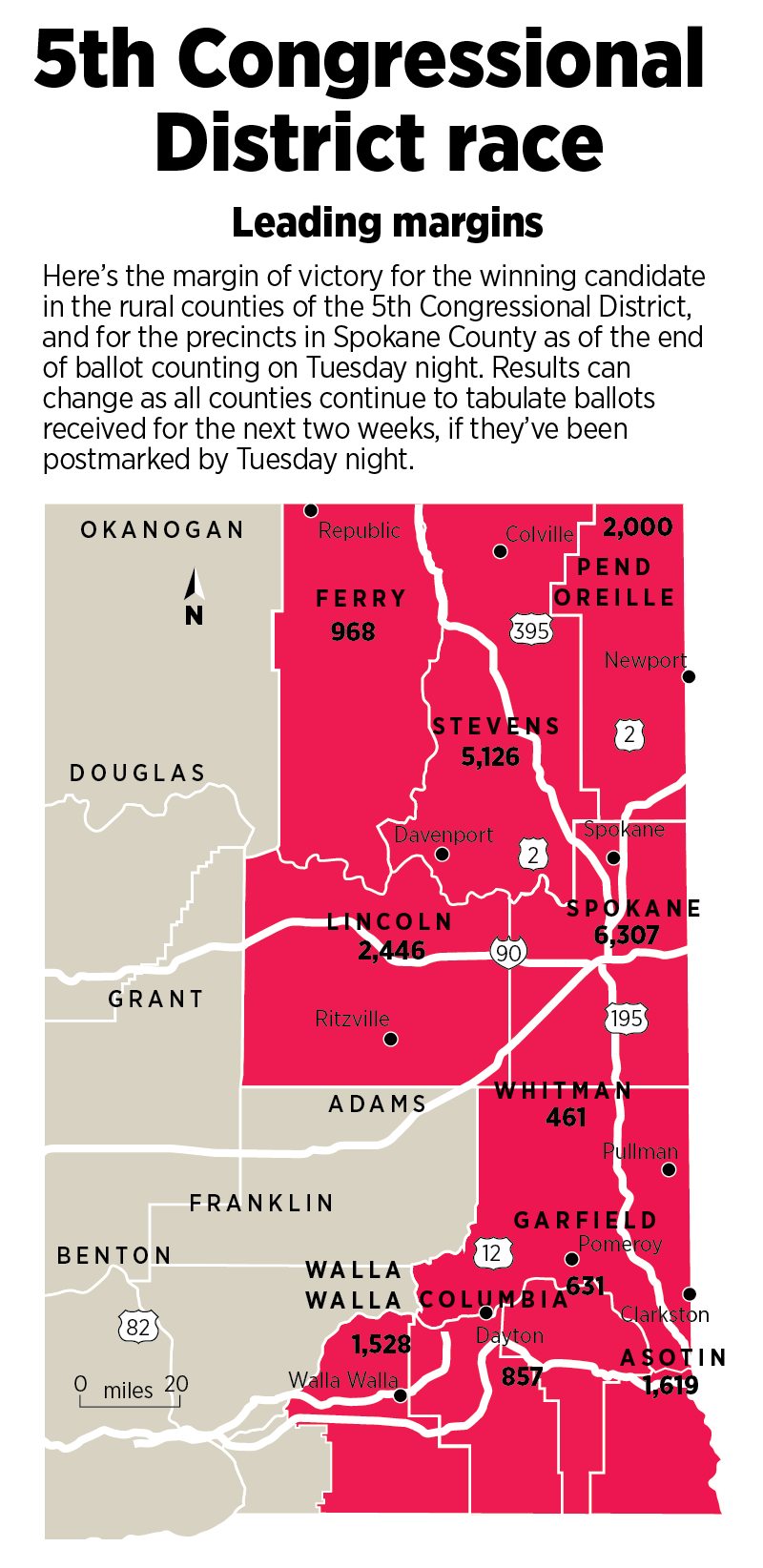 Multi-colored wave
"There aren't enough votes to make up the difference," Brown said, drawing a chorus of "no" from assembled supporters and at least one person booing. "I called Rep. Cathy McMorris Rodgers and congratulated her on her victory. And I want her to join me in thanking her and her family for the sacrifice it is to be a public servant."
Brown addressed the crowd for roughly 20 minutes, then embraced some supporters before leaving the stage without speaking to the media. She congratulated supporters for putting the race on the national radar, but unlike other potential swing seats in Western Washington that remained too close to call Tuesday night, the congresswoman outperformed most polls in the district that had suggested it was a single-digit race.
Some Democrats expressed disbelief as they streamed out of the temple's auditorium following the election returns. Rep. Marcus Riccelli, who previously worked for Brown before his own election, said before returns were tabulated he thought the Democrat's focus on health care would be enough to convince moderate voters to support her over the party of President Donald Trump.
"Incumbency's a powerful thing," Riccelli said. "It was a heck of a race."
McMorris Rodgers vowed to work to restore trust in what will be her eighth term in Congress. She is projected to return to the minority party for the first time since 2010, and for the first time since she ascended to a seat in party leadership.
"I have great relationships. I can work across the aisle," McMorris Rodgers told reporters after her speech. "All the legislation that I've worked on over this year has enjoyed bipartisan support."
McMorris Rodgers and Brown have been fighting an unofficial head-to-head race since August 2017, when the Democrat ended months of rumors and joined the contest against the seven-term congresswoman. McMorris Rodgers had been running a campaign touting the humming economy as a consequence of GOP-backed tax reform that passed last year. She argued, in a spate of TV and digital ads that have been airing since this summer, that her opponent, Brown, was not the moderate Democrat she'd been making herself out to be.
The ads referenced tax increases while Brown was in the state Legislature, tuition hikes for students and decades-old charges about the Democrat's activism and scholarly writing that praised certain left-leaning regimes in Central America and elsewhere.
Brown mounted the most successful fundraising campaign a Democrat has had against McMorris Rodgers, the fourth-ranking Republican in the House of Representatives who has enjoyed decisive campaign cash advantages in every race she's run since 2004. Brown nearly matched McMorris Rodgers' $5 million-plus fundraising haul, and may post a larger cash figure when the final reports are made to the Federal Election Commission later this year.
Brown had borrowed from a playbook dating back to 1994's election that ousted House Speaker Rep. Tom Foley, the last Democrat to hold the seat in Congress. She'd cast McMorris Rodgers as out-of-touch with the district, while attacking her votes on health care and taxes in recent weeks as being bad for the district.
Polls showed McMorris Rodgers with an edge on her Democratic challenger throughout the contest, and national poll watchers indicated McMorris was a favorite, but not a sure thing. Brown's percentage point total was the largest a Democrat has earned in the district since Foley's 1994 defeat, but many Democrats had been steeling themselves for a close race with several days of watching vote tallies stream in to county election offices throughout the district.
Brown was among the Democratic lawmakers President Barack Obama endorsed, and she also received a personalized endorsement from former Vice President Joe Biden. McMorris Rodgers secured the endorsement of Trump and Vice President Mike Pence, who appeared at a fundraiser in Spokane in October.
Staff writer Rebecca White contributed to this story.
---