Sports > Gonzaga basketball
Former Gonzaga Prep star Sam Dowd returns to Spokane in Idaho State's loss to Gonzaga
Nov. 6, 2018 Updated Tue., Nov. 6, 2018 at 10:03 p.m.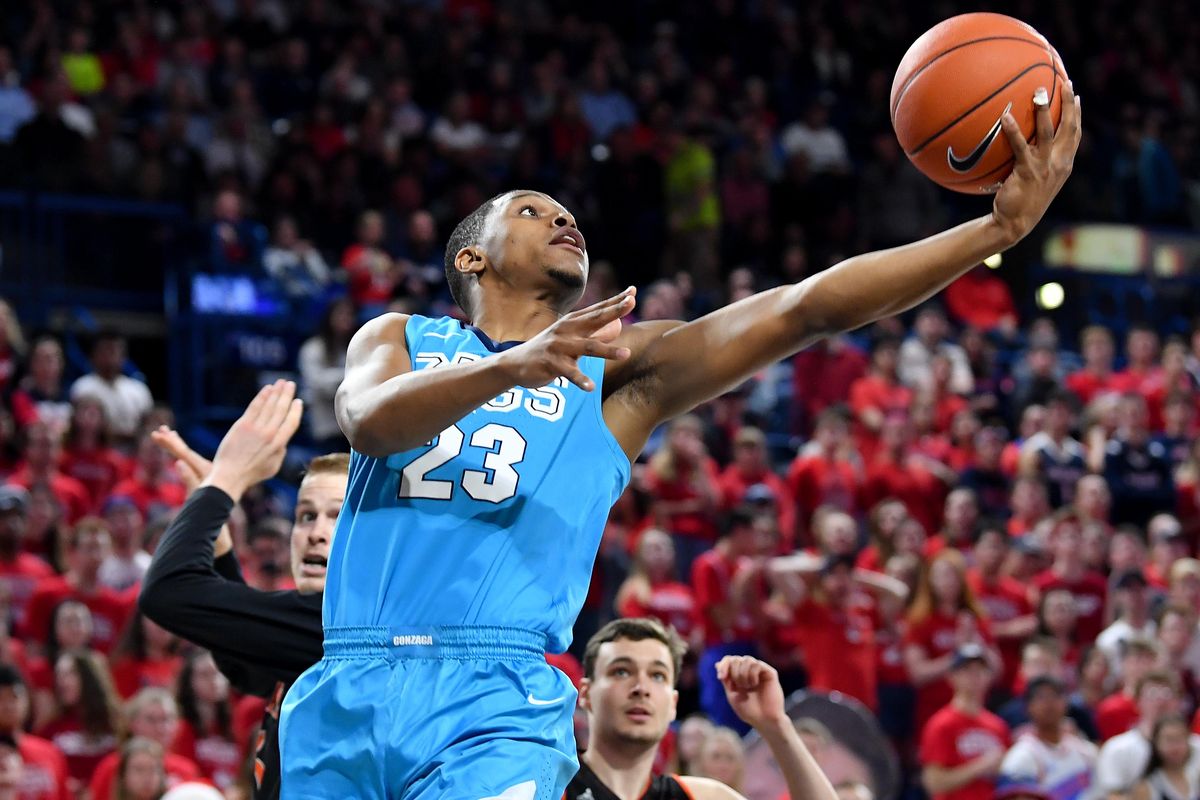 Gonzaga Bulldogs guard Zach Norvell Jr. (23) drives the ball against Idaho State during the first half of a college basketball game on Tuesday, November 6, 2018, at McCarthy Athletic Center in Spokane, Wash. (Tyler Tjomsland / The Spokesman-Review)
Sam Dowd's dream of playing on a Division I basketball team was one of the only constants in a tumultuous upbringing.
There were bouts of homelessness and multiple cases of abandonment. Dowd never felt settled, bouncing all over the Seattle-Tacoma area. By age 13, he was without a home or parents and he needed to grow up in a hurry.
Two years later, Dowd was living in Spokane with fellow AAU player Reed Hopkins and going to Gonzaga Prep.
"(Hopkins) was the door opener," Dowd said. "He is a great friend and I try to call him here and there. His family is great, because without them I don't know where I would be today. They really opened the door to success and Gonzaga Prep, which opened many doors and opportunities."
After family health issues within the Hopkins family threatened Dowd's new-found stability, Matt Miller (another G-Prep student) and his family stepped up and officially adopted the Seattle native.
"They're phenomenal," Dowd said of his family. "Talk about home. Where you going for Thanksgiving? Home. Where you going for Christmas? Home. Just that home part and Matt Miller just out of the kindness of his heart to take care of me. Mom, Dad, I love them and my sister. I just can't wait to come back."
But there was still one big roadblock – or maybe it was a small one – that couldn't be solved by his new family. Dowd stands at a generous 5-foot-8.
Questions about his height have followed him throughout his playing career and every step of the way he has found ways to beat the odds.
"I don't care about that stuff," Dowd said. "Every day is just waking up, and it's just attitude and effort and working hard on the court and off the court. I don't really think about the height and I know everybody talks about it, but I can amaze a lot of people. I don't fear anybody."
G-Prep found out in a hurry after Dowd transferred before his sophomore year that he was a playmaker, ready to shush the doubters.
"It is heart over height," Matt Miller said. "He may not be the biggest guy on the court, but he has one of, if not the biggest hearts. He is going to outwork everyone and that is going to make up for his height."
Dowd found his way into starting lineups on the basketball and football teams, racking up All-Greater Spokane League awards and appearing in a couple of state tournaments.
Dowd initially committed to Carroll College after an impressive high school career, but homesickness brought him to North Idaho College. He averaged 17 points and seven assists over two seasons, leading the Cardinals to a conference championship while grabbing spots on first-team all-league and the honor roll.
After dreaming of D1 basketball for eight years, Idaho State head coach Bill Evans took a flier on the point guard and Dowd took his talents to Pocatello.
One season later, Dowd was standing inside the McCarthey Athletic Center about to face the third-ranked team in the country.
"I think I have always knocked down barriers in my life," Dowd said. "I mean, getting to a D1 level obviously wasn't easy, but I kept pushing, kept fighting and fighting and now I am here. I am playing in the Kennel, in front of my home family and my hometown and it's good to be here. It is amazing for everybody to come out."
In 11 minutes of work, Dowd had two points, two assists and two rebounds. His two boards were two more than Jared Stutzman, his 6-6 teammate who more than doubled Dowd's minutes.
"For me to score at least a bucket for everybody to see I thought was very electrifying," Dowd said.
Dowd had a lot of support from fans – almost 50. They ranged from high school coaches, former college coaches, old high school buddies and, of course, family.
"Glad he was able to come back here his senior year, playing back in Spokane. It is cool. His journey is incredible," Miller said.
Multiple kids ran toward the seats overlooking the tunnel when the final buzzer sounded, and Dowd went up to them first. What advice would he give youths who might face adversity growing up?
"Just keep believing in yourself," Dowd said. "That's what I did. I am a man of God. I went to Catholic school and God has played a big role in my life. I would tell them to keep pushing and never quit. It doesn't matter if it is basketball, music, dance, anything. Just don't quit."
Local journalism is essential.
Give directly to The Spokesman-Review's Northwest Passages community forums series -- which helps to offset the costs of several reporter and editor positions at the newspaper -- by using the easy options below. Gifts processed in this system are not tax deductible, but are predominately used to help meet the local financial requirements needed to receive national matching-grant funds.
Follow along with the Zags
Subscribe to our Gonzaga Basketball newsletter to stay up with the latest news.
---