Sports > Gonzaga basketball
Gonzaga basketball legends share stories behind great teams
Tue., Nov. 6, 2018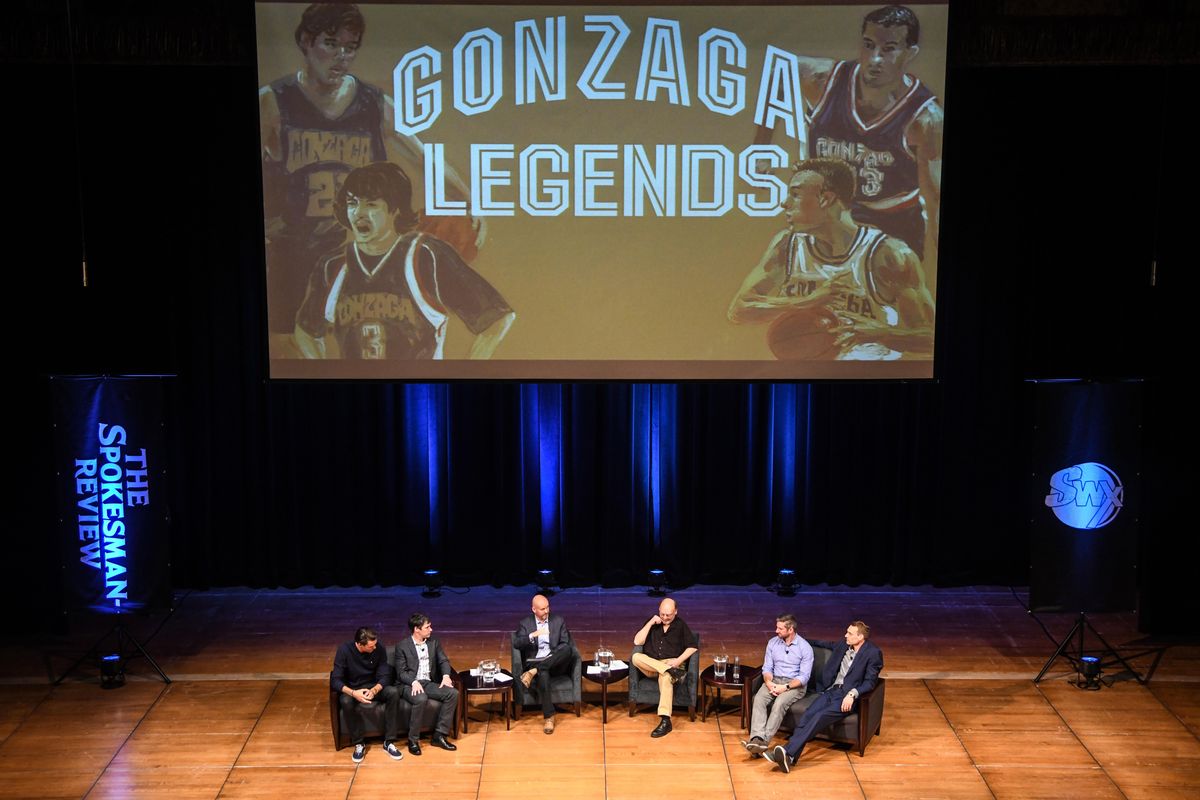 From left Adam Morrison, Dan Dickau, Sam Adams, John Blanchette, Matt Santangelo and Casey Calvary gather for the Gonzaga Legends event, Monday, Nov. 5, 2018. (Dan Pelle / The Spokesman-Review)
A year before he became a Gonzaga basketball player, Matt Santangelo found himself in a rather uncomfortable spot:
On the back of a horse. On his recruiting visit.
He looked around at a fellow recruit, some Bulldogs players and coaches and said, "what in the world are we doing?"
That about summed up the awe being celebrated at The Fox on Monday.
Santangelo told that story amid the many shared by four "Gonzaga Legends" as part of the Spokesman-Review's Northwest Passages series to a filled main floor at the Martin Woldson Theater.
Casey Calvary, Dan Dickau and Adam Morrison joined Santangelo - as well as hosts Sam Adams from SWX Sports and John Blanchette from The Spokesman-Review - to recount stories and to discuss how Gonzaga became an unlikely hub of basketball excellence.
The program started with highlight reels from a time when basketball wasn't yet broadcast in widescreen. Each player was introduced in turn and walked the aisle to the stage.
Santangelo, a Zag from 1996 to 2000, told the story of that recruiting trip - before the horseback riding - when a Gonzaga player took him to the Kennel at midnight.
"If you get me that key to the gym, I'm coming here," the self-proclaimed gym rat said.
Joining the stage next was Calvary ('97-'01), who starred in the Bulldogs' run to the Elite Eight in the 1999 NCAA Tournament. The power forward is known for his game-winning tip-in to beat Florida that year. He's also known for the time he dunked so hard it shattered the glass behind the rim.
"A lot of people share with me where they were when those things happened," he said.
Later, Mead High School graduate Morrison ('03-'06) revealed where he was that tournament game: on his couch.
"I remember watching the tip-in game (with my dad)," Morrison said. "I remember someone called during that game. (Dad) picked up the phone and said 'Gonzaga's on' and slammed the phone down."
As to the shattered backboard, Calvary confirmed that he does have some of the shards. He quipped: "The glass was (later) sold in vials. In the Jesuit tradition, you've gotta be creative in fundraising."
It was one of many lines that received big laughs from the crowd.
The host Adams asked each for a story about coach Mark Few, adding jokingly, "since he's not here to defend himself - and don't worry, it's not being broadcast on TV."
Morrison talked about a 25-point loss at Stanford in which he had played well individually.
"He calls me at half-court and says, 'You think you're like, Larry Bird, don'tcha?'" Morrison said. "He gave me a good 10 minutes to the woodshed. I had tears in my eyes."
Calvary said he saw his former coach at a youth basketball game last week, "and when I saw Few-y, I said, 'oh no, I'm in trouble.' I just can't shake that."
Dickau ('00-'02) recalled how, during his redshirt year, "he didn't even give me a jersey or put me in the picture because I was a redshirt."
But all agreed that behind the coach's style is a man who really cares about his players.
"If you take that with a grain of salt and wipe away the sarcastic pieces to it, you can see what Adam is talking about: He's got everybody's best intention at heart," Dickau said of Few.
From there the discussion topics became a name-a-thon of Gonzaga players: a Mount Rushmore segment asking each panelist to name the best four players in program history; some of their favorite teammates, the influential international players, and the players they like to watch most now.
Each player was quick to demur to the talents of those on stage as well as other program greats, such as Blake Stepp, Ronny Turiaf and Domantas Sabonis.
They ended by reflecting on the team's run two seasons ago to the national title game and then the future. They all said there was something special about the Gonzaga way to run a basketball program.
"We do it the right way, we've done it the right way, and we have the formula," Morrison said. "I'm proud that we're just a small part of this."
Local journalism is essential.
Give directly to The Spokesman-Review's Northwest Passages community forums series -- which helps to offset the costs of several reporter and editor positions at the newspaper -- by using the easy options below. Gifts processed in this system are not tax deductible, but are predominately used to help meet the local financial requirements needed to receive national matching-grant funds.
Follow along with the Zags
Subscribe to our Gonzaga Basketball newsletter to stay up with the latest news.
---