Analysis: Why 'a real race' in Cathy McMorris Rodgers, Lisa Brown contest offered familiar November result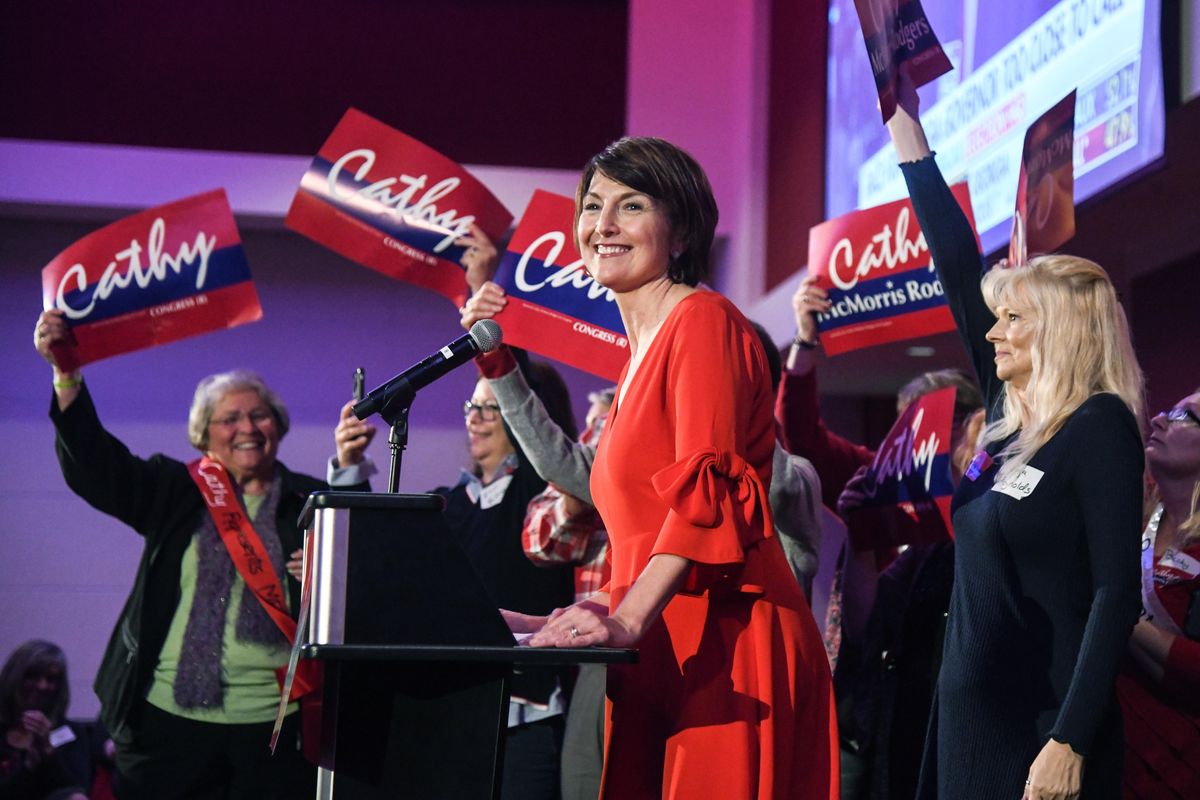 Ten million dollars, hours of television ads, truckloads of mailers and a handful of national news media stories later, Eastern Washington continues to be represented by Rep. Cathy McMorris Rodgers.
The congresswoman's decisive victory over Democrat Lisa Brown, which shrank slightly but remained in the double-digits after Wednesday's ballots were counted throughout the 5th District, stunned many audience members at an Election Night watch party for the Democratic Party. An election that polls suggested was much closer earlier this year and brought both political arms of the House of Representatives to Spokane concluded with an abrupt concession speech that ended with the notes of Tom Petty's "I Won't Back Down."
Republicans and political observers said Wednesday, after the dust settled, that the result shouldn't have come as a surprise.
"Going in, I was confident that Cathy was going to come out ahead, anywhere in the 10-point margin," said Sheriff Ozzie Knezovich. "That's pretty much where it ended up."
McMorris Rodgers had a roughly 22,000-vote lead in the race Wednesday, good enough for a 10.8-percentage point lead. The final results will be certified Nov. 27.
The GOP was quick to point out after the August primary, in which McMorris Rodgers posted a four-point victory over Brown, that there were three other conservative candidates on the ballot that combined for an additional 5 percent of the electorate. Add those totals to the congresswoman's column, they argued, and the race was never as close as Democrats had hoped.
"Those votes were generally all going to come home," Knezovich said.
Still, Democrats in recent weeks had been pushing voter registration on college campuses in an effort to inject new ballots into the contest. The problem, said Ed Wood, chairman of the Spokane County Democratic Party, was that those efforts were met with an equally strong get-out-the-vote push from the opposition.
"They turned out more of their people than we did," Wood said.
Brown had been the presumptive Democratic candidate for months, even before that primary showing. On paper, she seemed the perfect candidate to run against McMorris Rodgers, a long-serving incumbent with a lengthy legislative record that Brown and her supporters could pick apart, said Cornell Clayton, director of the Thomas S. Foley Institute of Public Policy at Washington State University.
"I was sort of surprised, but not too surprised. I think Lisa didn't run the kind of campaign she needed to beat Cathy," Clayton said of Tuesday's results. "I think she needed to go after Cathy's record more."
Wood said it was "just a matter of us getting our message out."
"I firmly believe we are on the right side of the message. I think we're on the right side of the issues," Wood said. The campaign should have emphasized McMorris Rodgers' votes against a health care law benefiting many in the district more frequently and sooner in the campaign, he said.
While Democrats were engaging in some Wednesday morning quarterbacking, the Republicans saw the fruits of labor that began in earnest after the relative squeaker in the primary, said Robin Ball, chairwoman of the Spokane County Republican Party.
"The enthusiasm and the momentum that Lisa's campaign brought to the election process in the primary, they did a spectacular job of turning out voters in the primary," Ball said. "We had more room to move."
After Tuesday night's count, McMorris Rodgers already had amassed a greater vote total – more than 103,000 – than she did during the entirety of the August blanket primary, while Brown's count of 81,000 votes in the district was less than the 92,000 she ended up with three months ago. There's still plenty of votes to count in the contest that drew ballot return totals exceeding 50 percent across almost all of the counties in play, including historic early vote count in Spokane County that outpaced recent presidential contests.
Turnout that more closely reflects a presidential race also creates results for the political parties that more closely resemble the district's preference for that office, especially in a highly polarized political climate, said H. Stuart Elway, a longtime pollster with Seattle-based Elway Research Inc.
"It sort of reverted to the mean, after all was said and done," Elway said. "You've got billions of dollars spent, and tens of thousands of words printed on this, and we're having the same conversation that we could have had last spring."
President Donald Trump took the 5th District by 13 percentage points in 2016, closely mirroring McMorris Rodgers' margin of victory over Brown.
"We've become so tribal that you can predict things just by party identification," Elway said.
It would have taken a bona fide "blue wave" to splinter the district's red foundation, Elway said, and "that didn't happen."
Elway's poll for The Spokesman-Review and other media outlets conducted in April showed a six percentage point race, what he called "ancient history" in a contest that saw digital and broadcast advertising really starting to kick into gear in early summer.
"I think there was a real early Democrat surge, and then the Republicans fought back," Elway said. "I think the trigger for the later Republican surge was the (Brett) Kavanaugh hearings."
Several McMorris Rodgers supporters interviewed last week mentioned watching the hearings for the embattled Supreme Court justice and being spurred by Democratic calls for investigations that slowed the nomination process. Knezovich called the issue "one of the main factors that really energized the Republican base" after a somewhat sleepy primary.
"I think everybody missed the fact that, you know, the Republican side, the Cathy side wasn't really energized, they didn't view that as a threat," Knezovich said. "The primary changed that dynamic."
If those primary night results, which initially showed Brown trailing by just a few hundred votes, woke up Republican voters, they exacerbated what Tom Keefe called "tough real estate" for Democrats to wrangle control of. Keefe would know. He was the Democratic nominee for the seat against Republican George Nethercutt in 2000 and was the target in attack ads from outside groups.
"My first reaction was, as it has been in previous elections, that it was a reminder of what an incredibly skillful politician Tom Foley was," Keefe said. "It's a complicated piece of geography that requires a special set of talents to hang on to."
Keefe supported Brown, even though he'd also been a key backer in the 2011 campaign of Mayor David Condon, a former staffer of McMorris Rodgers. He said the good news of the night for Democrats was that Republicans had been relegated to minority party status, and wouldn't have much control over policy in the lower chamber.
He also said Brown had weaknesses that kept her from tapping into at least one of the themes of what he saw in the 2018 midterms – a referendum on politics as usual. Keefe praised a McMorris Rodgers ad that featured multiple people questioning the motivation for Brown's record of voting for tax increases in the state Legislature.
"It's featuring the very demographic that you're hoping to tap into, as an agent of change," Keefe said.
Clayton, the WSU professor, agreed.
"You need a younger, not necessarily more progressive, but a more combative, younger Democrat to take on McMorris Rodgers if you want to have a serious chance," he said.
Still, Democrats said they weren't disheartened by the result, despite Brown's high profile and fundraising might that matched (and may have even exceeded) that of McMorris Rodgers.
"I went to the Democrats' party last night and the thing that really struck me was how many people were there that I have never met," Keefe said. "Politics is a process, it's not an event. I believe out there, there's a tide that will come back again."
Ball said that if that happens, it won't catch her party unaware.
"It was really a contest until last night. We never felt like it wasn't a contest," Ball said. "I think the work that we put in paid off for us."
---