News > Spokane
Boatload of memories: Sea service members recall working in Antarctica, Mediterranean Sea during key moments in U.S. military history
Thu., Nov. 8, 2018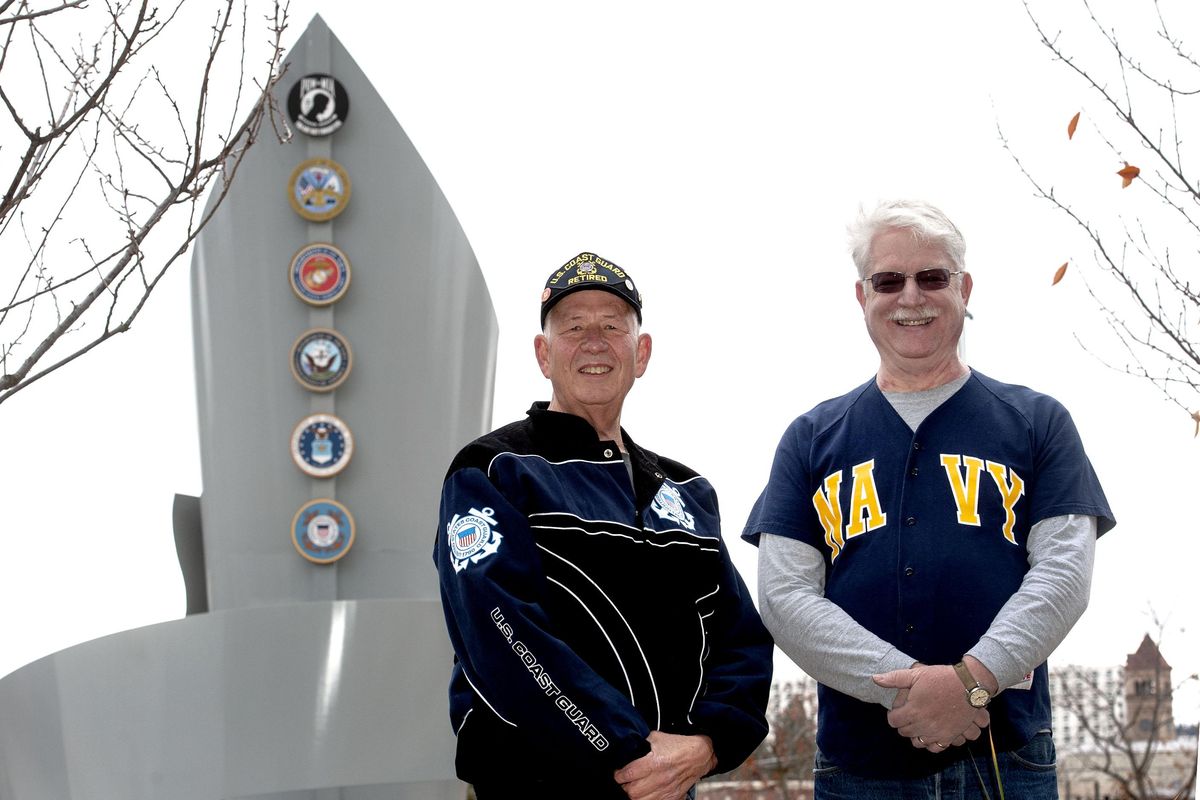 James Grisham, right, served on the USS Constellation in the Beirut harbor in 1982, before the bombing. Dennis McCully, left, served in the Coast Guard, including two tours of duty on the USCGC Polar Star at McMurdo in Antarctica. The two were photographed at Veterans Memorial at the Spokane Arena in Spokane on Tuesday, Nov. 6, 2018. (Kathy Plonka / The Spokesman-Review)
Spokane has always had a strong veteran presence, served by a variety of clubs and fraternal organizations. While a few fraternal organizations are well-known, most operate in relative obscurity.
Spokane area sea service veterans James Grisham, Michelle Davis and Dennis McCully are members of the Fleet Reserve Association. Chartered in 1924, the association serves enlisted veterans of the U. S. Navy, Coast Guard and Marines.
"It's a fraternal organization for sailors," said Grisham.
Members Grisham, Davis and McCully served the nation in a variety of roles, and occasionally as part of key moments in U.S. military history.
Grisham, who retired as a senior chief petty officer in the Naval Reserve, served tours on the destroyer USS Du Pont and the aircraft carrier USS Constellation. Davis, a retired Navy lieutenant, began her career as a Marine Corps radio operator before switching to nursing and earning her degree. McCully, a retired Coast Guard chief warrant officer, served on missions from pole to pole.
Grisham recalls an unusual obstacle when the Du Pont arrived off the coast of Beirut to provide gunfire support for Israel during the 1982 Lebanon War.
"The harbor was full of garbage," said Grisham.
The garbage patch extended several miles out to sea, making it difficult for watch standers to pick out live contacts. It gave radar operators fits.
"If you were out to sea, where there wasn't any garbage, the sea just appeared black on the screen. But in the Beirut harbor there were all these little speckles that would appear," Grisham said.
In the late 1970s, Davis served as a Military Auxiliary Radio System operator at the Marine Corps Air Base Iwakuni, Japan.
"This was before satellite telecommunications," Davis said. "You can get online and Skype with people from Afghanistan now, but in the old days it wasn't like that."
Working with a network of licensed ham radio operators, MARS operators were the Radar O'Reillys of the Pacific Rim.
"Our (military issue) radios were pieces of crap; they wouldn't go all the way across the Pacific … so we used ham radio equipment," Davis said.
Each operator had a unique frequency, like a phone number, so Davis knew where to look on the dial. Most of the operators were veterans who understood the system, Davis said.
Davis often routed traffic through a civilian operator in the Hawaiian Islands. "We chatted quite a bit," she said. "He called me Leilani (Hawaiian for heavenly flower)."
MARS provided a variety of services, including Blue Cross connections to Navy ships, written MARS-grams for overseas personnel and emergency communications during the area's frequent typhoons.
"We would sit on 24-hour watch," Davis said. "Northern Japan couldn't talk to Okinawa, so I would be the intermediary."
Davis' husband, Marine Cpl. Allen Davis, served on aircraft carrier USS Kitty Hawk in the Arabian Sea during the Iran hostage crisis.
"A lot of the guys didn't like the sea, but I loved it," he said. "I'd go off by myself and find a place to look down, and watch the ocean going by."
McCully spent two tours in Antarctica on the icebreaker USCGC Polar Sea, trying not to stare at another form of water. "Our sunglasses were very tinted, and had blinders on the sides," he said. "It's really easy to get snow blindness or burn your eyes."
Shortly after the new year, the Polar Sea would cut a path through glacial ice to McMurdo Station, a U.S. scientific installation on Ross Island.
"We were the navigational freeway," McCully said. "The winds off the continent usually will take the broken ice and push it out to sea, leaving the sea lanes open for the freighters and the tankers to get in."
Crew members had to take steps to protect themselves in the frigid, chapped conditions. "We used more sun tan lotion in Antarctica than we did in the tropics," McCully said. "And it was so dry that we continuously had trouble putting enough moisture into the ship to keep people from getting nosebleeds."
Emperor penguins were frequent visitors, often approaching the ship. "They were as curious about us as we were of them," McCully said.
McMurdo's population approached 5,000 during the height of summer. But by the end of March, when the Polar Sea headed north, McMurdo was a ghost town. "There were maybe about 20-30 people on the continent over the winter, just to keep the pipes from freezing," McCully said. "When we left, we were the last ship out of town."
The Branch 38 of the Fleet Reserve Association, which serves the Inland Northwest, holds monthly lunches to discuss new business and inform members of changes in veterans affairs.
"The lunches are social events," Grisham said. "But we get important information out to the members, too."
One significant recent policy change allows noncareer veterans to shop online at military exchanges.
"It doesn't give them access to go out to the Fairchild exchange in person, but they can shop online," Grisham said.
Each year there was a 5K race at McMurdo Station. "Some people were dedicated to running it, but most of us wore boots and parkas," McCully said. "And we'd stop at the club a few times on the way around."
Pace was an afterthought. "The rule was that you had to finish before dark," McCully said. "Dark was about four weeks away."
Local journalism is essential.
Give directly to The Spokesman-Review's Northwest Passages community forums series -- which helps to offset the costs of several reporter and editor positions at the newspaper -- by using the easy options below. Gifts processed in this system are not tax deductible, but are predominately used to help meet the local financial requirements needed to receive national matching-grant funds.
Subscribe now to get breaking news alerts in your email inbox
Get breaking news delivered to your inbox as it happens.
---