News > Health
A vaccine for you, and your pooch, too
Nov. 9, 2018 Updated Tue., Nov. 13, 2018 at 3:59 p.m.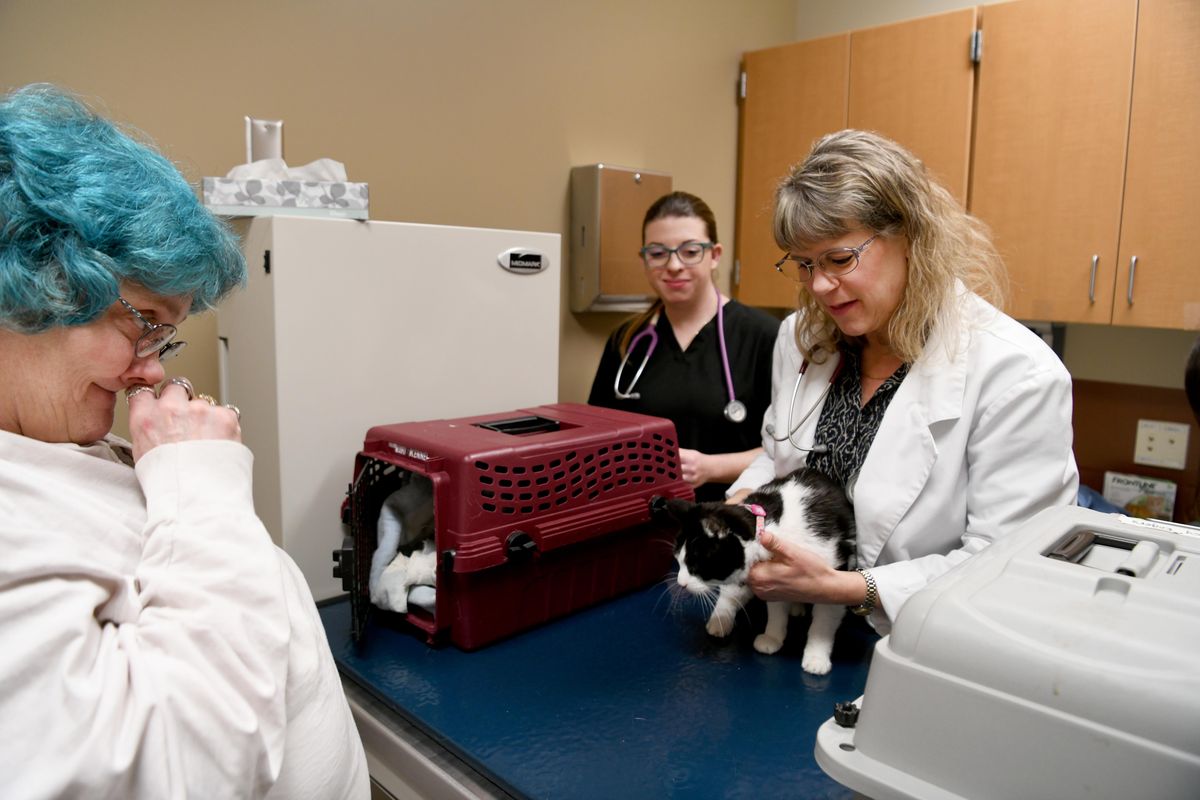 Pattie Crowder, left watches as Dr. Raelynn Farnsworth, right, exaamines her cat, Baby, and veterinary student Sarah Frandsen, center, waits to give the cat an immunization Friday, Nov. 9, 2018 at the WSU Specialty Veterinary Clinic in Spokane. Veterinary students and nursing students gave free vaccinations to both people and pets Friday at the clinic, which is usually closed on Fridays. (Jesse Tinsley / The Spokesman-Review)
Kerry Murphy kept his hands clenched tight as a pair of Washington State University nursing students prepared to poke him in both shoulders. A nurse gave him breathing instructions.
In. And out. In again. Done.
"That was alright," he admitted. "I just hate needles."
His jet black Pomeranian Chihuahua mix named Chi Chi was by his side, himself having just gone through a round of vaccinations, complete with the doggy version of poking and prodding. When they were done, they went on their way with a new harness, bag of dog food and a treat in hand – and most importantly a crimson-and-gray winter dog coat for Chi Chi.
"You guys have Cougar colors?" Murphy asked, himself wearing a WSU hat. "That's great."
Murphy and Chi Chi were just two out of several dozen low-income and homeless people who took advantage of the free health screening and vaccination clinic put on Friday by the WSU College of Nursing and the WSU College of Veterinary Medicine. Throughout the day, students in the nursing and veterinary programs teamed up to administer vaccinations to pets and owners alike, and to treat fleas and other simple impairments.
Joyce Griffin-Sobel, College of Nursing dean, said the free event was so popular when it was first held in January that they decided to expand to two programs a year. She said it's not only helpful for Spokane's homeless and low-income population, but a great teaching opportunity for the students.
"This is our favorite day of the year," she said. "There's such need."
While the numbers were slower than expected Friday morning, Griffin-Sobel and others didn't mind.
That isn't to say the students weren't busy. With each new patient and pet that came through, a team was on hand to check them in before they were whisked away into a room with a veterinarian instructor and pair of students.
Erin and Mathias Egusquiza came with their 1 1/2-year-old dog named Bella. While the Egusquizas declined a free vaccination and health screening, Bella got a flurry of shots of her own and was also dewormed.
The couple, who live in north Spokane near the North Town Mall, even got a recommendation for a vet in the area who could spay Bella for a low price.
"This is helping us out so much," said Erin Egusquiza. "So much."
Kaylin Johnson came from Father Bach Haven, a low-income housing apparent complex run by Catholic Charities of Spokane, where she lives with her mother and 2-year-old German shepherd-husky mix named Bandit.
"He got a lot of treats," she said with a smile, patting Bandit on the head. "And updated on his shots. He needed it."
Before they left, Johnson was handed a large Ziploc of food by WSU nursing students Dani Kenoyer and Sierra Lesnik. The pair jumped at the opportunity to volunteer, with the added inducement they'd get to skip class – though, regrettably, they said their lectures were recorded so they'd still have to watch them over the weekend.
"It's a really cool opportunity to connect with people," said Kenoyer, 21, who is in her first year in the program.
"And also the animals," added Lesnik, also a first-year student. "We would normally never get to work with them."
Local journalism is essential.
Give directly to The Spokesman-Review's Northwest Passages community forums series -- which helps to offset the costs of several reporter and editor positions at the newspaper -- by using the easy options below. Gifts processed in this system are not tax deductible, but are predominately used to help meet the local financial requirements needed to receive national matching-grant funds.
Subscribe now to get breaking news alerts in your email inbox
Get breaking news delivered to your inbox as it happens.
---