Sports > EWU football
Eastern Washington center Spencer Blackburn is a man beyond his years
UPDATED: Fri., Nov. 9, 2018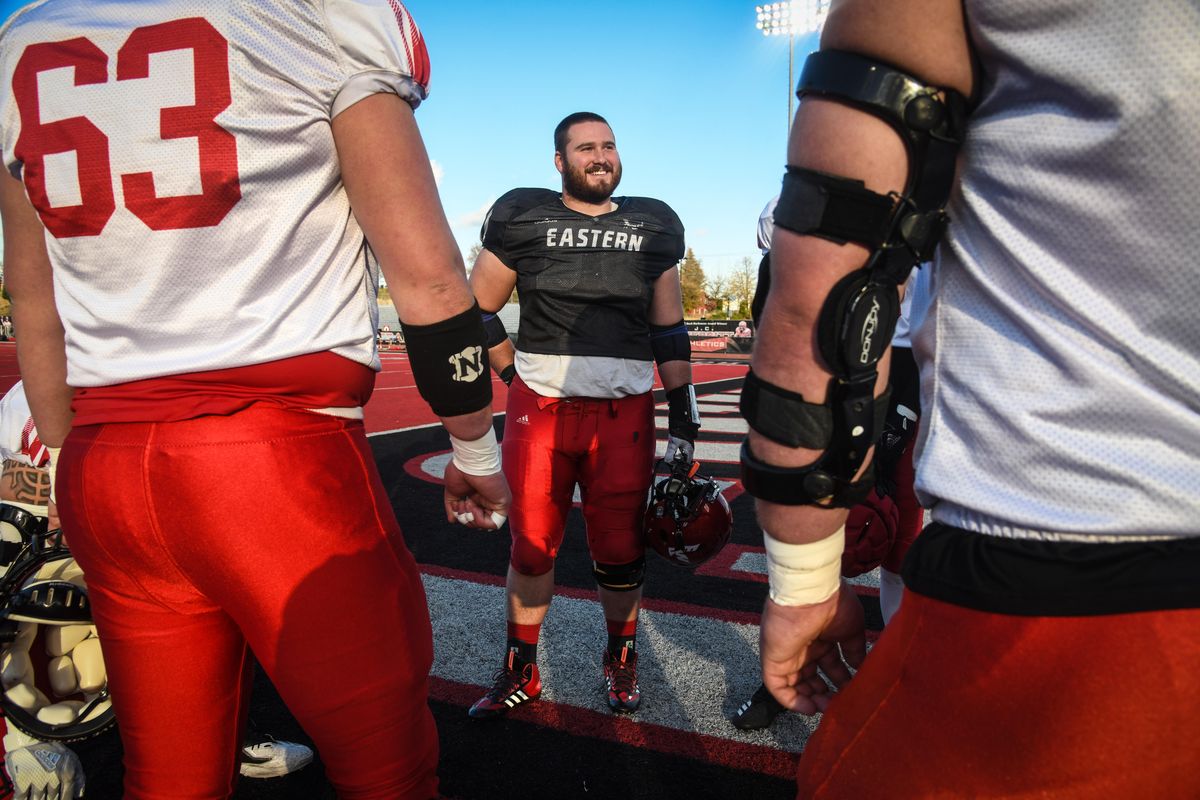 Eastern Washington center Spencer Blackburn converses with teammates before practice Nov. 7, 2017, in Cheney. He is the anchor of the Eagles' offensive line. (Dan Pelle / The Spokesman-Review)
Consider it the gold standard of commendation.
Eastern Washington head coach Aaron Best often doles out praise in one-liner fashion, but he takes a more serious tack when it comes to senior center Spencer Blackburn.
"I'd be happy if my daughters married a gentleman like Spencer one day," Best said. "He's a great student, teammate, friend, son, brother and boyfriend."
Wide receiver Terrence Grady agreed.
"People look up to him," said Grady, one of 27 seniors who will play their final regular-season home game when fifth-ranked EWU (7-2, 5-1 Big Sky) hosts No. 4 UC Davis (8-1, 6-0) on Saturday at 1:05 p.m. at Roos Field.
"He's a hard-nosed guy who likes to get his hands dirty," Grady said. "I really respect that man, and it's going to be a sad day when we're done playing together."
At 6-foot-2 and 285 pounds, Blackburn isn't the most imposing figure on a offensive line that's paved the way for the the nation's top-ranked offense (532 yards per game)
He's the unit's unequivocal leader, though, exhibiting the influence of a man years his senior. He's authoritative and tough, but congenial.
Blackburn, a three-year starter and team captain, received much of the respect for his detail-oriented approach, his technique and preparation, his ability to spot an ensuing blitz, and an affinity for the weight room. He puts up to 540 pounds on the squat rack.
The All-Big Sky Conference talent and FCS Academic All-American's methods will also serve Blackburn in his next stage of life: accounting.
The aspiring CPA said he has an internship lined up with Moss Adams, one of the country's largest public accounting firms.
"I wasn't blessed with the most ability and size," Blackburn said. "But I've learned to do the best with what I have."
A product of Meridian High School – a small 1A school north of Bellingham – Blackburn came to EWU in 2014 on a "minimal" partial scholarship. He was all-state on both sides of the ball and briefly toyed with the notion of playing defense in college.
Best, who was EWU's offensive line coach at the time, recruited him. He saw a little bit of himself when Blackburn lined up between the guards his redshirt year.
Best, EWU's center from 1996-2000, was about the same size as his pupil.
"He wasn't the biggest, and he came from a pretty small school, so I wondered 'Can he do this?' " Best said. "He showed me he could, and he was always so engaged. Those small-school guys have an edge to them."
Four years later, Best considers Blackburn one of the all-time EWU greats at his position.
The past three seasons, Spencer has anchored an offensive line that has yielded 60 total sacks (1.7 per game) on 1,213 pass attempts. In second-year offensive coordinator Bodie Reeder's balanced scheme, the Eagles are also among the country's best in running the football (251 yards per game).
From staunch pass protection his first two seasons to much more physical run-blocking this season, Blackburn has welcomed the change.
"Being a senior-based team, our line has picked up a lot of different pressures we might not have if we weren't as mature," Blackburn said. "But now we can pick up on what defenses are trying to do."
Blackburn is the quarterback in those situations, noting that his decisions at the line of scrimmage can either make or break a play.
It's often the former for Blackburn, the first recipient of the program's Golden EKG – Eastern Kind of Guy – award, recognizing the team's best "person, player and student,"
"He overachieved," Best said. "He came to a place where nobody in Washington knew him, to now where everyone in the Big Sky Conference knows him.
"He got everything out of himself that he could. There have been guys with way more talent who didn't do the things (Blackburn) has done."
There are still a couple of boxes Blackburn wants to check before he exhausts his eligibility: Big Sky and FCS championships.
"The sky is the limit with this team," said Blackburn, who came up one play short of reaching the national title game in 2016. "We have the ability."
Local journalism is essential.
Give directly to The Spokesman-Review's Northwest Passages community forums series -- which helps to offset the costs of several reporter and editor positions at the newspaper -- by using the easy options below. Gifts processed in this system are not tax deductible, but are predominately used to help meet the local financial requirements needed to receive national matching-grant funds.
Subscribe to the sports newsletter
Get the day's top sports headlines and breaking news delivered to your inbox by subscribing here.
---