Sports > Idaho football
Idaho hosts former Big Sky rival Montana with perfect home record, Little Brown Stein on the line
UPDATED: Fri., Nov. 9, 2018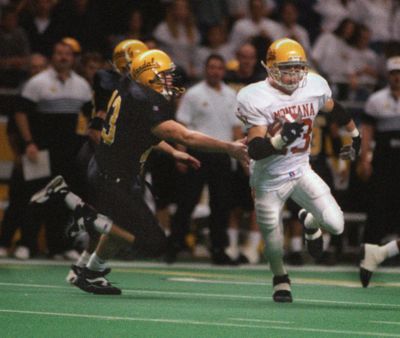 MOSCOW, Idaho – Among the arcane assortment of cups, boots, boats, bells, buckets, artillery and statuary that comprise trophies in college football rivalries, Idaho coach Paul Petrino may have vied for one of the most unusual.
As an assistant at Louisville, his Cardinals annually opposed Cincinnati for the Keg of Nails. Petrino thoroughly understands whatever it is that makes these silly items important when attached to a game.
"Any time you play for something, it's pretty cool," Petrino said.
When the Vandals face Montana on Saturday , Petrino will have a chance to get his hands on such a piece of memorabilia.
Idaho's return to the Big Sky Conference this year brings the Little Brown Stein out of a Grizzlies trophy case and puts it back in play. The Vandals and Griz have played for the trophy since 1938. It has been in Missoula since 2003, when Montana won the last of four consecutive meetings with Idaho before the series went on hiatus.
For the Vandals (4-5 overall, 3-4 Big Sky), searching for relevance in the late stages of a season in which wins didn't measure up to expectations, Petrino told his seniors the game is a chance to preserve a season-long Kibbie Dome win streak, and "to walk off the field carrying that trophy."
Accomplishing the goal is no sure thing. Montana (5-4, 3-3), stopped a three-game losing streak with a 57-14 win against Southern Utah a week ago. Quarterback Dalton Sneed threw for 323 yards and five touchdowns without an interception. For the season, he's thrown for 2,149 yards with 17 touchdowns and seven interceptions, and has run for 525 yards, at 5.4 yards per attempt.
On defense, the Griz feature linebacker Dante Olson, who leads the nation with 123 tackles, including 11 for loss, with five sacks and a pair of interceptions. Petrino expects the Grizzlies to bring pressure on defense and to show tight man-to-man coverage that begins at the line of scrimmage.
Eleven Idaho seniors will play their final home game, and several can pad notable career statistics. Kaden Elliss, with 273 career tackles, is 16th all time for Idaho. He is within reach of Ryan Phillips (275) and Jeff Robinson (277).
Isaiah Saunders, who crossed the 2,000-yard career rushing threshold against North Dakota, is Idaho's 12th all-time rusher. Former teammate and current assistant coach Aaron Duckworth is next on the list with 2,045 yards.
"Hopefully, I do overtake him, so I can keep talking mess to him," Saunders said.
"Two thousand means a lot," Saunders said. "I've come a long way since I was a little freshman watching (Elijhaa) Penny go for his thousand. It's been a wild ride for me."
In two years, Penny rushed for 1,748 yards and 22 touchdowns, including 1,159 yards as a senior.
David Ungerer, Idaho's leading receiver this year with 59 catches for 575 yards, has 112 career receptions for 1,130 yards. He ranks 25th all time for career receiving yards.
Senior linebacker Ed Hall has missed two games with a neck injury, but Petrino said Hall "might be the closest" among UI's injured players to returning against Montana. He has 225 career tackles and four career interceptions.
Saunders buys in to Petrino's assertion the Little Brown Stein is a worthy trophy, but he won't get too excited to win it.
"I ain't gonna kiss it," he said.
Local journalism is essential.
Give directly to The Spokesman-Review's Northwest Passages community forums series -- which helps to offset the costs of several reporter and editor positions at the newspaper -- by using the easy options below. Gifts processed in this system are not tax deductible, but are predominately used to help meet the local financial requirements needed to receive national matching-grant funds.
Subscribe to the sports newsletter
Get the day's top sports headlines and breaking news delivered to your inbox by subscribing here.
---