Sports > WSU football
Washington State-Colorado game will feature teams with contrasting styles: one that can close, one that can't
Nov. 9, 2018 Updated Fri., Nov. 9, 2018 at 8:38 p.m.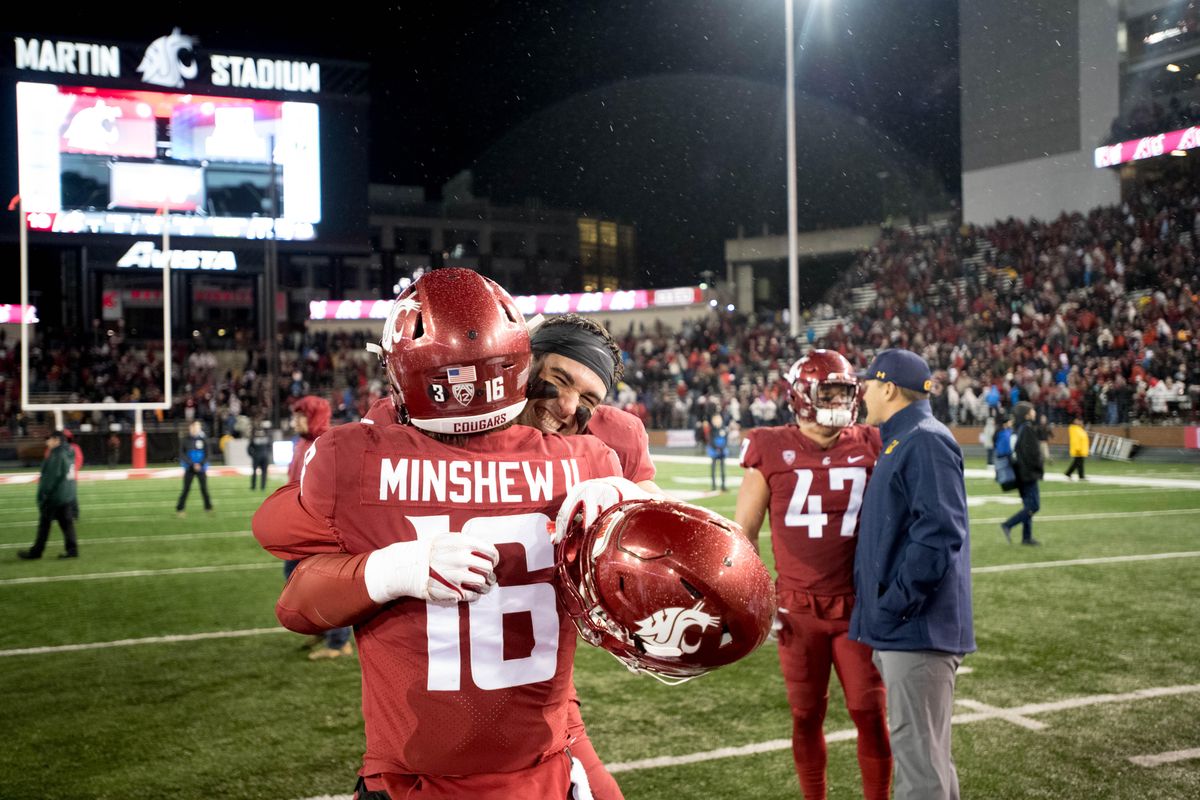 Washington State defensive lineman Nick Begg smiles while embracing quarterback Gardner Minshew after defeating Cal last Saturday at Martin Stadium in Pullman. WSU won 19-13. (Tyler Tjomsland / The Spokesman-Review)
BOULDER, Colo. – Mike Leach may have been trying to inspire confidence in the small crowd of Washington State fans gathered at Zeppoz Casino Thursday evening for the coach's weekly radio show when he was asked to handicap a fight between cougars and buffaloes.
No, not the Cougars and the Buffaloes, who'll be clashing Saturday at 12:30 p.m. on a football field in Boulder, Colorado. Actual cougars and actual buffaloes.
A head-to-head duel between the predatory mountain cat and the mighty grassland ox. Who wins?
"Oh, well, a cougar," Leach responded, without hesitation.
That might just be the company line, but Leach still roused the small bowling alley/gambling joint by choosing the mascot of his 10th-ranked Washington State football team rather than the one of their opponent.
"(The cougar) would find a way," Leach said. "Hopefully, it wouldn't take till the fourth quarter."
That, to be sure, is a reference to the football Cougars – the 2018 ones, to be exact.
And here's why:
In four of WSU's last five wins, the Cougars have needed to execute a late touchdown drive, kick a winning field goal or hold on for dear life as they've sent their defense back on the field to preserve a small lead. WSU probably spoiled its fanbase in the early stages of the season, beating Wyoming, San Jose State and Eastern Washington by resounding margins – 41-19, 31-0 and 59-24, respectively.
Four of the last six games have been decided by six points or less: a 39-36 loss at USC, a 28-24 win over Utah, a 41-38 win over Stanford and a 19-13 win over Cal.
Unnerving as it's been for the WSU coach, his staff and every fan wearing a crimson T-shirt or artificial mustache, the Cougars have, as Leach said, always found a way. But why wait til the fourth? And at what point will their late-game mojo run out?
WSU (8-1, 5-1), ranked No. 10 in the AP Top 25 and No. 8 in the College Football Playoff ranking, is off to its best start since 2002 and will be gunning for its sixth consecutive win at Folsom Field. Colorado (5-4, 2-4) is carrying a different sort of streak into the contest and has to snap out of a four-game skid to finally become bowl eligible.
The 5-4 Buffaloes are only a few plays away from being 7-2, though, and had they beat Oregon State and Arizona, they'd be in control of the tightly contested Pac-12 South. Each of their last two games were decided by one touchdown. CU is probably still lamenting a squandered chance two weeks ago at home against OSU, when the Buffaloes allowed the Beavers to rally back from a 31-3 deficit and win 41-34 in overtime.
A key ingredient in each of the last three losses – to Washington, OSU and Arizona – has been CU's lack of closing ability. In those three games, the Buffaloes were outscored 48-3 in the fourth quarter and overtime.
"You need to play well in the fourth quarter if you want to win tight ballgames," CU coach Mike MacIntyre said. "That's definitely something we need to do. We need to finish off a game. … There will be a time we need to hold the ball and finish the game off. There will be a time we need to come from behind and go win it."
On the flip side, WSU and fifth-year graduate transfer quarterback Gardner Minshew have developed a flair for the dramatic. The Cougars are seemingly able to manufacture fourth-quarter excellence on command at this point – and the final period of the game has easily been their best. In the last five games, the Cougars have outscored the opposition 58-16.
"I think this team's super unique," Minshew said. "A lot of times when you're in that situation that many times, it's tough. But we've developed such a confidence in that situation right now where it can go down to the wire, but we have the belief we're going to win and that definitely helps. Both sides of the ball, we know we're going to make a stop when we need to or we're going to score when we need to.
"I think that belief takes us a long way."
But if somehow the cougar can slay the buffalo in two or three quarters, it'd be all the better.
Local journalism is essential.
Give directly to The Spokesman-Review's Northwest Passages community forums series -- which helps to offset the costs of several reporter and editor positions at the newspaper -- by using the easy options below. Gifts processed in this system are not tax deductible, but are predominately used to help meet the local financial requirements needed to receive national matching-grant funds.
Subscribe to the Cougs newsletter
Get the latest Cougs headlines delivered to your inbox as they happen.
---