News > Military
A century ago, World War I ended and Spokane went nuts
Nov. 11, 2018 Updated Sun., Nov. 11, 2018 at 5:11 p.m.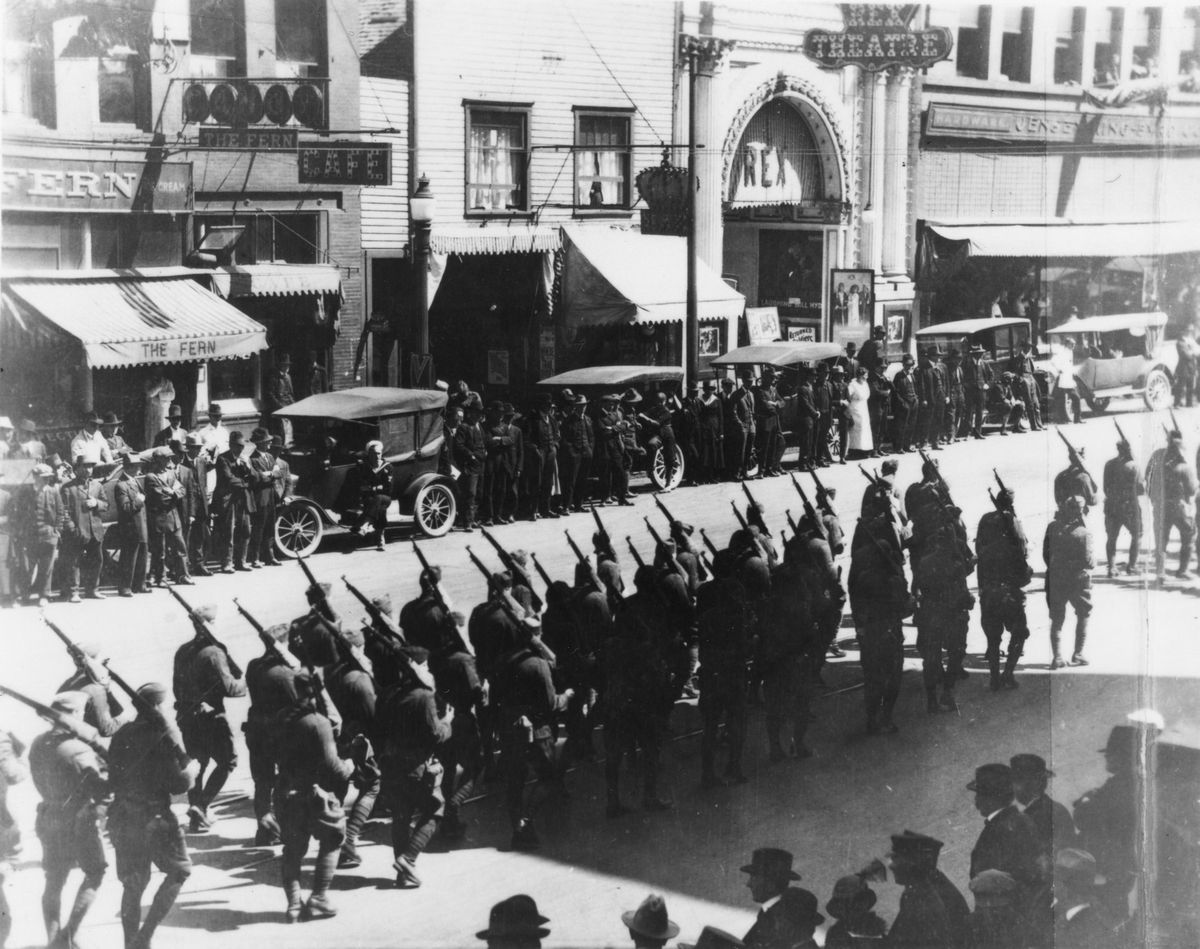 Armistice Parade in Spokane in 1918. (SPOKANE PUBLIC LIBRARY'S NORTHWEST ROOM)
Spokane's sleeping citizens were jolted awake just after midnight 100 years ago today by the honking of car horns and the shrieking of sirens. When people discovered the reason, "nobody was peeved," said one old-timer – they were delirious with joy.
President Woodrow Wilson had just announced the armistice with Germany, ending the war in Europe (which would later be dubbed World War I). In Spokane, the wartime tension, built up over years, was released in one wild outburst.
Whistles blew, "yells of joy resounded," and the news spread with such amazing speed that people soon jammed the hotel lobbies, cigar stores and streets.

Three big bonfires were lit on the rimrocks and cliffs, visible from the entire city. Revelers later built another bonfire, right in the middle of downtown, at Main and Monroe.

Spokane's mayor announced an immediate afternoon half-holiday.

A giant parade began at 1 p.m. down Riverside Avenue, with thousands of autos and thousands of marchers creating a "bedlam of sound" with horns, klaxons, tin cans, streetcar whistles and gongs. The parade continued without pause, deep into the night, with cars swinging up and down the street, two or three abreast.

Dutch Jake Goetz's famous cannon barked its approval throughout the day.
Jesse Tinsley
In small towns throughout the Inland Northwest, people went "frantic with joy" and staged monster celebrations on their main streets. Most main streets were completely closed to auto traffic because of the crowds. "The kaiser is hanging in effigy from many telephone poles today and is being hooted and jeered by frantic crowds," reported one correspondent from outlying towns. In Spokane, Kaiser Wilhelm, who had just abdicated, swung in effigy from a guy wire at Howard Street and Riverside Avenue.
To grasp why people were so utterly delirious, it helps to understand just how disruptive the preceding years had been.
After the U.S. entered the war in 1917, daily life had been altered in ways large and small. The war had drained Spokane of a large part of its male population. A total of 4,551 Spokane County men had been drafted into the service and more than 11,000 had enlisted in Spokane's recruiting stations. Businesses, mines, logging camps and farms were perilously low on manpower – so low, that even male-only workplaces, such as railroad shops, were relying on female labor.
Many soldiers would never return. Bad news arrived for Spokane families nearly every week of 1918 (the year American troops arrived en masse in Europe). More than 200 Spokane-area men would die in the war.
Sugar was rationed. Gas stations were closed on Sundays. "Wheatless" and "meatless" meals were encouraged in order to send more food to Europe.
The Inland Northwest bristled with rumors of dark spy plots and insidious pro-German sabotage. Men of draft age, hanging around pool halls and cigar stores, were labeled as slackers and sometimes arrested for draft evasion. People who declined to buy Liberty loans (war bonds) were viewed as disloyal at best and German sympathizers at worst.
For these and many other reasons, people had been praying month after month for this day to come. When it finally arrived, they had one more reason to rejoice: A bulletin arrived later in the day reporting that the draft had been suspended. Thousands of men were released from the next call-up.
It's no wonder, then, that the "joyful din" surpassed even the noisiest of Spokane's wild New Year's celebrations.
Here's how The Spokesman-Review described the scene downtown: "The kingpin noisemakers of the day were the street railway workers of the Washington Water Power work train. They pounded defunct gongs, shrieked the whistle to the bursting point, hammed circular saws and pounded bits of steel rail with sledge hammers. The Shrine band, resplendent in fezzes, worked valiantly on, 'Over There,' but was almost drowned out by the uproar on all sides. …"
Spokesman-Review feature writer Hannah Hinsdale found potent symbolism in the skies overhead. "Like doves of peace, the pigeons of the downtown district, seeming somehow to sense the occasion, flew in great circles over the streets below."
A contingent from the Palace department store carried the "sad remains of Kaiser Bill and the Clown Prince" on stretchers. When a local "humorist" unveiled a sign saying, "We Got the Kaiser's Pants," the crowd gave him an ovation. Companies of happily mischievous "hat-removers" roamed the streets and knocked off every hat within reach (hat-removing was a fad at the time).
This kind of jubilation, inevitably, led to accidents. Katherine Wood was blowing a tin horn when a fellow reveler ran into her and jammed the tip of the horn through her palate. Another reveler was jostled so roughly he fell through a glass door downtown. A small boy climbed a tree to watch the celebration and got so excited he fell out.
W.W. Lee, a mail carrier, was walking down Riverside Avenue when an overenthusiastic celebrator ran up and "blew a toy horn" right in his ear. Lee, apparently a testy sort, turned around and batted the horn out of the stranger's hand. The stranger punched Lee in the face and kicked him savagely below the knee, taking off a considerable portion of skin. Lee and the above unfortunate revelers spent the balance of Armistice Day at the emergency hospital.
The celebration was not just about the peace, but also about the unconditional nature of the German surrender. The newly elected U.S. congressman for the district, J. Stanley Webster, said, "The terms are none too drastic to suit the needs of the occasion. I have always stood for a dictated peace, where the function of the kaiser would be merely to listen."
One other circumstance contributed to the feverish nature of this outpouring. For nearly a month, all public gatherings in Spokane had been banned because of the Spanish flu epidemic. Schools, churches and theaters had been closed. People had recently been ordered to wear masks in public. Private social gatherings in living rooms had even been banned. A giant outdoor armistice celebration was, of course, the most massive violation of all, but apparently the city health officer knew it would be vain to even try to stop it. The long-cooped-up citizenry were not to be denied.
Yet this communal hug-fest and songfest would later have consequences. The flu epidemic, which seemed to be waning, would come roaring back soon after Armistice Day, possibly because of these gatherings. The city health officer noted, somewhat despondently, that the "merrymakers as a rule disregarded the mask rule as a hindrance to their vocal powers."
Hinsdale noted that the day held one overriding promise for the celebrating Spokane families. The prospect of their boys in khaki coming home. Most would come home – but not all. The fighting continued until the moment of the armistice and it often took days or weeks for bad news to arrive. Five days after the armistice, the Spokane Daily Chronicle reported six more Northwest soldiers killed, wounded or missing.
Local journalism is essential.
Give directly to The Spokesman-Review's Northwest Passages community forums series -- which helps to offset the costs of several reporter and editor positions at the newspaper -- by using the easy options below. Gifts processed in this system are not tax deductible, but are predominately used to help meet the local financial requirements needed to receive national matching-grant funds.
Subscribe now to get breaking news alerts in your email inbox
Get breaking news delivered to your inbox as it happens.
---