News > Business
Motley Fool: A biotech bargain?
Sun., Nov. 11, 2018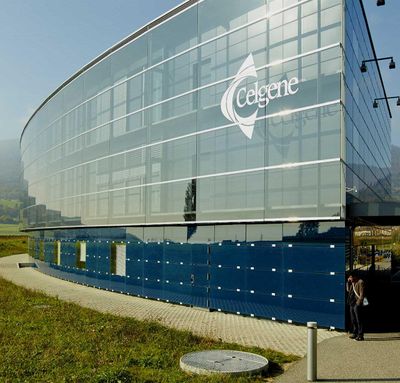 Biotech stocks are rarely value stocks, but Celgene (Nasdaq: CELG) is an exception, with a forward-looking price-to-earnings (P/E) ratio recently below 8. Why haven't investors been snapping up shares? Well, many worry about Celgene's overreliance on multiple myeloma drug Revlimid, and about the drug losing its patent protection. Revlimid makes up more than 60 percent of Celgene's total sales and is expected to generate nearly $10 billion in sales in 2018.
But Celgene has protected its key product through settlements and agreements. A December 2015 agreement with a handful of generic producers will keep a flood of generics off pharmacy shelves until the end of January 2026. That leaves several years in which Celgene can profit handsomely from one of the best-selling drugs in the world.
There's also been backlash over Celgene's flubbing of its new drug application for the multiple sclerosis drug ozanimod, which was being counted on to help diversify the company's sales away from Revlimid. But even with the delay, ozanimod could still be a multibillion-dollar drug when it does come to market. Meanwhile, the company's other key cancer and inflammation medicines look to be on track to grow organically on the bases of volume, price and label-expansion, and its pipeline sports more potential blockbusters. There seems to be little for investors to worry about. (The Motley Fool owns shares of and has recommended Celgene.)
Ask the Fool
Q. What's umbrella insurance? – F.W., Mansfield, Ohio
A. It exists to keep you from getting soaked financially. It offers coverage exceeding the limits of the policies covering your house or apartment, car and more. Umbrella policies can pay for any property damage and personal injury you're found responsible for causing. Policies also cover losses not typically paid for by standard insurance, such as coverage for rental units, or coverage if you're sued for slandering or libeling someone. Imagine a scenario in which you're sued and end up ordered to pay $1 million. Your regular insurance policy won't offer anything close to that, but an umbrella policy can. Umbrella insurance won't cost you a lot, either: A $1 million umbrella insurance policy often costs around $100 to $350 annually.
Q. I'm thinking of selling two stocks I own. One doesn't pay a dividend, and the other hasn't grown much in the past few years. Should I just move that money into CDs? – G.V., online
A. If you no longer have faith in the long-term growth potential of either stock, do sell. But don't sell any holding just because it pays little or no dividend. There are two main ways to make money in stocks: dividends and stock-price appreciation. A company may pay no dividend (perhaps because it's still trying to grow rapidly and is investing any available cash back into the business), but if it's executing its strategies successfully, its stock price might increase substantially over time, rewarding shareholders. Some of the best stocks will offer both growing dividends and stock-price growth.
Certificates of deposit are fine for short-term savings, but with interest rates so low these days, they aren't that great as long-term investments.
My dumbest investment
I'm an environmentalist and, as such, I hate plastic bags and all things plastic. Some years ago I ran across a small company that was "a leading manufacturer of proprietary biobased, sustainable bioplastics," focused on renewable plastics, and winning various awards in Europe. So I plunked down a huge sum (for me) for some shares. Meanwhile, my job was getting highly pressured, my mother was dying and I stopped watching my portfolio. I lost everything but $1.13. Big lesson: I watch my stocks all the time now. And I read and evaluate companies as well as I can, using spreadsheets and everything – with better results. – M.K., online
The Fool responds: Like many investors, especially beginners, you got overly excited by a stock's story and potential and didn't spend enough time assessing its financials. Ideally, a company you invest in should be profitable, with little debt and increasing revenue and earnings. Many young and small companies aren't at that level yet, so they can be extra risky. You need to keep an eye on your stock holdings, too. This one offered a few red flags over the years, such as two reverse stock splits – and hefty ones, at that. Shares split 1-for-40 in 2010, leaving anyone with 2,000 shares suddenly with only 50 shares. A 1-for-50 split in 2014 would have turned those 50 shares into just one. The company filed for bankruptcy protection in 2014, too.
Local journalism is essential.
Give directly to The Spokesman-Review's Northwest Passages community forums series -- which helps to offset the costs of several reporter and editor positions at the newspaper -- by using the easy options below. Gifts processed in this system are not tax deductible, but are predominately used to help meet the local financial requirements needed to receive national matching-grant funds.
Subscribe to the Coronavirus newsletter
Get the day's latest Coronavirus news delivered to your inbox by subscribing to our newsletter.
---