News > WA Government
Spokane's Andy Billig to be Senate majority leader in 2019
Nov. 12, 2018 Updated Mon., Nov. 12, 2018 at 10:42 p.m.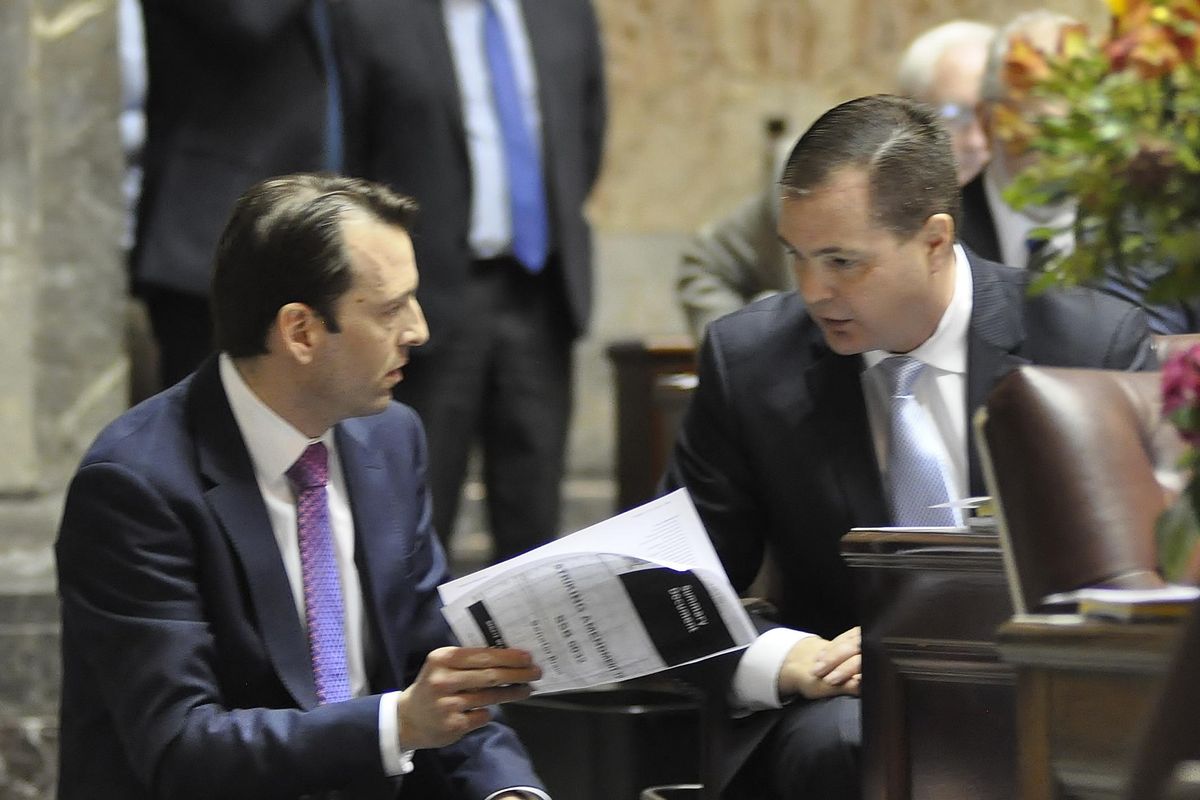 OLYMPIA – State Sen. Andy Billig, D-Spokane, left, confers with Sen. John Braun, R-Centralia, during debate over the operating budget during the 2018 session (Jim Camden / The Spokesman-Review)
Spokane Democrat Andy Billig, a Spokane businessman who has pushed for better schools and more transparent elections, was named state Senate majority leader Monday as members of the caucus gathered to select new leaders for the 2019 session.
Billig moves up from deputy leader to replace Sharon Nelson, who is retiring this year. He represents central Spokane's 3rd District, and his predecessor, Lisa Brown, was Senate majority leader from 2005 to 2012.
The only Democrat in the Senate from Eastern Washington, Billig said the caucus "recognizes that bipartisanship and viewpoints from every corner of Washington are crucial in moving our state forward."
He said he believes voters' top interests include affordable health care, tax fairness, public education, mental health, safety from gun violence and climate change.
Democrats had a 25-24 working majority in the 2018 session. Each party has 12 returning senators, and Democrats won 14 seats in last Tuesday's election. Republicans won seven and Tim Sheldon, a Democrat who votes with Republicans, was also re-elected. Of the three remaining seats too close to call, Republican candidates are slightly ahead in two, a Democratic candidate in the other.
Billig becomes the third Spokane resident to be named Senate majority leader since 2000. Republican Jim West held the position in 2003 before he was elected Spokane mayor.
When West was majority leader, Brown was minority leader, putting Spokane-area legislators at the top of each party's caucus in the Senate.
A similar situation could occur next year if Republican leadership remains the same. Mark Schoesler, a Ritzville Republican whose district extends to parts of southern Spokane County, is the current Senate GOP leader and intends to seek re-election to the post.
The Republican caucus is scheduled to elect its leaders later this week, a spokeswoman said.
Also elected at the Senate Democrats' meeting was John McCoy, of Tulalip, as caucus chairman.
Other leadership positions and committee assignments are expected to be made by next week, after a series of interim meetings by legislative committees.
Local journalism is essential.
Give directly to The Spokesman-Review's Northwest Passages community forums series -- which helps to offset the costs of several reporter and editor positions at the newspaper -- by using the easy options below. Gifts processed in this system are not tax deductible, but are predominately used to help meet the local financial requirements needed to receive national matching-grant funds.
Subscribe now to get breaking news alerts in your email inbox
Get breaking news delivered to your inbox as it happens.
---