A&E > Food
14 places to buy Thanksgiving pie
Tue., Nov. 13, 2018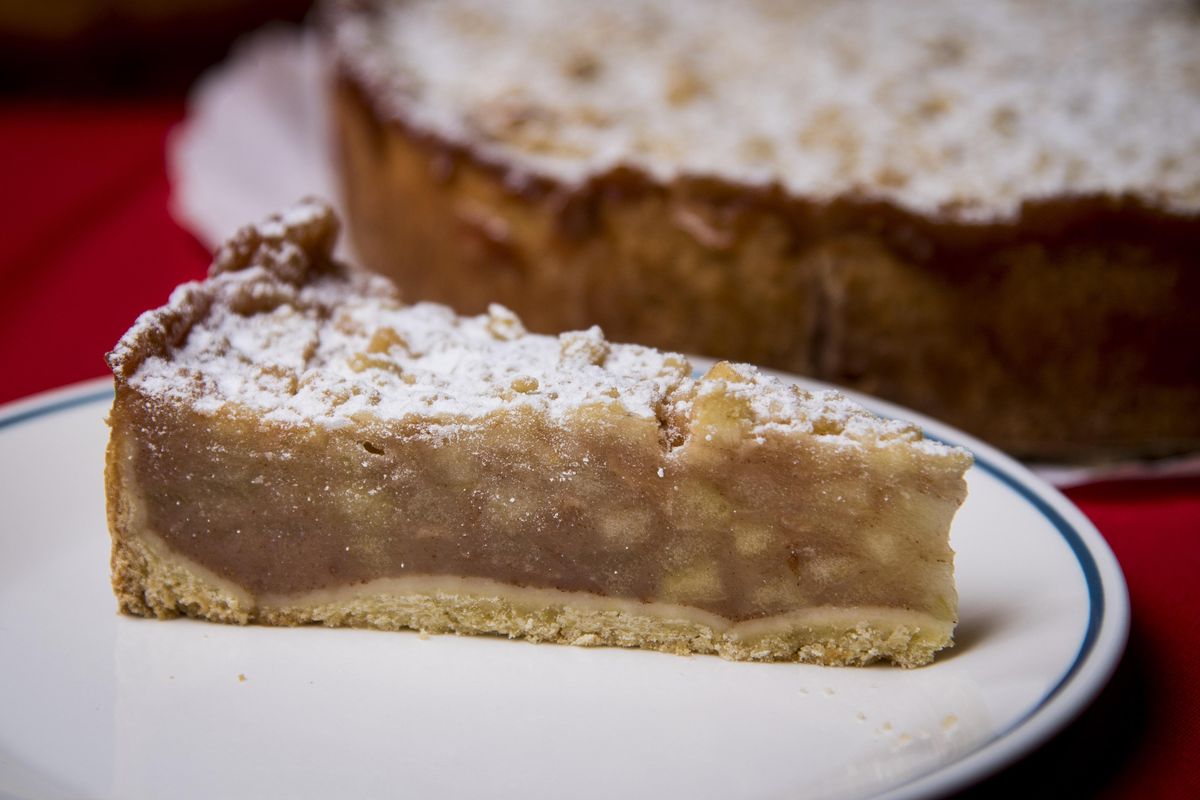 This is the apple tart from Just American Desserts. (Colin Mulvany / The Spokesman-Review)
Pumpkin, pecan, apple, pear.
Whatever your preference, now is the time to place an order if you want a pie in time for Thanksgiving.
This is where to buy Thanksgiving pie in and around Spokane.
A Small Batch Bakeshop
Learn to make your own pie crust at this charming West Central shop. Two classes are being offered in time for Thanksgiving: 6 to 8 Wednesday and 3 to 5 p.m. Sunday. Both are $55. Or, order your Thanksgiving pies, tarts, cakes and galettes in advance online. Don't expect straight-up pumpkin, though. Pastry chef and owner Mika Maloney likes to offer unexpected combinations. This year, she's offering a Roasted Plum Brown Butter Tart for $30, Old Fashioned Pear Galette – with a whiskey pie crust, pear filling with orange, and a bitters-sugar top – for $25, Cranberry Crunch Cake for $20, a gluten-free Apple-Cheddar-Walnut Pie for $35, and Pumpkin-Butterscotch Cream Pie with a thin layer of dark chocolate ganache, creamy pumpkin-butterscotch cream filling and spiced whipped cream topping for $35. Pre-order by Friday for pick-up Nov. 21 between noon and 4 p.m. or Nov. 22 – that's right: Thanksgiving Day itself – between 10 a.m. and noon. Walk-in customers will be able to buy chai, coffee, cookies and other treats, but full-size Thanksgiving pies, tarts, cakes and galettes must be pre-ordered. Maloney, who founded Batch in 2011 and has since scaled back to A Small Batch, will be donating $2 from each Thanksgiving treat she sells to the Salish School of Spokane. 2023 W. Dean Ave. (509) 413-3759. Classes can be found at www.batch-bakeshop.com/classes/, and orders can be placed at www.batch-bakeshop.com/thanksgiving-pie-preorders/.
Culture Breads at the Grain Shed
Opened in June, this is the first holiday season for Culture Breads at the Grain Shed, and it's offering two pies for Thanksgiving: Cinnamon Pear-Apple and Maple Winter Squash, each for $35. Orders must be placed by Saturday in order to have them in time for the holiday. Proprietor Shaun Thompson Duffy plans to use Blue Hubbard squash in the Maple Winter Squash pie, if the South Perry bake shop can get enough of it. Duffy specializes in bread-baking the traditional way: by hand, milling his own flour from locally grown Palouse grains and baking loaves in his custom-made wood-fired oven. He gets his grain from within 100 miles of the spot where it's milled, and he bakes it into bread, croissants, cookies, pizza or – in this case – pie. Dinner rolls – brioche and white-wheat ciabatta – will also be available for $13 per dozen. The Grain Shed houses both Culture Breads and a nano-brewery using locally malted Palouse grain. So consider pausing for a pint while ordering or picking up your pie, available on weekends by the slice for $4.50. 1026 E. Newark Ave. (509) 241-3853. www.thegrainshed.coop.
Bean and Pie
Pies are made in small batches at this newer pie-baking business in North Idaho. It doesn't have a storefront – yet. Owners Katy and Ethan Bean are in the process of launching a Kickstarter to help them open a pie shop in Coeur d'Alene. Money raised would go toward renovating the space and purchasing kitchen equipment. Stay tuned for more details. Meantime, pre-order a Thanksgiving pie for pick up between 5 and 7 p.m. Tuesday or Wednesday at 2113 N. Walnut St. in Post Falls. Pies are Apple Crumb or Cran-Raspberry Crumb for $27. Gluten-free versions of each available for $32. Customers can also order two mini pies for $26 or two, gluten-free mini pies for $31. The Beans don't use fillers or preservatives; they thicken pies with flour or cornstarch. Flavors typically change seasonally with availability of ingredients, and the Beans source fruit locally and regionally. Contact the couple via their website at beanandpie.com or email info@beanandpie.com.
miFlavour
A is for apple and Aria, the $45 apple pipe from miFlavour bakeshop. It's gently spiced with cinnamon and packed with more than 2 pounds of Granny Smiths. There's pumpkin, too. Mira, also $45, is creamy, silky and "super pumpkiny" – with hints of cinnamon and other warming spices. It's a bit different this year; it now comes with a layer of cream cheese and pumpkin filling instead of just pumpkin filling. The desserts at this bakery carry distinctive, fun and usually feminine names. It's known for its decadent cakes and French macarons. But miFlavour offers three kinds of pie, too. Cabo is a $40 coconut cream pie topped with chantilly and toasted coconut. Four tarts are available, too – Inez is pecan for $25, Gia is lemon meringue for $25, Ruby is pear-almond for $25, and Mia is fruit tart with berries and pastry cream for $30. And Bria is a pumpkin-spice cheesecake, topped with whipped cream, caramel and candied pecans for $65. Wife-and-husband Ella and Maximus Piskun launched miFlavour about two years ago, specializing in high-end and contemporary treats. Desserts are made from scratch. Aria, Mira, Inez and Ruby qualify for a promotional discount for pre-orders; they are on sale through Wednesday (Nov. 14). Delivery is free with orders of $150 or more. Otherwise, pick-up is at the Montvale Event Center, 1017 W. First Ave. (509) 426-5596. miflavour.com.
Rockwood Bakery
Monday is the last day to order Thanksgiving pies at this lovely, light-filled shop near Manito Park on Spokane's South Hill. Pie is a specialty here, along with scones, almond croissants, quiche and more. There's a $5 deposit if you want your pie in a real pie tin; you get that money back when you return the tin. Pick-up is Nov 21. The shop is closed on Thanksgiving. Crust is made with shortening. Pumpkin pie is $18.95. Apple or cherry are $22.95. And pecan is $24.95. Not sure which one to get? Pie is also available by the slice. Get one warmed up with whipped cream and an espresso drink and take a break from busy holiday planning. 315 E. 18th Ave. (509) 747-8691.
Sweet Frostings
This whimsical bake shop is best known for its cupcakes. But French macarons, cheesecakes, cakes and pies are also on Sweet Frostings' extensive menu. There are simply too many flavors and combinations to list here. But pecan and pumpkin spice are the two seasonal offerings. And 9-inch pies are $20. Or, opt for 5-inch mini pies for $6 each and a minimum order of four. Pumpkin spice cheesecake is also available in a 7-inch round for $31.90 or 9-inch round for $52.80. Plus, Sweet Frostings can make a pumpkin cheesecake cake, featuring a layer of classic cheesecake sandwiched between two layers of pumpkin spice cake with vanilla cream cheese butter cream. The bakery has four locations in Spokane, including the newly opened location near the Whitworth University campus at 10406 N. Division St. (509) 368-9811. The other three locations are: Downtown at 15 S. Washington St. (509) 242-3845. Spokane Valley Mall at 14700 E. Indiana Ave. (509) 381-5927. NorthTown Mall at 4750 N. Division St. (509) 808-2387. www.sweetfrostingsbakeshop.com.
Just American Desserts
New at this longtime local bake shop is a white chocolate cranberry walnut tart. It's also offering a Peppermint Cheesecake, but proprietor Eva Roberts said, "That's probably more of a Christmas dessert." She's been known to turn orders around with 24 hours' notice, but that can get tricky during the busy holiday season. For Thanksgiving, she asks customers to get their orders in by Sunday "if possible." Roberts established Just American Desserts in 1986 and specializes in special occasion cakes, tarts, pies and cheesecakes. Look, also, for an apple tart as well as a decadent Kentucky bourbon chocolate chip tart. Her traditional pumpkin pie is deep dish with a handmade crust and a filling made with half-and-half as opposed to evaporated milk. Her tarts are done in 10-inch spring-form rounds with short crust. 213 S. University Road. (509) 927-2253. www.justamericandesserts.net/.
Spokane Community College
Students in SCC's professional baking program will be making pies for pick-up from 7 a.m. to 1 p.m. Monday and Tuesday. Student bakers are making and selling several varieties. Limited flavors will be available first thing in the morning. But all flavors should be ready by around 10:30 a.m. Pies – pumpkin, fruit, nut – are available on a first-come, first-served basis. Nine-inch pumpkin pies are $4.50 each. Nine-inch fruit pies are $7.50 each, and there's a wide variety of flavor combinations. Nine-inch nut pies – pecan and Washington nut – are $8.50 each. Ten-inch gourmet apple pies made with Honey Crisp Apples from Green Bluff and an all-butter crust come in a reusable pie tin for $20 each. Students are also baking butter, plain, cranberry-orange and roasted garlic-Parmesan rolls for $3.50 per dozen and Gruyere cheese rolls for $5 per dozen. Plan ahead for pick-up: parking is metered and costs 50 cents per hour. SCC, Building 1, 1810 N. Greene St. For more info, contact Katie Anderson at (509) 533-8685. www.scc.spokane.edu.
Cole's Bakery and Cafe
Cole's gluten-free pie crust is made with its own secret signature blend of flour. "The gluten-free crust is a flaky, delicious crust that we can also do dairy free or vegan," said proprietor Jeanine Cole. Pies are pumpkin, pecan or cherry for about $16 each. Dairy-free and vegan pumpkin pies are also available, along with keto pumpkin pie. So are other gluten-free baked goods to round out your Thanksgiving meal including pumpkin rolls, dairy-free pumpkin rolls and classic dinner rolls. Gluten-free sides – such as green bean casserole, stuffing, meat and cheese platters and more – serve 10 and start at $22. Cole's opened in 2014 as a gluten-free bakery and has since expanded into a full-service restaurant as well as bakery. Cole's serves breakfast, lunch and dinner daily. 521 E. Holland, Suite 20. (509) 413-1739. colesbakerandcafe.com.
Lil' Punkin Pie Co.
Pie is made from heirloom pumpkins grown on the Prairie Home Farm in Coeur d'Alene. The bake shop is located on the farm. Nine-inch pies are $18. Specialty pies – huckleberry, huckleberry-peach, pecan – cost a bit more. Pecan is $20. Huckleberry-peach is $22. And plain huckleberry is market price. Proprietor Linda Swenson usually requests at least 48 hour advance notice for orders picked up at the farm. She prefers a week's notice, if possible, during the busy holiday season. Flavors include classic apple, Dutch apple, blueberry, blackberry, tart cherry, marionberry, mixed berry crumble, mulberry-rhubarb, peach, raspberry, rhubarb, strawberry-rhubarb, salted caramel pear crumble, shoofly, yellow plum and more. Some are seasonal. Call for availability. 7790 N. Atlas Road in Coeur d'Alene. (208) 762-3289. prairiehomefarm.com.
Conley's Place Restaurant and Pioneer Pies Bakery
Pies are made daily from scratch at this family-owned Spokane Valley eatery and bakeshop. Call to place a Thanksgiving pie order by Monday for pick up Nov. 21. The business is closed Thanksgiving Day. Pies come in a variety of flavors: pumpkin, of course – as well as apple, Dutch apple, pecan, mince and many more. Prices range from $12.99 to $14.99. Crusts are hand-fluted. 12622 E. Sprague Ave., Spokane Valley. (509) 924-5411. www.conleysplacerestaurant.com.
Lilac City Bakery
This bakery, a sister shop to the Celebrations locations, opened last year near the Gonzaga University campus. It's offering several seasonal pies this season, ranging in price from $25 to $35. Flavors are: pumpkin cheesecake, classic pumpkin, cranberry pear, classic apple and apple caramel crumble. They must be ordered two days in advance. Pick up your pie by 6 p.m. Nov. 21. 1215 N. Ruby St. (509) 315-4958. www.lilaccitybakery.com.
Cyrus O'Leary's Pies
Cyrus O'Leary's award-winning pies are made in Airway Heights and available at many local, regional and national grocery stores. The line of pies grew out of the brand's signature restaurant, which opened in downtown Spokane in 1981 and featured fresh pie. Pie baking continued at the restaurant until the pie plant opened in downtown in 1987. Frozen pies were added in 1996. Pies have been made at the Airway Heights facility since 2002. The longtime restaurant closed in 2011. Look for pumpkin, pecan, apple, Dutch apple and more. Some varieties come in a no-sugar-added option. They range in price from about $7.99 to about $13.99. www.cyruspies.com/.
Costco
Costco's Kirkland Signature Pumpkin Pie weighs 58 ounces, or 3.625 pounds. And, at $5.99, it won't break the bank. In fact, it's so popular it has its own Facebook page: www.facebook.com/CostcoPie/. And it's available in original as well as organic pumpkin. But it isn't your only option. Costco's Kirkland Signature Lattice Apple Pie is 75 ounces, or 4.6875 pounds, just a tad heavier than its regular Kirkland Signature Cheesecake, which is 4.5 pounds. Or, switch things up with the Kirkland Signature Caramel Pecan Cheesecake, which also weighs more than 4 pounds, or 4.38 pounds to be exact. www.costco.com/.
Local journalism is essential.
Give directly to The Spokesman-Review's Northwest Passages community forums series -- which helps to offset the costs of several reporter and editor positions at the newspaper -- by using the easy options below. Gifts processed in this system are not tax deductible, but are predominately used to help meet the local financial requirements needed to receive national matching-grant funds.
Subscribe to the Spokane7 email newsletter
Get the day's top entertainment headlines delivered to your inbox every morning.
---