News > Idaho
Lewiston trial for infant death begins
Wed., Nov. 14, 2018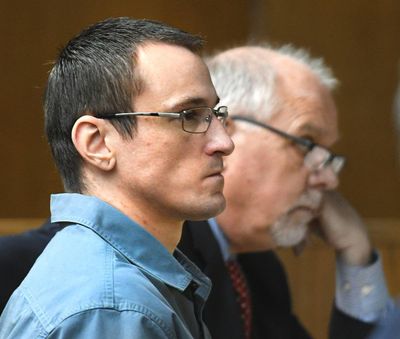 During testimony at the beginning of a first-degree murder trial Tuesday, jurors heard from numerous medical professionals that a baby who later died was "ashen" and had multiple injuries.
Daniel Alldrin, 28, of Orofino, is charged with allegedly hitting his 29-day-old daughter, causing multiple bruises and internal injuries that resulted in her death. The trial is being held in 2nd District Court at Lewiston after an unbiased jury could not be seated in Clearwater County. Alldrin has said a 17-month-old boy also at the home at the time knocked over a speaker that fell onto the baby.
Of the 15 jurors empaneled, one was dismissed after it was learned the juror read a Lewiston Tribune article previewing the case. The remaining 13 men and one woman will hear an estimated three to four weeks of testimony before deciding Alldrin's fate.
Casandra Lynn Alldrin died May 15, 2016, several days after she was taken to a hospital in Orofino and later flown to a Spokane hospital for treatment.
Clearwater County Deputy Prosecutor Lori Gilmore opened by showing a picture of Casandra hooked up to a ventilation tube and explaining that the infant took her last breath in a tangle of tubing from medical machines.
Alldrin's attorney, Jim Siebe, objected to showing the picture to the jury as it was not previously admitted and it was taken down. Alldrin, seated next to his attorney in a blue-gray shirt and unrestrained, appeared to clench his jaw while Gilmore presented her opening argument.
Gilmore said the state's case will show Casandra did not die by accident, as Alldrin has said. The baby had multiple injuries, including bruising to her buttocks and sex organs, as well as holes in her intestines.
"Witness by witness, pieces of evidence by evidence, doctor by doctor and expert by expert will show you that what happened to Casandra was not an accident and not a natural occurrence," Gilmore said.
Several nurses and doctors from Clearwater Valley Hospital where the child was first taken testified that Casandra appeared "blue or gray," "dusky" and "ashen." Her body temperature was 93.4 degrees. Gilmore argued that the evidence in the case will show Alldrin struck the child with enough force to bruise her down to the muscle.
"This is a common-sense case," Gilmore said. "This is a difficult case. It will be difficult to view autopsy photos, and for that I'm sorry, but it's necessary. At the end of state's evidence, after listening to every doctor and looking at the pictures, the state is confident you will come to one conclusion."
Siebe argued in his opening that the infant was injured by the medical professionals working on her while performing surgery and other attempts at life-saving measures.
"This baby was handled considerably following the mother's decision to bring her to the hospital," Siebe said. "Not with any animus or malice, but it was obvious with the handling of the baby that she appeared to be bruised."
Both attorneys noted that a connective tissue in Casandra's intestine (called a cecum) had holes in it, with the prosecution arguing it was proof of the severity of the injuries, while the defense suggested the injury could have been present before the child was hospitalized.
"There were no hard injuries to ribs or bones or other organs," Siebe said. "Trauma to the cecum usually only occurs from high-speed auto accidents with injuries to surrounding organs.
Gilmore also highlighted evidence to be introduced that Alldrin's ex-wife, Serenity Grandstaff, used his phone at a hospital and saw a search result for "how to get rid of bruises fast," and when she confronted him he got angry and left. Siebe said of the phone records gathered by investigation that no data was used during the time the reported search would have been made.
Dr. Winston Chan, with Sacred Heart Children's Hospital, testified that Casandra was taken by helicopter and he performed exploratory surgery on the infant. Chan made a 6-centimeter incision and found that the child's abdomen was full of fluid and very distended. During the surgery he located a 2-millimeter hole in the large intestine, as well as some perforation elsewhere. The intestine had leaked feces throughout the abdomen. Chan testified the amount of fluid was too large to account for the timeline of the injuries, indicating the baby was not taken to the hospital immediately after the injury.
"The injuries we found didn't jibe with the story we were being presented," Chan said. "(The injuries) were unusual in appearance, not typical for a strike or an abrasion."
He said the redness to Casandra's ear looked like a burn instead of being struck. An abrasion to her nose was also deep, and Chan testified an infant would not have the strength to scratch itself so deeply. Several photos of Casandra's injuries were shown to the jury depicting the redness to her ear and the overall pallor and grayness in her skin.
Gilmore asked Chan if Casandra sustained any injuries as a result of surgery, and Chan said no.
Siebe said the case is undeniably tragic, but that doesn't free the jury from keeping an open mind and not blaming Alldrin for the death of his child.
"Daniel denies inflicting any injury on his daughter," Siebe said. "Evidence will show he loved his daughter, and the state will present absolutely no motive or reason why he would hurt the baby in the first place."
The trial resumes today.
Local journalism is essential.
Give directly to The Spokesman-Review's Northwest Passages community forums series -- which helps to offset the costs of several reporter and editor positions at the newspaper -- by using the easy options below. Gifts processed in this system are not tax deductible, but are predominately used to help meet the local financial requirements needed to receive national matching-grant funds.
Subscribe to the Coronavirus newsletter
Get the day's latest Coronavirus news delivered to your inbox by subscribing to our newsletter.
---