News > Business
After 131 years, Dodson's Jewelry – Spokane's longest-running retail business – is closing
Thu., Nov. 15, 2018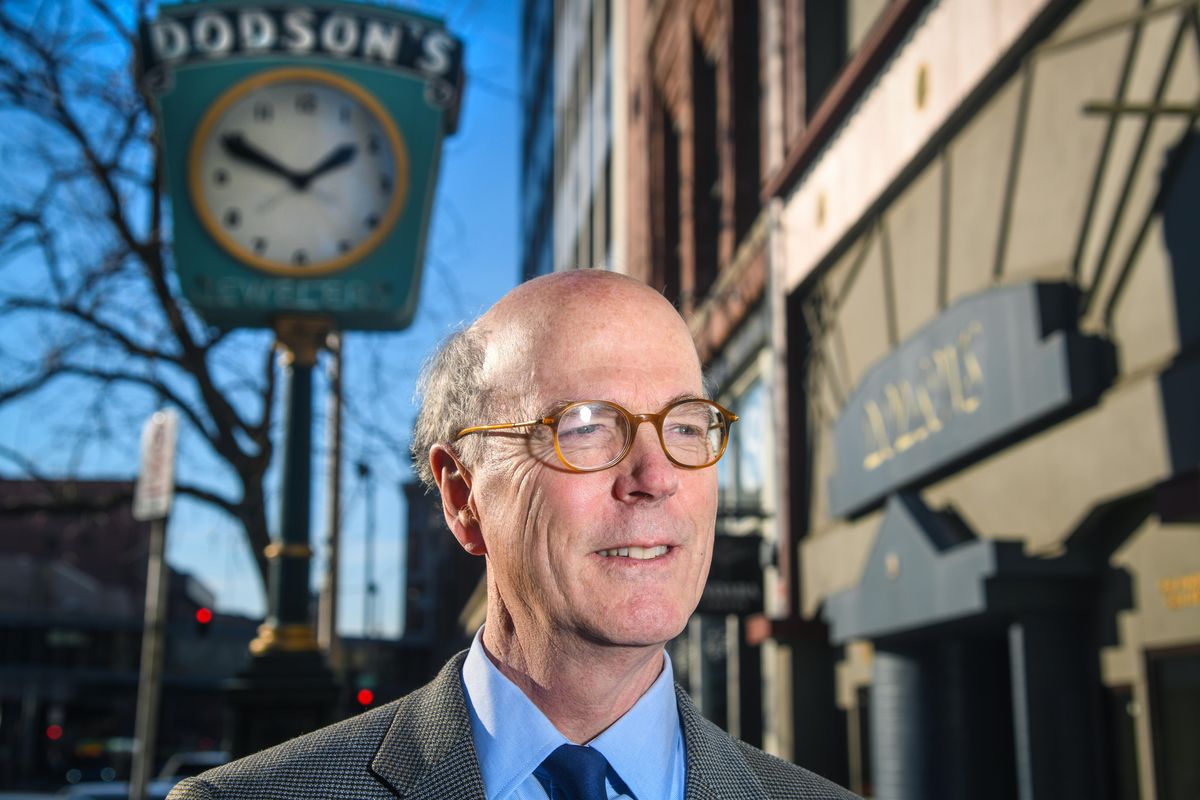 Dodson's Jewelers owner, Penn Fix, is closing the store after 131 years. (Dan Pelle / The Spokesman-Review)Buy a print of this photo
John Penn Fix III, owner of Dodson's Jewelry, reached under the glass display case and took out an old Edwardian-style white gold ring.
"My great-grandfather bought this one," he said. "It makes it a little bit more special."
The ring, much like Dodson's Jewelry, has a story.
"I see us as storytellers," said Fix, 68, fourth-generation owner of Dodson's. "We don't sell anything unless it has some sort of story or message."
Forged in 1915, the ring found George R. Dodson, Fix's great-grandfather, as its owner. It survived a fire when Dodson's burned down in 1913, and because of a family prohibition against melting old rings, it survived changes in trends. It sat in a vault until recently, when Fix mounted it with a diamond and put it up for sale. It is one of the remaining artifacts from the early days of the business.
"It came back in style," Fix said.
Dodson's Jewelry has its own story, one that spans well over a century. But after 131 years of family ownership, the story of Dodson's Jewelry – the oldest retail store in Spokane – is coming to an end.
The store is closing.
Going out on top
Fix said the business has never been better, but he and his wife, Debra Schultz, are calling the business quits while they're on top.
"The last six years have been the best in the store's history," said Schultz.
"It's kind of counterintuitive," said Fix, but he and Shultz are ready to retire.
The career paths of the fifth generation is a big factor in the owners' decision to close. Their two children, both adults, are pursuing other professional fields, and were never pressured to join the business.
"Our kids are very supportive," Fix said.
Their son, John Pierce Fix, is finishing his last semester at Carroll College. Their daughter, Louise Fix, is working at Dodson's now while applying to physical therapy schools.
Louise, 27, who has been working at the jewelry store for the past year, said that since longtime customers learned that Dodson's was closing, she's seen many familiar faces in the store, coming to reminisce and recount old stories about the business.
"I didn't know what it meant until people came here for the support," she said, adding that she's sad to let the business go.
As far as a final day that Dodson's will remain open, Fix said he doesn't know yet.
"Our goal is to sell everything," he said. To help with that goal, Fix is offering sales of up to 70 percent.
The clock
Dodson's, at 516 W. Riverside Ave., is perhaps best recognized for its 1903 green analog clock fringed with gold, perched on the sidewalk in front of the store.
"It's certainly a landmark," Fix said.
But selling the business doesn't mean the clock is going away, too. He and Schultz are kicking around a couple of ideas regarding its future in Spokane.
The clock sits on Riverside Avenue, and is in the path of planned street renovations. Fix said he's working with the city to move it to a different spot, where it can retain its status as a city icon.
Fix and Schultz own the building where Dodson's resides, and they said they'll keep ownership of it. Schultz said they might be able to keep the clock by the building and replace the neon lettering on the clock to read "Dodson's Building."
"The city will help us decide where to put it," Fix said.
Beginning in the 'rough and new'
George R. Dodson moved to the frontier town of Spokane Falls in 1887.
In a letter to his wife, he wrote, "The city I am very pleased with – and I can't help thinking that it is bound to grow to a large place. I think this will be a first class place before long although it looks very rough and new now."
The first root of the Dodson family business sprouted shortly after, when, at age 26, he opened Dodson's Jewelers on Riverside.
The business did not have an easy beginning. Two years after opening, the fire of 1889 burned it to the ground. Dodson's moved into another location, the Mohawk building, but in 1914 that too burned down.
Dodson's survived the Great Depression, when in each month of 1933 it hemorrhaged $1,000. It benefited from the post-World War II economy and a revitalization of downtown Spokane stemming from Expo '74.
It also was successfully passed down three times, George Dodson passing it to his son-in-law, John Penn Fix Sr., who passed it to John Penn Fix Jr., and finally to John Penn Fix III, the current owner.
A business built on friendships
Fix said his family's principles of providing the best customer service, quality merchandise and honesty have been carried down, which has been the key to the business' success.
Lifelong customers, like Suzy Dix, hold Dodson's in a special place their hearts. Dix's father and John "Jack" Fix, Penn Fix's dad, had a relationship that started as business but turned into a friendship.
"When my father died, Penn's dad wrote this great letter and told a story about an emerald ring. He bought it when he used to go down there (to Dodson's) on New Year's Eve every year to shop. He and Jack would go into the basement and have a few drinks, and they would go upstairs to barter on jewelery."
It's a story that was important enough for Jack to write down and send to Dix after her father died in 1982.
"It's a story of traditions of my father going down there," and it's one that Dix and her family tell often, she said. "It just warmed my heart to hear the stories of my dad."
Dix still wears an Emerald ring that her dad bought from Fix for her mom, who gave it to Dix, and "every day it reminds me of my mom," she said.
"It isn't just a piece of jewelery," she said. "It is a friendship."
Fix said the business is all about relationships, which is what he found so appealing when he started working there 40 years ago.
"This is a company that's built on relationships," he said. "That's going to be the hardest thing to give up."
Local journalism is essential.
Give directly to The Spokesman-Review's Northwest Passages community forums series -- which helps to offset the costs of several reporter and editor positions at the newspaper -- by using the easy options below. Gifts processed in this system are not tax deductible, but are predominately used to help meet the local financial requirements needed to receive national matching-grant funds.
Subscribe now to get breaking news alerts in your email inbox
Get breaking news delivered to your inbox as it happens.
---