News > Spokane
Deer Park rancher Beryl Baker leaves behind philanthropic, land legacy
Thu., Nov. 15, 2018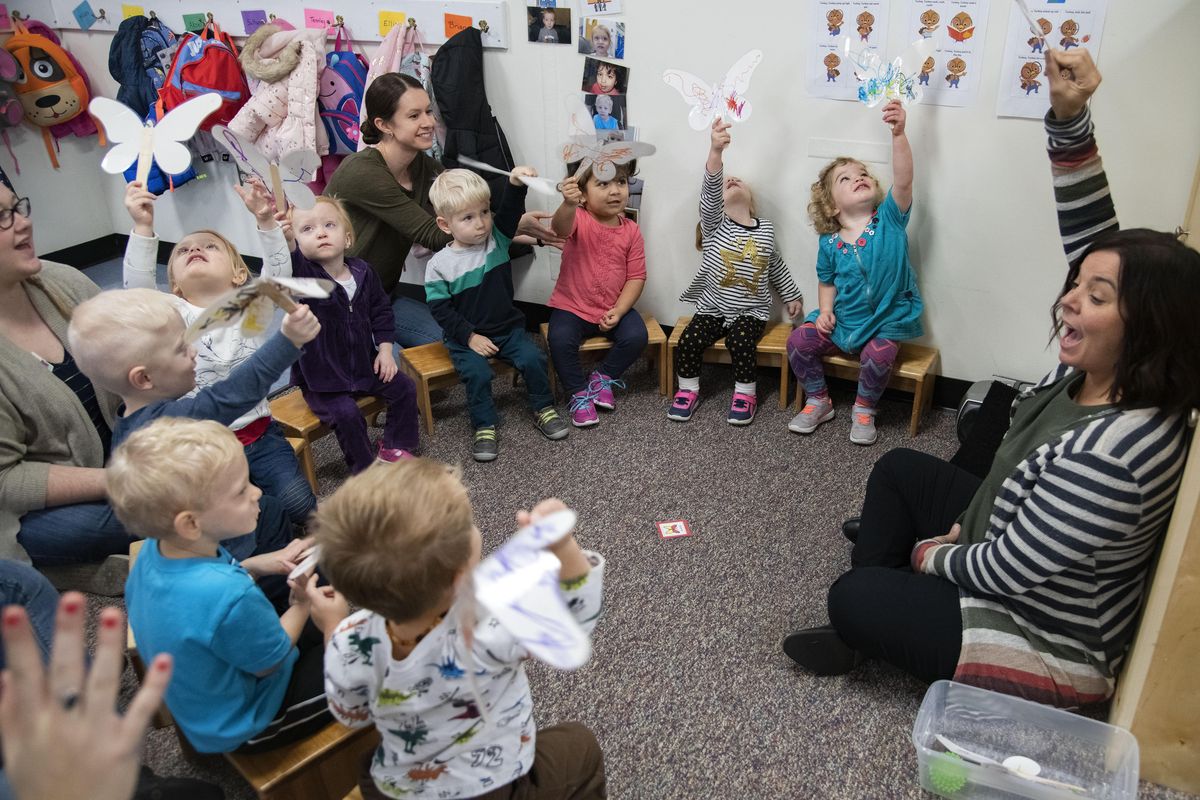 Speech language pathologist Ashley Potter sings a song about butterflies during circle time with 2-year-olds Wednesday at the Spokane Guilds' School. When Deer Park resident Beryl Baker died he $1 million and his expansive ranch in Stevens County for future generations. His philanthropy will benefit the Spokane Guilds' School, the Green House Community Center and graduates of Deer Park High School. (Colin Mulvany / The Spokesman-Review)
Beryl Baker couldn't stand the thought of his sprawling ranch and timberland near Deer Park being bulldozed.
"He just never wanted it to be commercialized, sold off," said Scott Baker, one of Beryl's sons, at his South Hill home this week. "That was one of his biggest fears."
After he died at 81 in May 2017, Beryl Baker's remains were scattered on the dam (named Ponderosa after the ranch on the TV show "Bonanza") he helped construct on the property he bought along with his parents and some other family member in the early 1960s after seeing a Wall Street Journal ad. The 68-acre lake the dam formed, and the thousands of acres of timberland on Garden Spot Ranch about 10 miles north of town in rural Stevens County, will be forever protected from encroaching development after Baker shielded them with conservation easements in 2009 and 2011.
The ranch is the largest piece of property overseen for protection by the Inland Northwest Land Conservancy, said Chris DeForest, conservation director for the nonprofit.
But the timberland isn't the only legacy Beryl (pronounced like "burl") Baker left behind. Before the ranch, Baker had been an investment banker. In the later years of his life, he set aside $1 million in his estate to an investment fund that will support operations at Spokane Guilds' School, the GreenHouse Community Center thrift store in Deer Park, the Inland Northwest Land Conservancy and scholarships for graduates of Deer Park High School.
The roughly $10,000 annual gift to the Guilds' School, which assists children with development disabilities from birth to age 3 regardless of a parent's ability to pay, is a personal one for the Baker family. One of Beryl Baker's grandsons was born with a spine defect that can cause a variety of symptoms, including paralysis and cognitive impairment.
That grandson previously sat in the same circle as a gaggle of 10 students at the Garland District school Wednesday morning, laughing and singing along to tunes like "The Wheels on the Bus" that teach speech and social skills before a child hits preschool.
"You look at these guys, and you're like, how can I not be hopeful?" said Colleen Fuchs, the school's program coordinator, looking on at the giggling and smiling students.
The Guilds' School depends upon private donors for 40 percent of its operating budget every year.
"Something like that is just unbelievable," said Dick Boysen, executive director of the Guilds' School. "Especially if you can rely on that, year-to-year."
The fund that will support the Guilds' School and other interests, the Thomas B. Baker and James T. Baker Fund, bears the name of two of Beryl Baker's sons who died much too soon.
The deaths of Tom, a cyclist who was struck by a drunken driver, and Jim, killed in an accident with a grain railroad car while working for his father, left a profound effect on Baker, said daughter Alison Baker. He had a salvage company, but abandoned the work for the most part after 1987, following Jim Baker's death in the incident near Bonners Ferry, Idaho. He was 19.
"It was horrible," Alison Baker said. "That's about when he stopped doing that."
Instead, Beryl Baker's days were spent tinkering on his property. The family remembered him building a pontoon boat, or fashioning collapsible wheelchairs for those with disabilities.
"He should have been an engineer," Scott Baker said.
Other days were spent fixing up the rentals that Beryl Baker owned in Spokane and elsewhere, monitoring the stock market and riding four-wheelers around the ranch. The kids spent their summers splashing in the lake, and when grandkids came along, Beryl Baker attended their sporting events.
Watching his grandson, Tommy, play football at Deer Park High School brought tears to his eyes, the family said.
"He was a very tough man, on the outside, the exterior," Scott Baker said. "But he was very sensitive."
Beryl Baker managed the land with his first wife, Janet Baker, and even after their divorce in 1998 the two remained close, the family said. The ranch will continue to be sustainably forested, and the private homestead has served as the destination for captured wild animals wandering around local towns, like a moose in Deer Park, as well as a training ground for search and rescue dogs.
That's consistent with Beryl Baker's nature, said longtime friend Jorge Bombel.
"There wasn't anything he couldn't build, and there wasn't anything he couldn't fix," Bombel said. "There wasn't anybody other than a freeloader he wouldn't help."
The two shared many breakfasts and cups of coffee for three decades at the Zip's in Deer Park, said Bombel, a retired Army general who moved to the area and found a kindred spirit in Baker. He experienced that generosity firsthand when, while building a new home and strapped on finances while waiting for his existing home to sell, Baker cut him a check for $245,000.
"I never asked him for it, and he didn't charge me interest," Bombel said. "He said, when you sell your house, just let me have it back."
Baker's monetary donations will also benefit the GreenHouse Community Center thrift store in Deer Park and the Inland Northwest Land Conservancy.
The GreenHouse Community Center will receive a gift of a little more than $4,000 each year. That money will be used to keep the lights on and the refrigerators humming in the combination food/clothing bank and thrift store that has served the community for 20 years, said Melanie Allen, the center's director.
"It will cover our basic costs for a long time," said Allen.
Many of the staff members and volunteers remember Baker, who was a longtime contributor to the center, she said.
An additional $2,000 will go each year to the Inland Northwest Land Conservancy to support its mission.
While the money for schools, thrift stores and scholarships will bear the names of Beryl Baker and his children, family and friends said it's the property where he now rests that will carry his memory forward.
"He was very thankful for what he had," Bombel said. "And he got it by working hard."
Local journalism is essential.
Give directly to The Spokesman-Review's Northwest Passages community forums series -- which helps to offset the costs of several reporter and editor positions at the newspaper -- by using the easy options below. Gifts processed in this system are not tax deductible, but are predominately used to help meet the local financial requirements needed to receive national matching-grant funds.
Subscribe now to get breaking news alerts in your email inbox
Get breaking news delivered to your inbox as it happens.
---