News > Spokane
Rep. Cathy McMorris Rodgers on working in the minority, leadership of her party and specter of impeachment
Thu., Nov. 15, 2018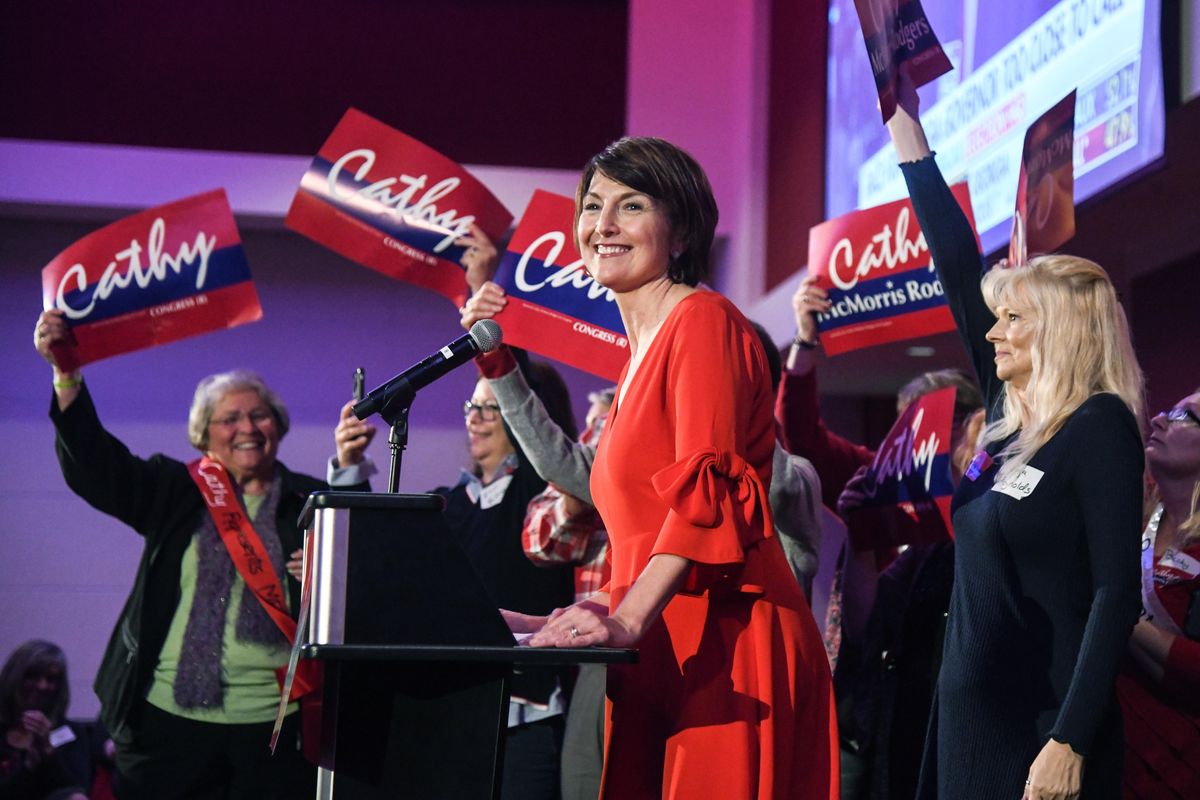 U. S Representative Cathy McMorris Rodgers takes the stage at the Davenport Grand Hotel after defeating Lisa Brown in the 5th District race, Tuesday, Nov. 6, 2018. Dan Pelle/THE SPOKESMAN-REVIEW (Dan Pelle / The Spokesman-Review)Buy a print of this photo
Rep. Cathy McMorris Rodgers will return to Congress next year in a role she hasn't occupied in eight years.
There will be fewer of her Republican colleagues in Congress than Democrats for the first time since 2011. The congresswoman also took her name out of the running for a leadership position, and wouldn't say publicly whom she supported to lead her party as it embarks on two years in the minority.
Still, she said in an interview Wednesday, a week removed from a decisive victory in her closest election to date, she has confidence in her ability to get things done without the prominent position she's enjoyed for years.
"I have served in the minority before, and I have worked for years to build relationships across the aisle," McMorris Rodgers said. "And I will continue to work on legislation with bipartisan support."
It was a common refrain on the campaign trail against accusations the congresswoman led a caucus that wasn't much interested in working with the other party: McMorris Rodgers' legislative accomplishments all carried some bipartisan support, and that the Republican-led Congress under President Donald Trump had worked with members of the opposing party at a greater clip than in decades past.
Still, McMorris Rodgers acknowledged that losing the party majority in the House of Representatives would affect the ability to get bills on the floor.
"Your party chairs the committees, your party controls the House of Representatives and the legislative priorities," McMorris Rodgers said. "Being in the majority party is an advantage in moving legislation."
"It's yet to be seen how the Democratic majority is going to approach legislating in this Congress," McMorris Rodgers said. "I do have a lot of relationships with Democrats that I have built through the years."
Those relationships could be strained by calls for Trump's impeachment, something prominent Rep. Nancy Pelosi has said the Democratic Party is not interested in.
"For those who want impeachment, that's not what our caucus is about," Pelosi, who is seeking to once again lead Democrats in the House of Representatives, told PBS on election night. The California lawmaker, who was the target of political ads opposing Democrats during the 2018 midterms, including McMorris Rodgers' spots attacking Brown, has continued to throw cold water on the idea following the midterm returns. Pelosi has done so even as other prominent members of the party, including California Rep. Maxine Waters, have continued to call for impeachment.
McMorris Rodgers said Wednesday she hadn't heard any renewed calls for removing Trump from office, but she also cautioned that it wasn't clear Pelosi would be named leader of her party, and thus be able to derail such efforts.
"They may try to move forward on impeachment," McMorris Rodgers said. "My question is, on what grounds? I know that some of the Democrats promised during their election that they would move forward on impeachment."
"More of the focus right now is on whether Nancy Pelosi has the votes to be speaker," she continued.
Pelosi's office highlighted several endorsements she picked up Wednesday in her bid to return as Speaker of the House, a title she relinquished in 2011 when Republicans regained the control of the chamber they lost earlier this month. The Washington Post reported Pelosi picked up endorsements from the abortion rights group NARAL Pro-Choice America and several labor groups.
However, there are some Democrats who won election this year, part of the party's pickup of 34 – possibly as many as 39 – seats in the lower chamber, who promised not to vote for Pelosi as their party's leader on the campaign trail.
While Democrats won't pick their leadership until later this month, McMorris Rodgers joined her colleagues on Capitol Hill on Wednesday to select the next Republican leaders.
The congresswoman was interviewed a few hours before Rep. Kevin McCarthy, the present Majority Leader, was elected by his peers to be Minority Leader next year. McCarthy served as second-in-command behind Rep. Paul Ryan, a close political ally of McMorris Rodgers who will not return to Congress after retiring.
But McMorris Rodgers wouldn't say, prior to the closed-door vote that confirmed McCarthy by a count of 159-43, whether she'd support his candidacy or that of Rep. Jim Jordan of Ohio. Jordan had previously chaired the House Freedom Caucus, a group of conservative-minded, budget-hawkish lawmakers who have pushed back on the traditional GOP majority on issues including spending and immigration policy.
"I'm not going to say publicly," McMorris Rodgers said when asked whether she'd support McCarthy or Jordan in the leadership race.
McMorris Rodgers took herself out of the running to remain in her post as House Republican Conference chair, a leadership position that made her the fourth most powerful lawmaker in Congress from 2012 until this year. The position is largely responsible for fundraising and developing the messaging for the party as a whole.
Last week, Rep. Liz Cheney, the Wyoming freshman lawmaker who is the daughter of former Vice President Dick Cheney, announced her intention to run for the conference chair position on the same day McMorris Rodgers said she'd step down from the position. Cheney ran unopposed and was selected for the seat later Wednesday.
Cheney had made some comments to reporters prior to her election that indicated dissatisfaction with the way the party had handled its branding before the midterms.
"We've got to change the way that we operate and really in some ways be more aggressive, have more of a rapid response," Cheney told the Associated Press in an interview earlier this week.
McMorris Rodgers said she had a good working relationship with Cheney "and every member" of the House.
"I am proud of the leadership that I have brought, both to the Republicans and the House," the congresswoman said. "And if someone else takes it in a little different direction, that's great."
When McMorris Rodgers announced last week she wouldn't pursue another term as a member of party leadership, she said through a spokesman that the decision was fueled by a desire to work on legislation at the committee level. She reiterated that desire Wednesday, saying she hadn't made plans about her political or personal future.
"My decision to step away from leadership was a decision, just to take a different path this Congress and just to focus on the committee," McMorris Rodgers said.
McMorris Rodgers spoke just as CNN had published a profile that highlighted her role as a working mother in Congress, with three children at home cared for by her husband, Brian, a retired Navy commander. Portions of that profile, in which McMorris Rodgers talked about meeting her husband at the Pink Flamingo barbecue fundraiser more than a decade ago, echoed a desire the then-state representative shared with former Spokesman-Review writer Richard Roesler in a 2002 piece, when she said she wanted to eventually raise a family.
That was a political lifetime ago. McMorris Rodgers said this week her focus was on the next two years on Capitol Hill.
"I've always taken it one term at a time," she said.
Local journalism is essential.
Give directly to The Spokesman-Review's Northwest Passages community forums series -- which helps to offset the costs of several reporter and editor positions at the newspaper -- by using the easy options below. Gifts processed in this system are not tax deductible, but are predominately used to help meet the local financial requirements needed to receive national matching-grant funds.
Subscribe now to get breaking news alerts in your email inbox
Get breaking news delivered to your inbox as it happens.
---