Sports > Gonzaga basketball
TV Take: First viewing of Rui Hachimura this season shows ESPN crew the talent Gonzaga fans already knew
Nov. 15, 2018 Updated Thu., Nov. 15, 2018 at 11:26 p.m.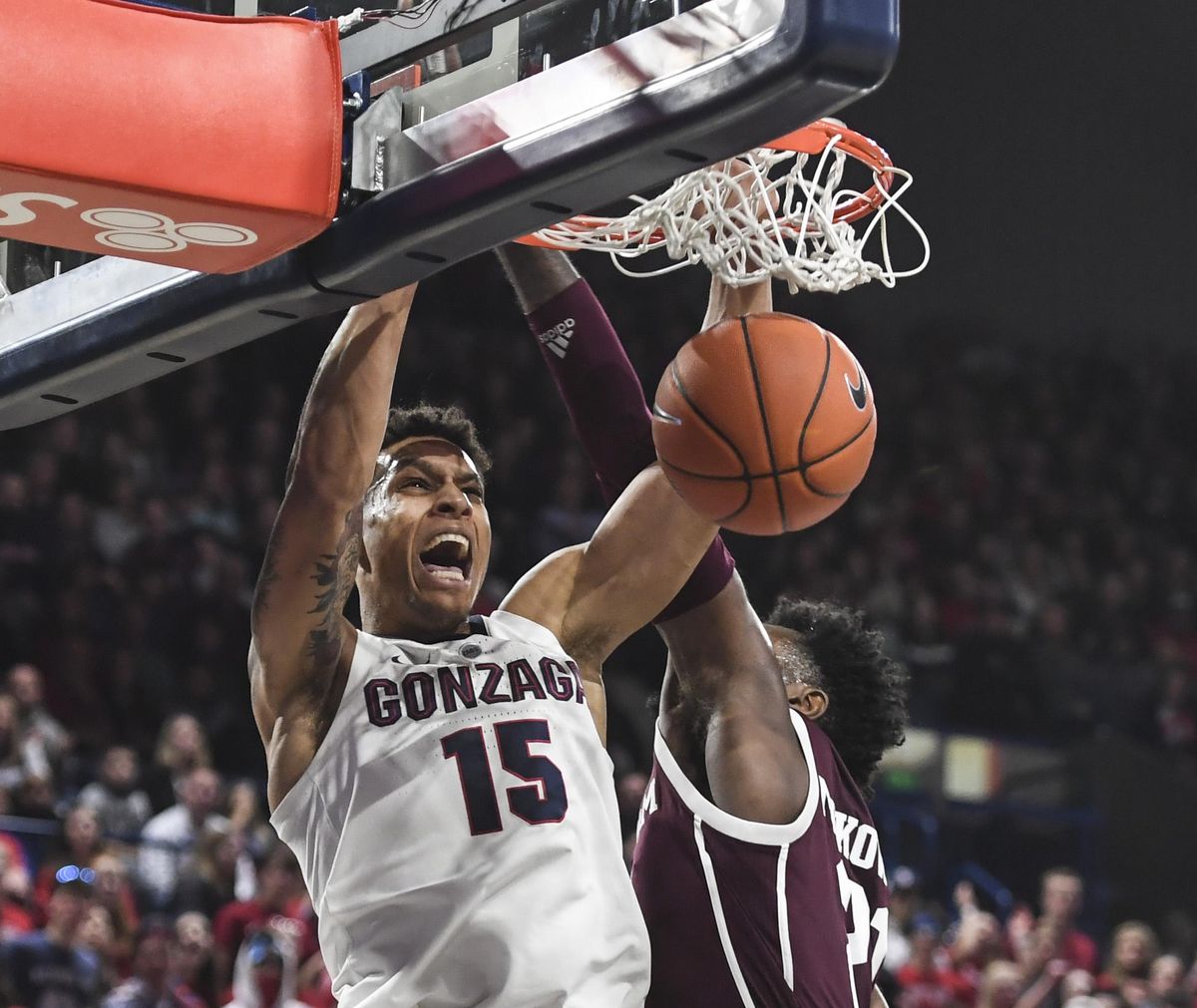 Gonzaga forward Brandon Clarke slams over Texas A&M forward Christian Mekowulu on Thursday in the McCarthey Athletic Center. (Dan Pelle / The Spokesman-Review)
In the past year or so, those who watch Gonzaga basketball games on television have come to know Eric Rothman and Caron Butler well.
They have been staples recently when ESPN broadcasts Bulldog games. Familiarity breeds contentment in some cases, as viewers know what to expect with the duo on the call.
Rothman will keep you informed, Butler will mangle the language occasionally but always impart some salient points, and they will share their admiration for what Mark Few has accomplished at Gonzaga.
All of that was in abundance in the third-ranked Bulldogs' late-night 94-71 victory over visiting Texas A&M, Gonzaga's third consecutive win to begin the season – and its first on ESPN2.
What they saw …
• This was also the first time Butler has seen Rui Hachimura this season. And he was impressed by his improvement.
As Hachimura connected on one of his seven hoops (on just 11 shots), a drive down the lane that ended with a quick stop and pivot before a rim-level finish, Butler had an opportunity to point out what Gonzaga fans enjoyed this year.
"That's the difference between this year and last year," Butler said.
That's after he used the always dependable "That's a grown-man play right there" and before he dropped the "Ladies and gentlemen, we are watching a star."
But it was obvious Butler and Rothman were impressed with Hachimura, which makes sense, considering he finished with 18 points and seven rebounds.
• So impressed, actually, Butler picked him as the Zags' player of the first half after he and Zach Norvell led Gonzaga with 13 points each. However, the person charged with putting together the graphic presentation of the choice used Norvell's picture instead.
To his credit, Rothman pointed out the mistake and made a joke of it instead of ignoring it, something that happens consistently in television.
• Butler was also impressed in his first trip to Spokane and the McCarthey Athletic Center. He did the Zombie Nation dance among the students before the game, praised the atmosphere more than once and said, although this was his first trip, it wouldn't be his last.
He also shared a memory of his first encounter with John Stockton after ESPN2's obligatory shot of Gonzaga's most famous alum. It probably comes as no surprise that Butler's memory revolved around a hard screen set by the smallest man on the court.
What we saw …
• As Butler pointed out, the Zags were on point with their interior defense, as illustrated by the blocked-shots numbers. Gonzaga finished with 10, including a couple from Brandon Clarke that had Butler coming out of his seat.
But part of the reason for the many blocks was TJ Starks – who finished with 16 points – and A&M's ability to bounce it to the rim, of which Few was obviously not a fan.
Starks took it to the hoop and scored early on, as Perkins wasn't in the gap. When it happened again on the next possession, Few expressed his displeasure with a few words delivered from on the court in Perkins' direction. So far on the court, actually, he ran into Randy McCall as the veteran official headed to the scoring table to report a foul.
The gaps shrunk in the second half – the Zags played some zone for the first time this season – and so did the Texas A&M shooting numbers.
• Texas A&M actually ran a few offensive sets that seemed appropriate for a Gonzaga game, though not in the dark uniforms.
The Aggies, struggling a bit early, broke out the Flex offense that was the staple of Dan Fitzgerald's GU teams. The second possession even resulted in a Brandon Mahan 3-pointer, his only first-half bucket.
• Despite the easy win, the Zags featured mainly seven players again, with the top group playing all but 3 minutes up until just 6 minutes remained, with Gonzaga leading by 27 points.
Norvell was the leading scorer, hitting four 3-pointers en route to 22 points. Clarke had 11 rebounds to go with his 14 points. Some of those buckets came courtesy of Josh Perkins, the senior guard who had six assists, surpassing 500 for his career.
Local journalism is essential.
Give directly to The Spokesman-Review's Northwest Passages community forums series -- which helps to offset the costs of several reporter and editor positions at the newspaper -- by using the easy options below. Gifts processed in this system are not tax deductible, but are predominately used to help meet the local financial requirements needed to receive national matching-grant funds.
Follow along with the Zags
Subscribe to our Gonzaga Basketball newsletter to stay up with the latest news.
---