News > Nation
Veterans aren't getting GI Bill payments because VA's 50-year-old computer system broke
Thu., Nov. 15, 2018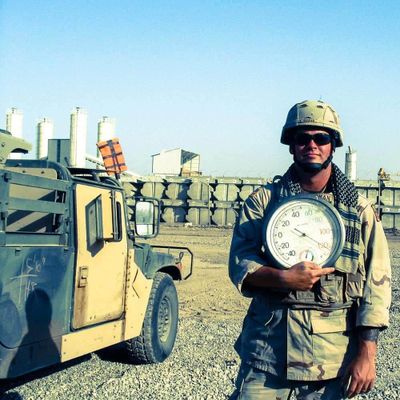 WASHINGTON – Daniel Gorman knows what it's like to return from war, and he wants to help fellow veterans come home, too: The former sailor turned New York National Guardsman is finishing a graduate degree in social work at Fordham University.
But the Department of Veterans Affairs has thrown his fall semester into chaos by underpaying him without notice or explanation – making him one veteran among potentially tens of thousands on the GI Bill who have watched their bank accounts dwindle because of the agency's ongoing technology failures.
"I can't afford rent. I can't afford groceries. It's a lot of emotional strain and aggravation," Gorman, an Iraq War veteran, said. "I'm supposed to graduate in May 2019, but I don't know if that's feasible if this persists."
The problems began this summer when VA's benefit processing system buckled under complex new formulas for GI Bill students. As a result, scores of veterans waited weeks or months to be paid, and have fallen victim to the agency's decades-old technology that advocates and lawmakers have warned for months would do precisely what it did – fail.
Now some veterans are still struggling to overcome financial straits after they took out loans or put expenses on credit cards. And advocates are concerned veterans are taking on financial burdens on top of other challenges, such as mental health and balancing school with family.
And there is concern VA won't have the problems straightened out ahead of the spring semester, either.
Many veterans still haven't received payments. Others, like Gorman, have been underpaid. He was set to receive $631 a month while studying full-time. Just $269 arrived Nov. 1 – a hard hit in New York City, given that his course load and unpaid internship make it difficult to work even part time.
The House Veterans' Affairs Committee is scheduled to grill VA officials over the problem Thursday.
"This is – to be kind – a train wreck," said Rep. Phil Roe, R-Tenn., the committee's chairman, NBC reported. "This discussion started over a year ago."
VA spokesman Curt Cashour said Tuesday that:
895 students have waited longer than two months; they could be missing in the range of $1,500 to $6,000 or more in expected payments.
Nearly 60,000 total claims remain.
In October alone, about 1,000 students under financial hardship called a VA hotline for immediate help.
About 450,000 veterans have been affected, though VA hasn't explained the depth of their issues.
The issue stems from two changes to how claims are processed, Cashour said. Payments are now tied to campus ZIP codes, eliminating many overpayments. Other recalculations were designed to offset costs of additional education programs.
But those formulas proved too much for VA systems to handle.
"Essentially, the law requires a 50-year-old IT platform that was designed to do the equivalent of basic math to instead perform something akin to calculus in short order," Cashour said.
In July, VA noted a series of technology challenges but it appeared confident its systems could handle the new, complicated rules. "We have a handful of defects left," Robert Worley, the VA official who oversees veterans education benefits, assured the House VA committee.
The title of the hearing – "Is VA Ready for August 1st?" – reflected a concern over the hundreds of thousands of veterans heading to school.
It was also a question.
"The resounding answer was no," said Kristofer Goldsmith, the assistant director of policy at Vietnam Veterans of America.
Secretary of Veterans Affairs Robert Wilkie acknowledged the widespread failures in a Sept. 27 hearing, telling lawmakers that "even something as simple as changing the percentages broke the system."
VA, which received nearly $200 billion in funding this year, delayed implementation until it could solve its issues.
Problems have persisted. Roe told Wilkie in a Nov. 5 letter that his staff's visit to a VA processing center yielded disturbing findings. Crashes and latency problems over six months wasted 16,890 man hours, according to the letter.
That totals nearly two years.
When asked why VA relies on ancient computer systems, Cashour pointed to the Veterans' Affairs committees, suggesting it was a funding issue.
"It's laughable that VA is blaming Congress for its IT issues, especially given the fact that Congress just passed the largest VA budget in history," said Molly Jenkins, a House VA committee spokeswoman, calling the agency's IT failures "inexcusable, decades long, and well documented."
VA was allotted $30 million to improve its system, Jenkins said, adding that VA was six months late with a required progress update.
"VA sounded no alarms in their May 2018 report that there would be any delays at all," Jenkins said.
Booz Allen Hamilton, a consulting firm, helped implement the processing system and will also testify before Congress on Thursday. The company and VA declined to discuss their role, or whether they were paid on time for their work.
Associated costs have soared. VA marshaled a battalion of 202 additional employees to process education claims at a cost of $4.5 million since August, Stars and Stripes reported, though the problems remain unsolved.
Veterans have left scores of angry messages on VA social media channels.
"How long can this take to fix?" Jon Shirah asked on the agency's GI Bill Facebook page on Nov. 5. ?It's been over 2 months without pay."
A staffer for the American Legion, rather than VA, contacted Shirah to help.
Advocates have criticized VA for waiting months to alert veterans of the problem and suggest VA could have warned veterans to prepare for financial challenges.
VA issued an alert on Oct. 10, apologizing for delays and conceding it caused "financial hardship" for veterans. The bulletin also included a plea to universities not to penalize veterans for late payments.
VA's announcements were news to former Navy helicopter pilot Stephanie Erwin, now a doctoral candidate at George Washington University. She first heard from her school – not VA – that massive problems were occurring.
Her housing payments of around $2,300 did not show up for two months. She relied on savings to stay afloat. "A lot of veterans are hesitant to raise their hand and ask for help," she said.
But her savings dwindled, and grants awarded to her were locked by the school because VA had not paid her tuition. Those grants helped pay for food and medical insurance. Erwin asked for help from the American Legion on Nov. 5.
VA issued her payments around Veterans Day.
Cashour, the VA spokesman, would not say whether the agency is prepared for the spring semester.
"I don't have indication VA is ready at all," Goldsmith said, frustrated with the potential with more uncertainty. "I don't think the American people intended the GI Bill to feel like a deployment."
Local journalism is essential.
Give directly to The Spokesman-Review's Northwest Passages community forums series -- which helps to offset the costs of several reporter and editor positions at the newspaper -- by using the easy options below. Gifts processed in this system are not tax deductible, but are predominately used to help meet the local financial requirements needed to receive national matching-grant funds.
Subscribe now to get breaking news alerts in your email inbox
Get breaking news delivered to your inbox as it happens.
---