Sports > WSU football
Arizona's Kevin Sumlin returns to the place where his career as an offensive guru first took shape
Fri., Nov. 16, 2018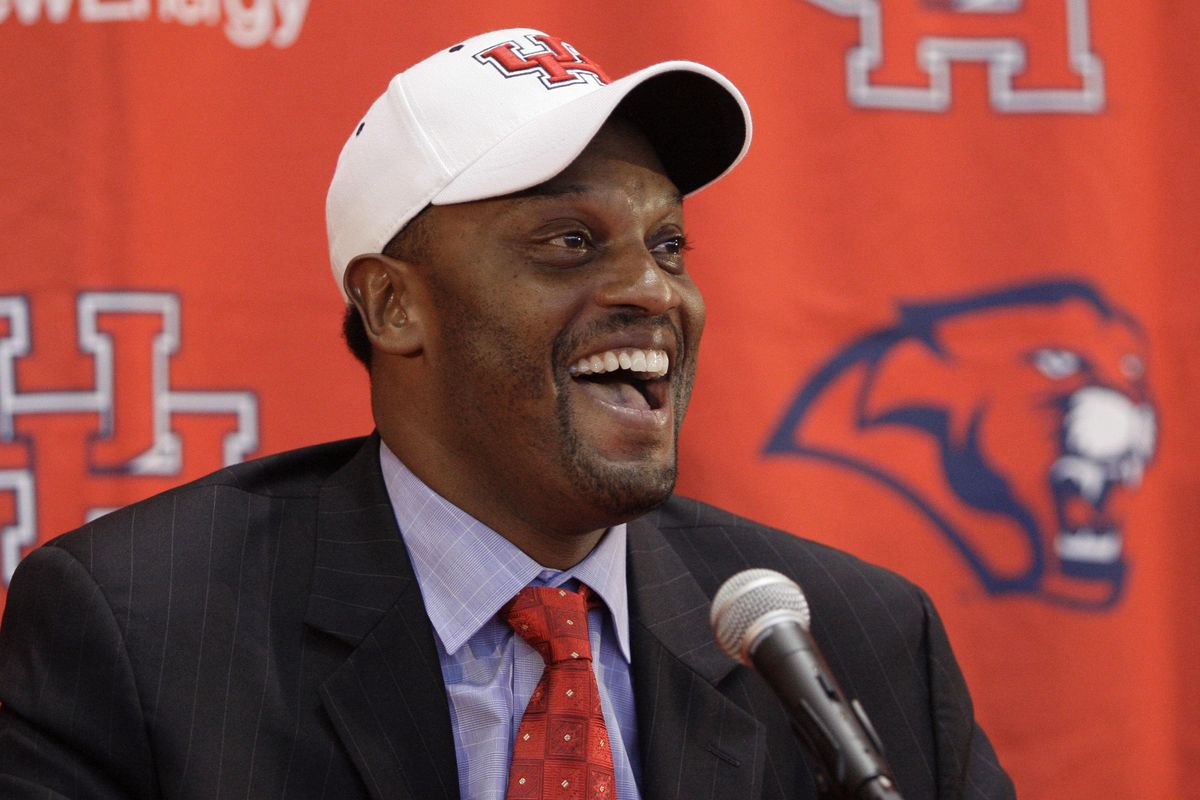 Kevin Sumlin laughs during a news conference introducing him as the new football coach at Houston Dec. 14, 2007, in Houston. Sumlin had spent the last five years on Bob Stoops' staff at Oklahoma. (David J. Phillip / ASSOCIATED PRESS)
PULLMAN – Imagine the 2012 college football season without Johnny Manziel's gridiron wizardry and bombastic swagger, or the 2011 campaign without Case Keenum and his rocket right arm.
Somebody else would have been on top of the podium at the 2012 Heisman Trophy ceremony, lifting college football's most coveted prize, and Hawaii's Timmy Chang would still be the king of the NCAA's all-time passing chart, with his 17,072 career yards.
Manziel and Keenum led offensive revolutions at Texas A&M and Houston, respectively, but there's a scenario in which they wouldn't have: Kevin Sumlin begins his coaching career anywhere other than Pullman.
More than two decades earlier, the man responsible for mentoring both quarterbacks – add Arizona's Khalil Tate to the list now – obtained his undergraduate degree from Purdue University and went straight to work as a group insurance underwriter.
But desk clumps and rate-setting got old. Sumlin wanted a change of scenery and two of his former coaches at Purdue – Joe Tiller, the Boilermakers' defensive coordinator, and Bill Doba, an outside linebackers coach – had just accepted positions at Washington State, joining forces with successful Cougars coach Mike Price.
Sumlin left the insurance world in a hurry and took a graduate assistant position on Price's staff in 1989. Almost three decades later, the first-year Arizona coach is returning to the Palouse with the Wildcats (5-5, 4-3) on Saturday (7:30 p.m. ESPN), and scores of memories from the first pit stop of his career.
"I owe (coach Price) everything in my coaching career because he gave me the opportunity to come to Pullman, put me in a position that helped me as a young coach, and some responsibilities that taught me lessons that I use to this day," Sumlin said two weeks ago on a Pac-12 Conference call. "All that started in Pullman."
Had it not been for those two brief years at Washington State, Sumlin may have been a defensive lifer.
Texas A&M may not have sprinted to an 11-2 record in 2012, stunned Alabama in Tuscaloosa and sent its star quarterback to New York for the Heisman ceremony. Houston may not have won the 2011 Conference USA championship, scoring 49.3 points per game. Without Sumlin's spinoff of the spread offense, Keenum certainly wouldn't have had a chance to shatter Chang's NCAA mark and set one with 19,217 career passing yards.
Sumlin, a Brewtown, Alabama, native, went to Purdue as a linebacker and he came out as a linebacker. He excelled as a run-stopper all four years he was with the Boilermakers, notching 375 career tackles, and still sits No. 7 on Purdue's all-time list.
He had a defensive mind, but more important than that, he had a football mind. Price recognized that didn't feel the need to pigeonhole his young GA.
"Mike gave me probably the biggest opportunity, was to be a graduate assistant and move me from defense to offense," Sumlin said, "and really kind of change my career path."
It's not always an easy transition – the one from offense to defense – Price insists.
"It is a little rare," the longtime WSU coach said by phone earlier this week. "If you start as a defensive guy, you mostly stay as a defensive guy. He made the transition to offense and just took off. He's really smart and was able to do it."
Doba, a defensive guru most of his career, benefited from a similar experience. He was a linebackers coach for Lee Corso at Indiana University in the late 1970s and early 1980s, but made a temporary move to offense when the Hoosiers' quarterbacks and receivers coach left.
He believes it allowed him see the game from a different lens.
"By being a defensive player and then going to offense, you know what hurts you and in my career, twice I went over to offense," Doba said by phone Tuesday from his home in southwestern Michigan. "That really helped me to know how to coach my linebackers, how to drop against – what are they looking at, where are they reading? So that helped me."
But Doba never envisioned Sumlin in a coaching role.
"I thought he was smarter than (being a coach)," Doba said. "I didn't think he'd be a coach. I know he knew the system well and studied hard as a player, but I never thought about him going into coaching until he came out to Washington State as a GA."
Price also entrusted Sumlin with a head-coaching gig while he was in Pullman. The GA was responsibility for the Cougars' junior varsity team, which traveled throughout the region to play games against junior colleges.
While Sumlin didn't earn more than a small stipend, the experience was invaluable. He was a sponge sitting in the same meeting rooms as Price and his staff – an impressive collection of names that included Doba, current Minnesota Vikings coach Mike Zimmer, former Idaho State coach Larry Lewis and Tiller, who'd eventually go on to become a head coach at both Wyoming and Purdue.
Sumlin's fellow grad assistants included current Oakland Raiders offensive coordinator Greg Olson and Memphis defensive coordinator Chris Ball.
"(Kevin would) do anything," Price said. "Great recruiter. He really could recruit, just has a way about him and he has a good sense of talent."
Sumlin and Ball roomed together and, as poorly compensated GAs, worked summer jobs to help cover cost of living expenses.
"We got them a job – both of them – up the Snake River," Doba said. "This guy was building a house and they were doing all the construction work for them, taking care of the house. The only way to get there was by boat, so they were isolated. I don't know how they got supplies. But anyway, we were up there to go fishing and we pulled over to say hi to them and they were just sitting next to a big bucket. … I found out later that they had a salmon in there that they caught out of season, so they'd try to hide it."
Sumlin got his first assistant job in 1991 at Wyoming as a wide receivers coach when Tiller was hired as the Cowboys' head coach. But he'd occasionally return to WSU for the "one-back clinics" held by Price, who held an annual summit for college coaches interested in trading ideas on spread offense theory.
At one of those, he ran into the coach who'll be opposing him Saturday at Martin Stadium when Arizona takes on No. 8 WSU.
"First time I met Kevin Sumlin was at Washington State," said Mike Leach, then working at Kentucky. "You walk through the door and there's Kevin, who was at Purdue and (Noel) Mazzone was at Auburn at the time. Anyway, so I got to meet him in person some day. How about that? I was a little more thrilled to meet Mike Price because he was the head coach and had been to the Rose Bowl and everything, but I was delighted to meet Noel and Kevin as well."
The all-day clinics would be followed by nightly gatherings at a watering hole that still stands in downtown Pullman.
"Everybody would talk about their scheme or whatever and you'd take notes while the other guys were talking," Leach said, "and I can't remember where we ate or what not but then everybody would go to the Sports Page."
"One-back clinic was really good and it enabled us to study how people were reacting defensively to it around the country, and we shared ideas and had coaches with similar ideas offensively, and we shared them and took what we wanted from each guy and it was a great teaching tool for my coaches and everyone," Price said.
Leach and Sumlin have had their share of success proliferating the spread offense – the WSU coach with his pass-happy Air Raid and the Arizona coach with a version of the system that relies more on read-option tactics and the quarterback's athleticism.
"Leach develops some guys and changes the plays just to match his talent and those kinds of things," Price said. "But Kevin's good at it, too. (You can) look and say, 'OK, that offense that he's running right now is probably a little bit different with Tate than it would've been at Texas A&M.' So he can see that and he's on top of everything offensively and defensively. He's just a smart guy and he hired smart people to help him coach."
And he made a key decision at the outset of his career that changed his career path entirely.
"Just a tremendous learning experience for me the two years I was (in Pullman)," Sumlin said.
Local journalism is essential.
Give directly to The Spokesman-Review's Northwest Passages community forums series -- which helps to offset the costs of several reporter and editor positions at the newspaper -- by using the easy options below. Gifts processed in this system are not tax deductible, but are predominately used to help meet the local financial requirements needed to receive national matching-grant funds.
Subscribe to the Cougs newsletter
Get the latest Cougs headlines delivered to your inbox as they happen.
---