News > Transportation
Near-record number of travelers expected next week; weather promises to be fair
Nov. 16, 2018 Updated Fri., Nov. 16, 2018 at 9:31 p.m.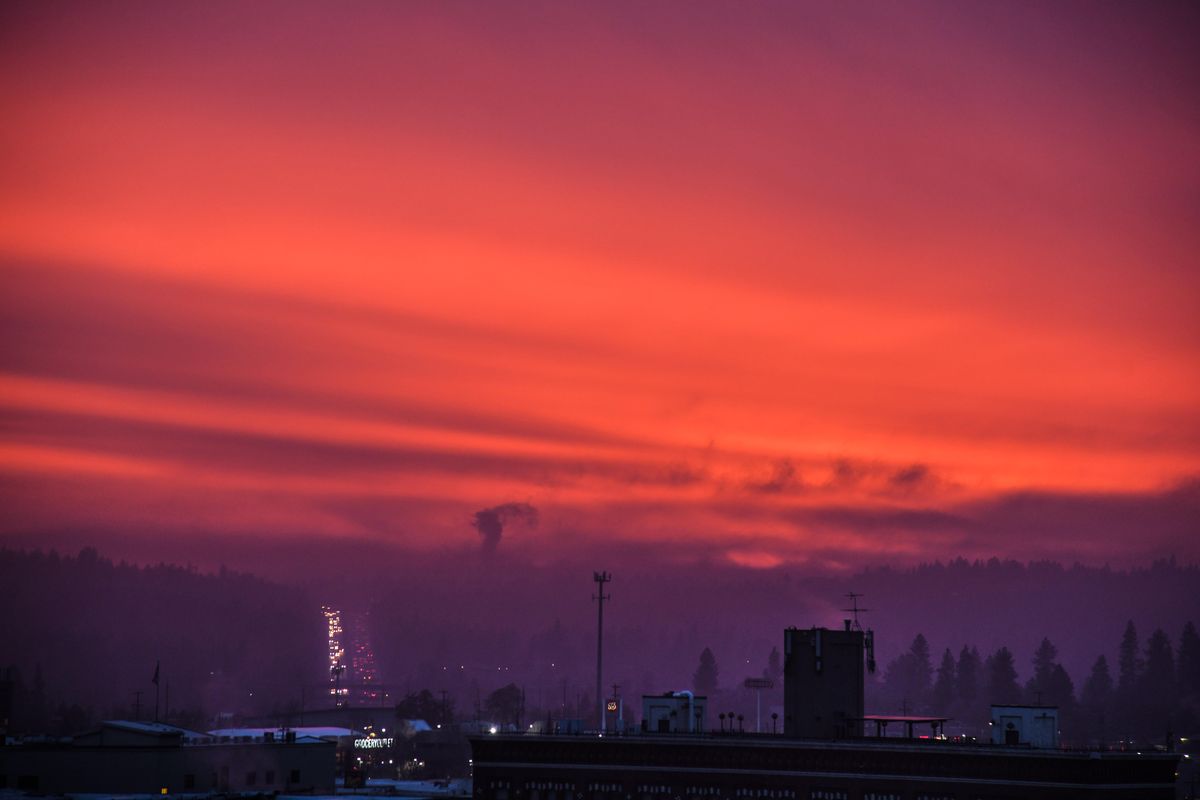 The western sky is ablaze Thursday evening as vehicles travel the Sunset Hill in Spokane, Wash. (Dan Pelle / The Spokesman-Review)
Thanksgiving travel is expected to reach near-record highs, with thousands of people taking to the air or road during the holiday.
AAA indicates this year will mark the highest number of Thanksgiving travelers since 2005, with more than 54 million Americans traveling 50 miles or more away from home, marking a 4 percent increase over 2017.
The Transportation Security Administration expects to screen more than 25 million travelers between Nov. 16 and Nov. 26 – a 5 percent increase over last year, according to an article by KHQ.
At Spokane International Airport, TSA anticipates screening more than 6,000 passengers each day from Monday to Thursday. While there's expected to be a lull in traveler screenings on Thanksgiving – with the number dropping to about 3,500 – it is likely to pick up to 6,000 again on Saturday following the holiday, KHQ reported.
Airport security checkpoints are expected to be the busiest from 5 a.m. to 7 a.m., 8 a.m. to 9 a.m. and 1 p.m. to 3 p.m., according to Spokane International Airport data.
Airport officials encourage Thanksgiving travelers to arrive at the airport a minimum of 90 minutes prior to their flight's boarding time, according to a Spokane International Airport news release.
Travelers should review TSA's website to familiarize themselves with the screening process and prohibited items at the airport. A new security protocol requires all electronics larger than a cellphone to be placed separately in a bin – similar to prior laptop screenings, the release said.
Airport passenger service assistants will be stationed in front of the security screening checkpoints in the morning and afternoon to ensure passengers have all their questions answered.
"If you are picking up family members, we would encourage you to park in our Cell Phone Waiting Lot, which is cost-free, and have your party text or call you once they have landed and collected their luggage," according to the release. "This will help expedite the process and lessen curbside congestion."
Weather in the Inland Northwest is expected to be fair next week with daily high temperatures hovering around 40 degrees until Wednesday, when a potential change in weather patterns could possibly bring snow to Snoqualmie and Lookout passes, said Tom Dang, meteorologist with the National Weather Service in Spokane.
Although it's currently a "low confidence" forecast, there's still potential for snow, Dang said.
"At least be thinking about the potential for some slippery conditions for travel on Wednesday," he said.
Local journalism is essential.
Give directly to The Spokesman-Review's Northwest Passages community forums series -- which helps to offset the costs of several reporter and editor positions at the newspaper -- by using the easy options below. Gifts processed in this system are not tax deductible, but are predominately used to help meet the local financial requirements needed to receive national matching-grant funds.
Subscribe now to get breaking news alerts in your email inbox
Get breaking news delivered to your inbox as it happens.
---