Sports > Idaho football
No. 15 Florida rides Feleipe Franks' arm to rout Idaho 63-10
UPDATED: Sat., Nov. 17, 2018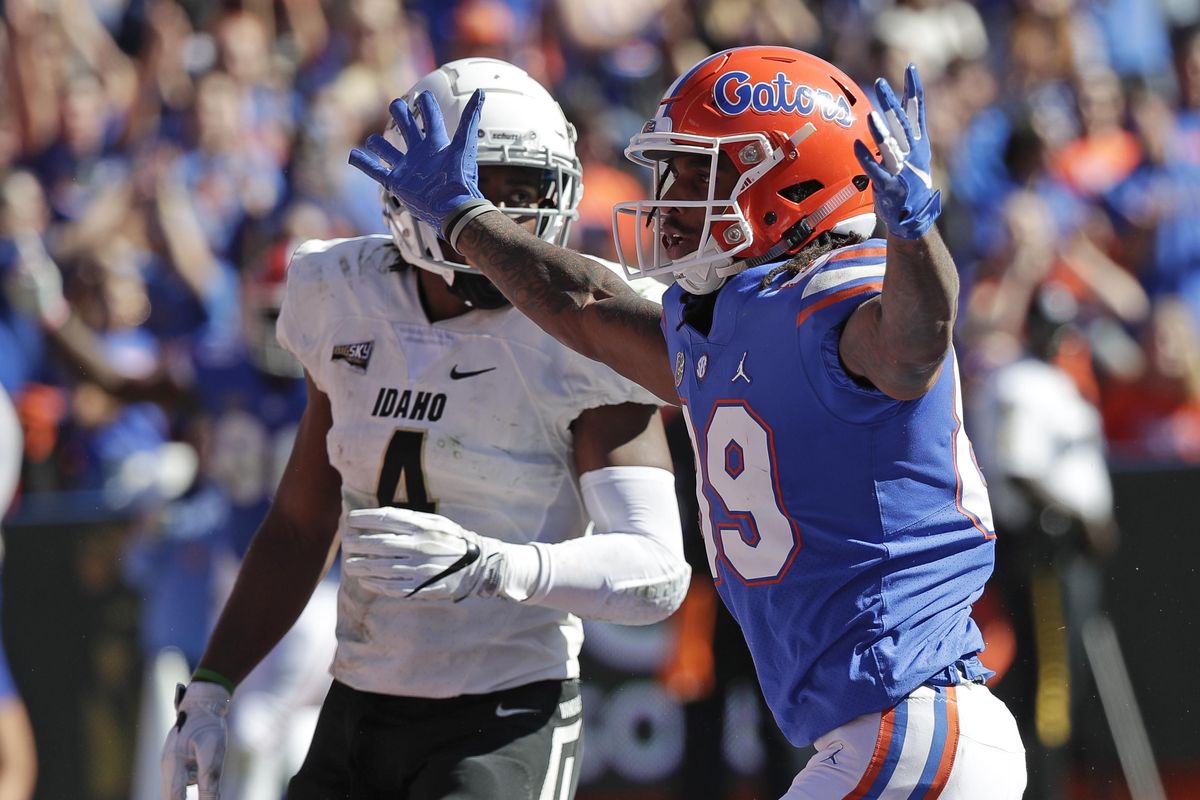 Florida wide receiver Tyrie Cleveland celebrates after catching a 34-yard touchdown pass in front of Idaho defensive back Denzal Brantley during the first half Saturday in Gainesville, Fla. (John Raoux / AP)
GAINESVILLE, Fla. – Feleipe Franks passed for 274 yards and three touchdowns – all in the first half – and No. 15 Florida ran up 600 total yards to rout overmatched Idaho 63-10 in nonconference play Saturday
Florida (8-3) rolled to a 49-0 lead at halftime. Gators defensive back Chauncey Gardner-Johnson returned an interception 26 yards for a touchdown on the first play to start the onslaught. Four touchdown drives took less than 2 minutes and the longest of the seven first-half scoring drives came in 2:24.
Idaho (4-7) avoided a shutout when Cade Coffee connected on a 38-yard field goal in the third quarter and on a 12-yard pass from Mason Petrino to Jeff Cotton with 1:47 left in the game.
"Obviously, we got our butts kicked," Idaho coach Paul Petrino said. "There were guys that gave great effort today, guys I think that will go back and watch the tape and be proud of themselves."
Franks completed 19 of 27 passes and led the Gators to a 42-0 lead before he was lifted with 5:22 left in the second quarter. His effort was in sharp contrast from his past two outings, both at home, when he drew boos for inconsistent play.
"It doesn't really matter to me what people think about how I played," the redshirt sophomore said. "That's what I have coaches for. So you know, that's the only thing that matters to me, what they think. I don't think it was trying to bounce back, or I don't think it was none of that. I think it was just keeping your head down and keep on moving, trying to be the best you can be each and every day. That's what I'm going to continue to do not only in football but throughout life."
Freshman QB Emory Jones, in his second game this season, played all but 2 minutes the rest of the game. His first college TD pass was an 8-yarder to Josh Hammond to close the scoring in the first half. Jones finished 12 of 16 for 125 yards and two scores.
Florida targeted Jones to get extensive work. He'll be able to play in one of the two remaining games and still maintain his eligibility for a redshirt season.
"I was really pleased to get him in as early as we did and get him as many reps as we could, because he is one play away from being in the game next week – he can be in the second play of the game next week," Gators coach Dan Mullen said. "And now he's got a little bit more experience on gameday in there, running the show by himself, not just with a small package – having to run the whole offense."
Local journalism is essential.
Give directly to The Spokesman-Review's Northwest Passages community forums series -- which helps to offset the costs of several reporter and editor positions at the newspaper -- by using the easy options below. Gifts processed in this system are not tax deductible, but are predominately used to help meet the local financial requirements needed to receive national matching-grant funds.
Subscribe to the sports newsletter
Get the day's top sports headlines and breaking news delivered to your inbox by subscribing here.
---