Sports > WSU football
Seventh heaven: Washington State thumps Arizona behind Gardner Minshew's record-breaking seven TD passes
Nov. 17, 2018 Updated Sun., Nov. 18, 2018 at 1:50 p.m.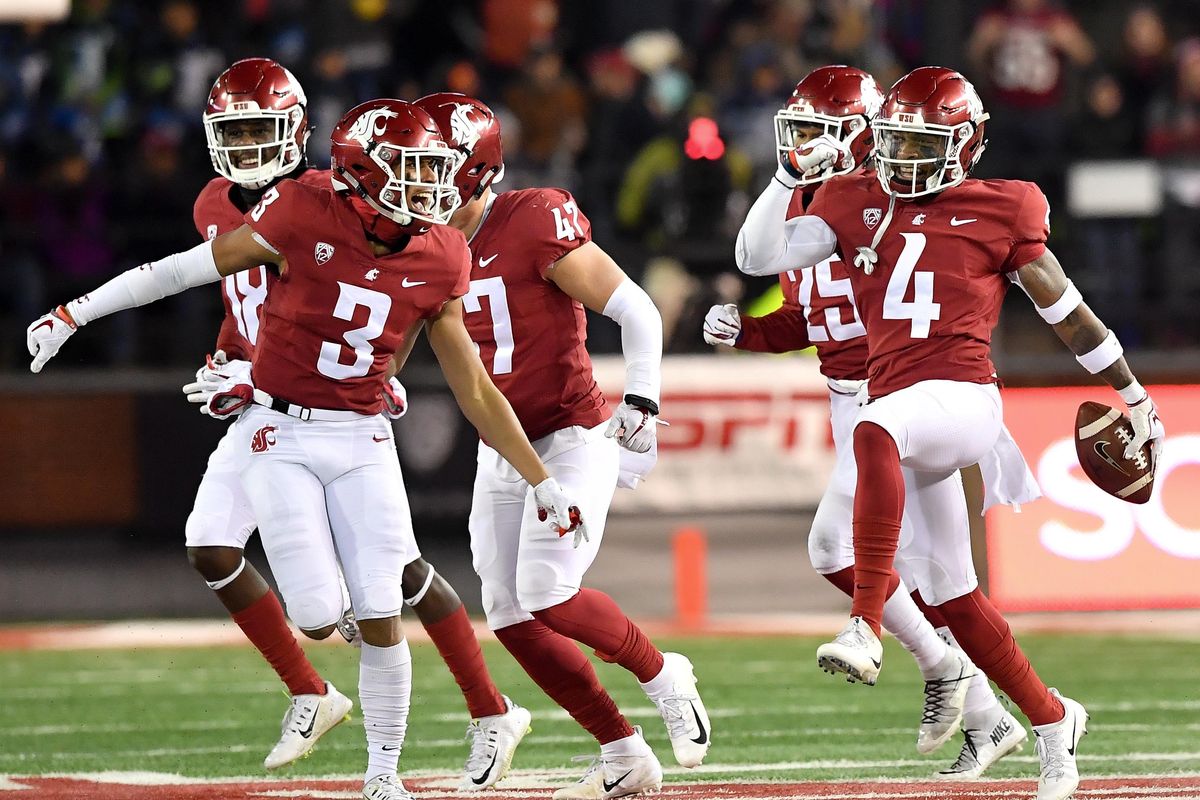 Washington State Cougars cornerback Marcus Strong (4) celebrates after he intercepted a pass against Arizona during the first half of a college football game on Saturday, November 17, 2018, at Martin Stadium in Pullman, Wash. (Tyler Tjomsland / The Spokesman-Review)
PULLMAN – It's been a season of milestones for Washington State in 2018, and the Cougars were eyeballing another one Saturday evening, trying to become sixth team in program history to nail down 10 wins in a single season and the first one to do it since 2003.
The visiting Arizona Wildcats were never going to interfere with school history on a frosty night in Pullman, and in many cases actually helped No. 8 WSU reach the 10-win plateau at Martin Stadium. In a 69-28 blowout, the Cougars got that record and also broached a number of others they probably didn't count on.
It's meaningful for WSU – if only for a moment – because in six days' time the Cougars (10-1, 7-1) will play their rival, the Washington Huskies (8-3, 6-2), in Pullman for a spot in the Pac-12 championship game. The Apple Cup will be what determines the North's representative for the third consecutive season. Utah clinched the Pac-12 South by beating Colorado Saturday.
"We're excited about it," WSU coach Mike Leach said of Saturday's feat against Arizona. "We're excited about it for tonight, then tomorrow bright and early – and earlier than usual – you get in there and start preparing for the next one since we play on Friday."
But until the clock struck midnight Saturday – officially signifying the start of Apple Cup week – the Cougars could revel in their record-breaking night. There was plenty to revel in.
"It's a good deal and I think it's great for the school," Leach said, "and really a credit to our guys and our locker room as far as really pulling together and playing together and doing all those things as a team where everybody does something that helps the team and kind of elevates the whole group."
Had it not been for a fumbled snap on a PAT in the second quarter, WSU would've matched the most points scored in a single half in program history. Instead, the Cougars settled for a 55-14 halftime lead – one point shy of the 56 they scored in 1997 against Southwestern Louisiana.
No bother, there were records to be had elsewhere.
Quarterback Gardner Minshew continued to polish his Heisman Trophy resume, completing 43-of-55 passes for 473 yards and a school-record seven touchdowns. Two of Leach's other Air Raid quarterbacks – Luke Falk and Connor Halliday – have thrown six, but neither ever hit magic No. 7.
Minshew couldn't recall a more productive day in his individual career, either.
"I think in high school I got six one time," he said, "but I don't think I've ever done seven. That was pretty crazy tonight."
Minshew spread the ball around as effectively as he has this season, hitting 11 different receivers and eight of those at least three times. Six players caught touchdowns from the East Carolina graduate transfer Saturday.
In order, they were: Calvin Jackson Jr., Dezmon Patmon, James Williams, Tay Martin, Jamire Calvin and Easop Winston.
"We're two deep at every position right there, X, H, Y, Z, running back," Minshew said. "And I've got complete trust in any of those guys and it paid off tonight."
Jackson Jr., the transfer from Independence Community College, caught his first and second touchdown passes in a WSU uniform and finished with five receptions for 85 yards, while Martin led the crew with seven catches for 124 yards and one touchdown.
The Cougars' multi-purpose running backs also had a hand in making this the highest-scoring game of the Leach era (it matched WSU's 69-point outing against Arizona two years ago). Williams had one touchdown rushing and another receiving to bring his season total to 14, while Max Borghi rushed for 50 yards, caught for 65 more and rushed for a touchdown in the first quarter.
The Cougars didn't need a ton of help on a night in which their offense generated 605 yards. The offensive line bought Minshew eons of time in the pocket and opened up running lanes for the tailbacks, who finished with 111 yards and 5.8 yards per carry.
"We thought, based on how we had played recently, that we could get to them," UA coach Kevin Sumlin said. "We could not; just like everybody else has all year, has not been able to get to them."
The Wildcats (5-6, 4-4 Pac-12) constantly stubbed their toe, too, committing six first-half penalties for 72 yards. They also gave up four turnovers.
"Against a team that can score points like that, possessions are critical," Sumlin said. "You've taken away your own possessions and given them at least three or four more with turnovers."
The Cougars were already leading comfortably, 14-0, when the Wildcats finally got first-down yardage on their third offensive possession. Williams had scored WSU's first touchdown on a 1-yard run and the Cougars got the ball back in quick succession when cornerback Marcus Strong made an impressive play while backpedaling to intercept Arizona quarterback Khalil Tate.
WSU also scored two touchdowns in a span of four seconds in the second quarter. After Minshew fired to Jackson Jr. to make it 41-14, the Cougars recovered Jack Crane's ensuing kickoff, which rolled into the end zone after two players attempted to corral it.
Kainoa Wilson eventually pounced on the ball for the special teams TD to make it 41-14.
"I've just got to make the play," Wilson said, "but I credit coach and credit my teammates, we all complement each other."
Local journalism is essential.
Give directly to The Spokesman-Review's Northwest Passages community forums series -- which helps to offset the costs of several reporter and editor positions at the newspaper -- by using the easy options below. Gifts processed in this system are not tax deductible, but are predominately used to help meet the local financial requirements needed to receive national matching-grant funds.
Subscribe to the Cougs newsletter
Get the latest Cougs headlines delivered to your inbox as they happen.
---