A&E > Stage
CdA's Laura Little helps bring 'All Is Calm' to Big Apple
Sun., Nov. 18, 2018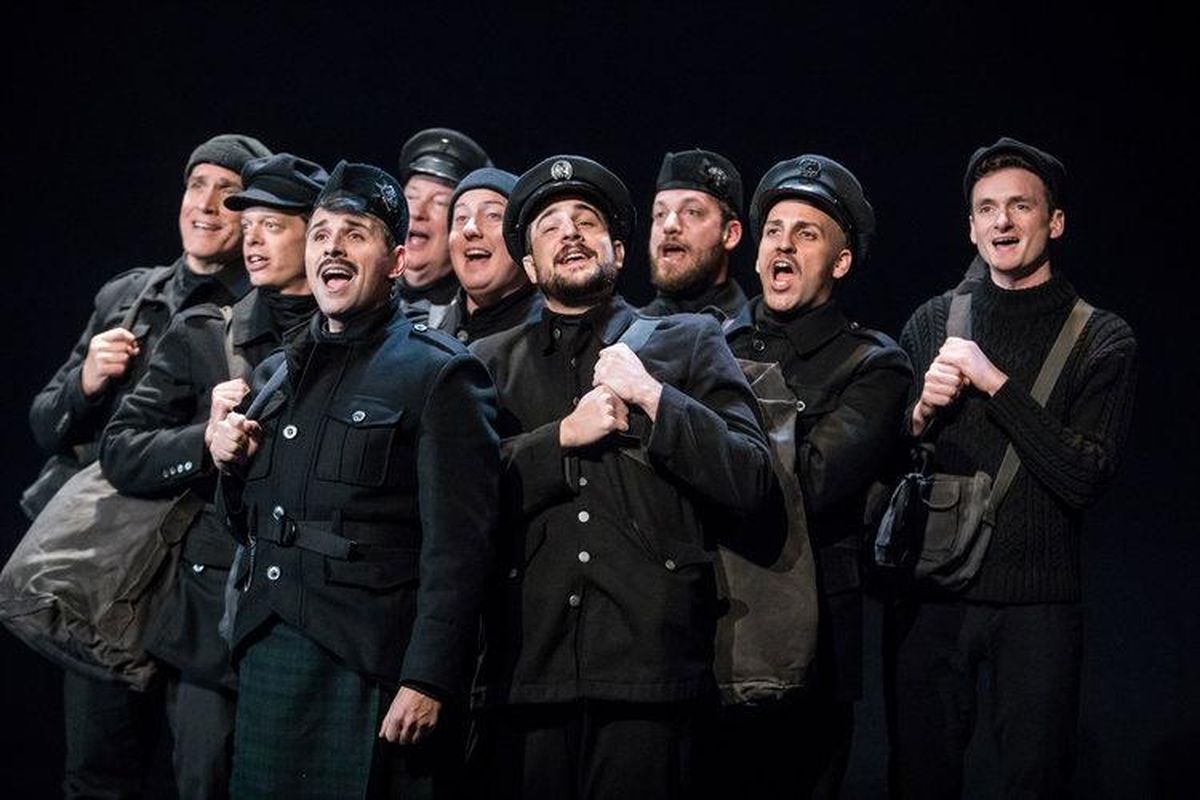 The cast of Theater Latté Da's production of "All Is Calm: The Christmas Truce of 1914." (Dan Norman / Dan Norman Photography)
During the latter half of 1914, gunshots became the new normal along a stretch of Belgium, France and Germany that would become known as the Western Front.
It was the beginning of World War I, then called the Great War and often referred to as "the war to end all wars." Though no one knew it at the time, the war wouldn't end for another three and a half years.
But on Dec. 25, the gunshots stopped, replaced with songs sung in English, French and German, exchanged greetings and gifts, and even a game of soccer.
On this day, in an event that wasn't repeated during the later years of the war, soldiers put down their weapons, entered into no man's land and called a truce in the name of Christmas.
In some areas along the Western Front, the truce only lasted one night. But in others, it lasted through New Year's Day.
Almost exactly 100 years later, in late 2014, Laura Little saw a production of "All Is Calm," a musical that details the Christmas truce, at Lake City Playhouse.
Little, executive director of Laura Little Theatrical Productions, producer of "Traditions of Christmas" and co-producer of Broadway's "Come From Away," "Peter and the Starcatcher" and "First Date," felt compelled to see the musical, having grown up with a father in the military.
But the show touched her much more than she anticipated.
"You walked out feeling joyous and you walked out feeling like you wanted to do something positive in your life or for somebody else," she said.
Little wasn't able to shake that feeling for months, so she decided to reach out to Peter Rothstein, writer and director of "All Is Calm," about the possibility of getting the show to New York.
"Basically what I said was 'Why has this not been to New York yet?' " Little said. "He said 'No producer's approached me about it.' I said 'Well consider yourself approached.' "
Rothstein had premiered "All Is Calm" in 2007 with a live broadcast on Minnesota Public Radio through Theater Latté Da, the Minneapolis-based theater company he artistic directs and co-founded.
The show quickly became a holiday tradition in the area and has regularly toured nationally for years.
Thinking back to their first meeting, Rothstein remembers Little's enthusiasm for the show was palpable.
Coming from a military background himself (Rothstein's father fought in World War II), Rothstein felt a bond with Little and could tell her heart was in the right place.
"She came with a great humility and a respect for the story," he said.
The story began to come together after Rothstein realized the Christmas truce, which he first heard about in a folk song by John McCutcheon called "Christmas in the Trenches," actually happened, not "a lovely piece of fiction, a lovely hippie idea," as he originally thought.
After reading Stanley Weintraub's "Silent Night: The Story of the World War I Christmas Truce," Rothstein thought "I want to do something in the theater with this amazing story."
After U.S. troops deployed to the Middle East, Rothstein realized he had to make telling the story of the Christmas truce a priority.
What followed was "the most sobering vacation" Rothstein had ever taken, a vacation that took him to Brussels, London, Paris, Berlin, Hamburg, Dresden and Ypres to research the war and the truce.
Rothstein was particularly struck by the In Flanders Field Museum in Ypres, Belgium. While in Brussels, he walked between cannons into the military museum, and in London, he walked under a fighter jet into the museum.
But at the In Flanders Field Museum, he was met with a large portrait of unnamed soldiers staring back at him. Playing overhead was the folk song "Will You Go To Flanders?," which opens "All Is Calm."
It was then that he realized he wanted his story to focus on the unnamed soldiers of World War I.
"It was the lowest of the ranks that actually made the truce happen," he said. "They took peace into their own hands, so to speak. I thought 'These men have not had their due in our museums, our history books. They remain nameless.' Part of the play is actually every quote we say the names of the men out loud so you hear the name of each quote. It's my small attempt to have these men, their names go down in history because their acts were heroic."
Rothstein decided to write "All Is Calm" as a docu-musical, pulling lines from the letters and journals of the soldiers involved in the truce, gravestone inscriptions, war memorials and the work of World War I poets like Siegfried Sassoon and Francis Ledwidge.
After a few weeks in Europe, Rothstein came home and wrote the first draft of "All Is Calm" in one weekend.
The musical was initially written in partnership with Minnesota Public Radio and National Public Radio as a 53-minute radio broadcast. The show has since expanded, though it's still on the shorter side at 70 minutes.
Seven years after its premiere, Little and Rothstein met in Times Square and got the ball rolling to bring "All Is Calm" to New York.
But before the musical reached the stage, Little had quite the list of tasks she needed to cross off.
First she had to open an LLC in New York, create a New York-based legal team and hire a New York-based accounting firm because all the investment happened there.
There's also a marketing team (Little's Coeur d'Alene team helped with marketing) and publicist to hire, plus, typically, a general manager, who handles the day-to-day details of the show.
But because of the show's short run, Little decided it would make more financial sense to take on the role herself.
"I've been doing that through the years as executive director for various theaters," she said. "I know how to do that. It's just on a bigger scale."
There was also, of course, the challenge of raising the capital needed to fund the show, with which Coeur d'Alene residents helped.
On the creative side of things, Rothstein began casting the show. He looked for men who were both strong actors, able to handle a variety of accents and languages (each actor plays multiple roles), and singers, who could handle an all a cappella musical.
"I wanted it to reflect what would have happened in the trenches," Rothstein said. "The men wouldn't have had an orchestra. They wouldn't have had a piano. It would have been a cappella singing so I thought I should create an a cappella musical."
Eight of the 10 actors in this production have performed in "All Is Calm" at least once before, so the rehearsal period was only three weeks long.
The cast performed six shows at the Ritz Theater in Minneapolis in early November, then went into a week of previews at New York City's Sheen Center for Thought and Culture.
Rothstein said he was using previews to look for smaller changes that need to be made before opening, mostly things that come with moving into a new theater.
He was also working on removing applause points from the musical.
"The show also happens without applause…" he said. "You're finessing your applause points and making sure the audience is behaving the way you want them to because they are a scene partner after all."
Speaking with The Spokesman-Review the day before previews began, Little was a jumble of emotions waiting to see the first show for which she was lead producer onstage.
"I've never been one to make quite all the decisions I've been making," she said. "You hope that your years of observing and taking the best notes and learning from other people's mistakes, it's coming to fruition now and you hope you made the right decisions. But so far everything is looking and feeling right."
One week after the 100th anniversary of the armistice that brought the war to an end, "All Is Calm" will open at the Sheen Center.
Like the soldiers in the Christmas truce, the cast will lay down their (faux) arms and take a break on Christmas, and the show will run until just before the new year.
Little's involvement with "All Is Calm" inspired her to add a song about the truce into last year's "Traditions of Christmas." The song will be included in this year's production too.
She hopes seeing "All Is Calm" is equally inspiring for audiences and hopes they take part in a call of action the musical is sharing on Facebook.
"We're going to ask people if they've been wronged in any way, that they reach across the trenches and make peace with them… challenge people to try to create some peace in their own life," she said.
Though he's worked on many productions of "All Is Calm" over the years, Rothstein is still struck by the courage the soldiers showed to put down their weapons and walk into no man's land during the truce, trusting that the men on the other side wouldn't fire.
With more access to information about other cultures and religions than ever before, Rothstein also hopes "All Is Calm" inspires audiences to look for ways to move with peace and work to understand differences.
"I think exercising peace is more courageous than exercising war," he said. "I think that can be on a grand scale, nation to nation, but it can also be on a small scale. Our country is more divided than it ever has been, certainly in my lifetime, but how do we have the courage to metaphorically put down some of our armor, put down some of our weapons and try to understand each other?"
Local journalism is essential.
Give directly to The Spokesman-Review's Northwest Passages community forums series -- which helps to offset the costs of several reporter and editor positions at the newspaper -- by using the easy options below. Gifts processed in this system are not tax deductible, but are predominately used to help meet the local financial requirements needed to receive national matching-grant funds.
Subscribe to the Spokane7 email newsletter
Get the day's top entertainment headlines delivered to your inbox every morning.
---