Sports > Outdoors
Spokane couple climbs all 50 high points in the United States
Sun., Nov. 18, 2018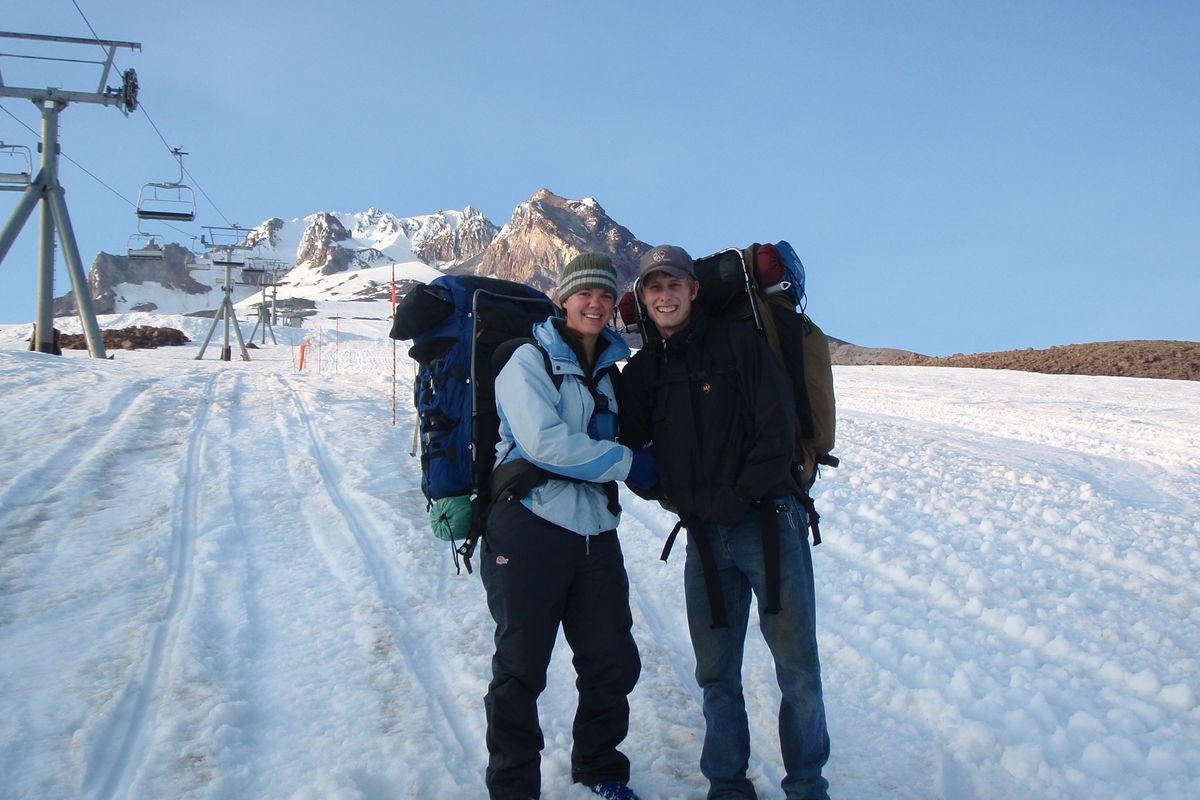 Trisha and Marlin Thorman stop before reaching the top of Mount Hood. Hood was the first real mountain the couple climbed together. (Courtesy)
They started their grand climbing adventure in Nebraska, of all places.
Panorama Point. At 5,429 feet, it would be little more than a hill out west. In the rolling Nebraskan landscape, it holds special distinction as the highest natural place in the state.
With that, Marlin and Trisha Thorman's quest to climb all 50 state high points began on farm roads crisscrossing prairies. That first "peak" and many thereafter didn't even require a hike.
"But there is a sign and a summit log," Trisha, 31, said during an interview Thursday.
The Thormans started their adventure in 2009 while in college in Tennessee. A friend had mentioned the 50-state high point challenge in passing. The Thormans, competitive and driven in their own ways, were hooked.
Yearly cross-country drives from their Washington homes to college made knocking off some of the more obscure climbs easier.
"It's just a really nice way to see a lot of new places," Trisha said. "You're going through really weird places in the state and driving places you would never normally go."
"It's about the travel and the experience," Marlin, 31, added.
Marlin and Trisha met at Southern Adventist University in Collegedale, Tennessee. Marlin grew up in Spokane. Trisha grew up in Battle Ground, Washington. They started dating their freshman year.
That same year, they also started climbing, first on rock. Larger peaks quickly called their names. Marlin, in particular, was obsessed.
They knocked off a number of the other easier high-points, "climbing" hills in Kansas, Missouri and Iowa during marathon cross-country road trips.
In 2009, they climbed their first real mountain together – Mount Hood in Oregon, where they made plenty of "classic rookie mistakes," Trisha said, including practicing self-arrest techniques in the predawn darkness and not prefitting their crampons to their boots.
"I was the most experienced of all of us," Marlin said. "And I had never gone up a mountain."
Within 1 1/2 years, they'd knocked off 30. That included a marathon six-week honeymoon in which they bagged 14 high points.
From there, things slowed down a bit. The peaks grew larger, the commitment more serious and the potential hazards more severe.
One of the toughest climbs was Arizona's high point, Humphreys Peak. At 12,637 feet, it's no Denali. The two found themselves in the middle of a storm. As they climbed, groups ahead of them turned back. Thunder and lightening rolled in. They'd already bailed on that particular climb once before.
Rushing to the summit, with the weather only worsening, they "touched the top, took the picture and we ran."
"That was maybe a low point, because it was a stupid decision," Marlin said.
One of the oddest high points was in Illinois. It's the only high point in the U.S. that's on closed private land. It's only open to visitors on the first weekends of June, July, August and September.
On one Wyoming climbing trip, they made a big detour to Illinois to climb that high point, Trisha said.
The technical climbing presented a particular challenge to Trisha. Although she said it was all well within her physical ability, she struggled mentally. While climbing Mount Rainier, she said she finally pushed through some of the fear and doubt.
"That's where I decided it's totally within my ability to do it," she said.
Trisha is still one peak shy of getting all 50. She hasn't climbed Denali in Alaska. The reason? Her main motivation for climbing Denali would be to check it off a list.
"You need to climb it, not to check a box," Marlin said. "You need to climb it because you really want to climb that mountain."
For a mountain as big, dangerous and committing as Denali, that's not a good reason, Trisha said.
In 2016, the couple finished their objective. Together, they'd climbed 49 of the 50 high points. Marlin has climbed all 50.
They finished in Hawaii's 13,800-foot Mauna Kea. As odd as it might sound, they didn't climb their final peak together. Instead, Marlin biked from the ocean to the top while Trisha drove much of the way and hiked to the summit on her own.
Above all, that seems to sum up the value of their project. The couple loves climbing together. It's given them a shared interest. Climbing has taken them around the country (and world).
But they're independent people, happy to strike out on their own when needed.
"It was a very personal ending," she said. "But then we met at the top."
Local journalism is essential.
Give directly to The Spokesman-Review's Northwest Passages community forums series -- which helps to offset the costs of several reporter and editor positions at the newspaper -- by using the easy options below. Gifts processed in this system are not tax deductible, but are predominately used to help meet the local financial requirements needed to receive national matching-grant funds.
Subscribe to the sports newsletter
Get the day's top sports headlines and breaking news delivered to your inbox by subscribing here.
---