Sports > WSU football
WSU's Gardner Minshew shows how valuable a grad transfer QB can be to a team. But you'll never see that at Washington.
Nov. 20, 2018 Updated Tue., Nov. 20, 2018 at 7:55 p.m.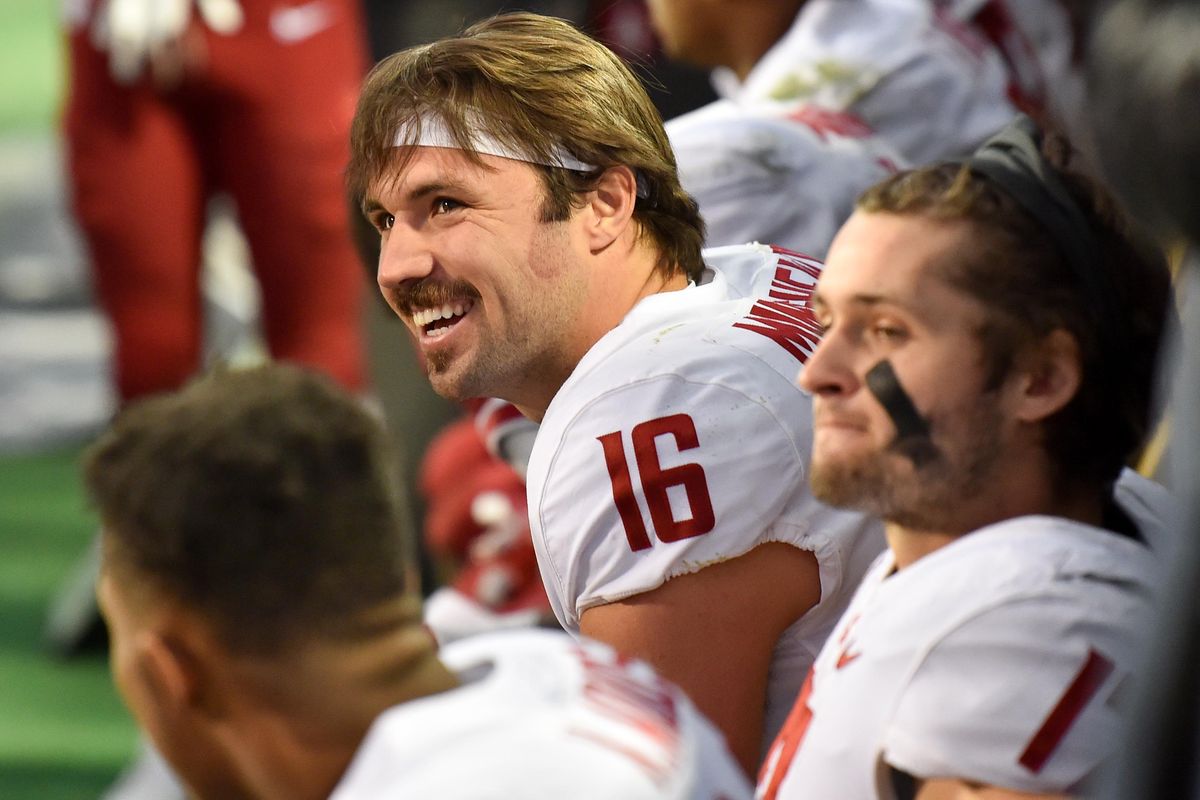 Washington State quarterback Gardner Minshew was all smiles as the game against Colorado wound down Nov. 10 at Folsom Field in Boulder Colo. WSU won 31-7. (Tyler Tjomsland / The Spokesman-Review)
SEATTLE – A few years ago, the Huskies did their homework on Eastern Washington quarterback Vernon Adams Jr. At the time, Adams was drawing interest from a handful of major-college programs that wanted to bring in the QB as a graduate transfer.
Washington wasn't one of the programs to offer Adams a scholarship, and there was good reason for that. (Adams wound up transferring to Oregon for his final season of eligibility in 2015.)
As Chris Petersen explained Monday, the process for students to apply to grad school at the University of Washington is stricter than at other schools. The December deadline for grad school applications – not to mention UW's demanding academic requirements – means it's unlikely the Huskies will get a grad transfer onto the football team.
"We would love to – we've been involved with a couple (potential grad transfers), but it wasn't going to happen," Petersen said. "We were past the deadline, and just how they're doing it here is different."
NCAA rules allow a player who has eligibility remaining and who has earned his or her undergraduate degree to transfer as a graduate student to another program without penalty (meaning he or she can play immediately at the new school). More student-athletes are taking advantage of that opportunity; according to the NCAA, the number of graduate transfers in college football increased almost tenfold from 2011 to 2017, from 17 to 168 in that span.
Washington State QB Gardner Minshew is one of the latest – and best – examples of how the grad transfer rule can benefit both the player and the program, which is what prompted the questions to Petersen about the topic ahead of Friday's Apple Cup.
"It's a lot harder for us to get transfers. That's my problem with this whole thing," Petersen said. "It's not all the same, in terms (of academic standards and timelines). I have no idea about his situation, but I just know we haven't gotten one in here (to UW) yet. So it's really hard to get that done. At other places it's not. …
"If everybody is on the same page and a guy is going to come play football – because let's be real: That's what everybody's going. They're not going there to get a degree. They're going there to play football.
"Let's just all be on the same page, and then it's all good. I'm happy for the guy. I really am. It wasn't working out where he was and he's having this unbelievable experience (in Pullman). I think that's great. I think you're going to see more and more of it, but we're not seeing it here."
Local journalism is essential.
Give directly to The Spokesman-Review's Northwest Passages community forums series -- which helps to offset the costs of several reporter and editor positions at the newspaper -- by using the easy options below. Gifts processed in this system are not tax deductible, but are predominately used to help meet the local financial requirements needed to receive national matching-grant funds.
Subscribe to the Cougs newsletter
Get the latest Cougs headlines delivered to your inbox as they happen.
---