Sports > Gonzaga basketball
John Blanchette: Gonzaga puts up its dukes in true championship form
Nov. 21, 2018 Updated Wed., Nov. 21, 2018 at 5:51 p.m.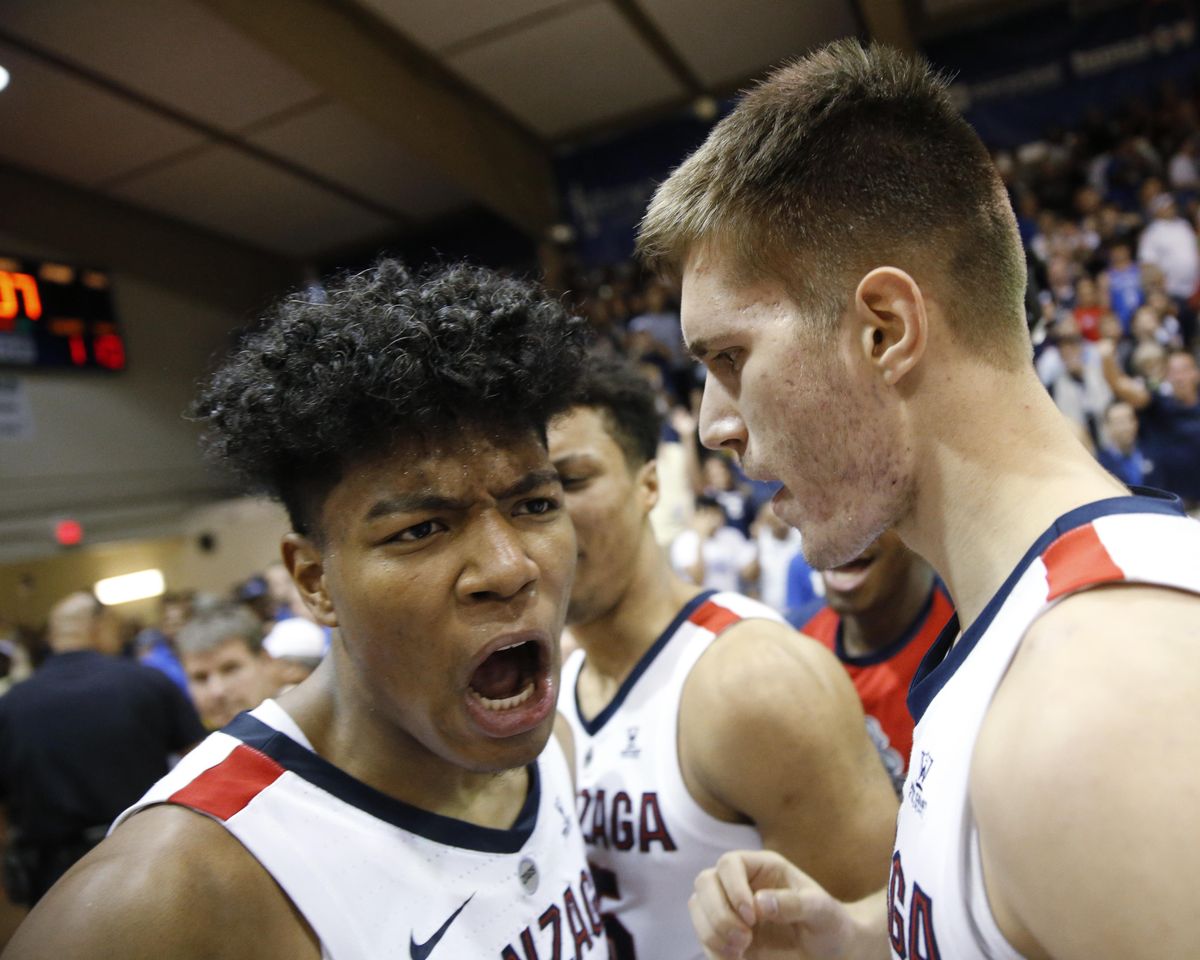 Gonzaga forward Rui Hachimura, left, and forward Filip Petrusev (3) celebrate after Gonzaga defeated Duke 89-87 in an NCAA college basketball game to win the Maui Invitational, Wednesday, Nov. 21, 2018, in Lahaina, Hawaii. (Marco Garcia / Associated Press)
LAHAINA, Hawaii – They didn't win the national championship.
It only felt that way.
The achievement steps for Gonzaga basketball get ever more incremental simply for all the Bulldogs have accomplished these last 20 years – and yet each new inch seems like Everest.
And never more so than in the final 5 minutes of the Maui Invitational tournament on Wednesday afternoon.
But when Rui Hachimura soared straight up to wall off the path to the basket for Duke's R.J. Barrett and Brandon Clarke shuffled in to flick away the freshman's shot in the closing seconds, the Zags added one more notch to the belt.
Not the Maui title – they had one of those.
But this time they took down No. 1.
Not just No. 1, but the game's paragon program, loaded with ready-for-NBA freshmen and all but anointed to win another national title after just one week of the season.
And to signal the evolution complete, the Zags did it with defense.
In the game's last minute and the score holding at 89-87, the Blue Devils had seven cracks at the rim. All were fiercely defended and four of the shots were blocked – two apiece by tournament Most Valuable Player Hachimura and Clarke. Even when the Bulldog pair didn't get a hand on the ball, their challenges of shots by Barrett and Jack White inside 30 seconds were crucial – as was Cory Kispert's textbook on-ball work against Barrett before one of Rui's swats.
"What I'm most proud of," coach Mark Few said, "is that we ended up winning this game on the defensive end with those last two stops and that's something we can really build on."
It also served as a nice counterpart to the Zags' spectacular first half, during which they lit up the Blue Devils with 64.5 percent shooting and built a lead that reached 16 points shortly after intermission.
When the offense eventually ran out of legs – which seemed inevitable given the pace and emotion in a game so anticipated and hyped, even by the participants – the Bulldogs found a different way to dig it out.
"The lights were on us tonight and we played good," Few said. "You have to play great against Duke and I thought we played great."
That was true of nearly the entire Zags rotation – but especially true of Hachimura, who became the fulcrum of the Zags attack at both ends.
He posted up the mercurial – but smaller – Barrett for an important bucket off a high-low pass from Clarke after the Devils had tied the game on a Zion Williamson basket. And he welcomed the challenge from Barrett when he came at Hachimura the last two times down the floor.
"I think he switch on me, that he likes to play one-on-one against me," Hachimura said. "I was like, 'OK, let's do it. I'm the best player, too, so I have to guard him.' "
"Amen, brother," Few applauded. "You're getting the message. Let's continue on this line of thought."
Hachimura also seemed confused about his MVP honor – though not because he felt undeserving.
"I didn't know he had an MVP," he shrugged.
For Few, convincing Hachimura of his worth and specialness is a bigger challenge than anyone might imagine.
"We're working on him to truly believe that," Few said. "He doesn't show his emotions great. He doesn't share much. For him to voice that means he's getting it. He was wanting the ball and when we got him the ball, he was delivering against high-level athletes and damned good defenders.
"Another great sign was that Brandon Clarke was figuring out he can do a lot of great things at the highest level."
Gonzaga teams figured that out collectively a long time ago – except there was always this empty spot against Duke. In three tries against the Blue Devils – all on neutral courts – the Zags were 0-3. They missed maybe their best chance in 2005 against one of Duke's lesser teams after the graduation of J.J. Redick – but that was after Adam Morrison, too. In 2009 and 2015, they lost to eventual national championship Duke teams.
Fourteen NBA players came out of those three Duke teams – eight that are still playing. At least four more will join them off these Blue Devils.
But this wasn't a tectonic upset by any means – and it was achieved with one of the program's best players, Killian Tillie, hopping up and down on one foot in celebration – the other encased in a boot after ankle surgery.
"It's a big-time game for any part of the season," Duke coach Mike Krzyzewski allowed. "We're not who we're going to be, but they're not either – they're missing a really good player. They're ahead of us as far as knowing one another and their system, and they're strong.
"They're a tough team to defend. They're a tough team to beat. They're a tough team."
And, yes – maybe national championship tough.
Local journalism is essential.
Give directly to The Spokesman-Review's Northwest Passages community forums series -- which helps to offset the costs of several reporter and editor positions at the newspaper -- by using the easy options below. Gifts processed in this system are not tax deductible, but are predominately used to help meet the local financial requirements needed to receive national matching-grant funds.
Follow along with the Zags
Subscribe to our Gonzaga Basketball newsletter to stay up with the latest news.
---