Sports
Grip on Sports: There is so much to be thankful for all year
Thu., Nov. 22, 2018 A GRIP ON SPORTS • It's a holiday. One in which we are all supposed to take a moment and say thanks for … well, that's a personal preference. In this space, we will say thanks for sports-related things this morning. Read on.
••••••••••
• We start with basketball, not only a great sport but one in which this area is rich. That was emphasized yesterday when Gonzaga won the Maui Invitational, the best of the preseason tournaments this season.
The Bulldogs did what Mark Few's teams do, execute nearly flawlessly on the offense end, early on in the title game versus Duke. And then, when the legs started to go and the shots came up short consistently, they gutted out the final few minutes by relying on toughness.
What was it Vince Lombardi used to say about fatigue? Well, in the stretch run of their third game in less than 70 hours, the Zags, obviously running on fumes, didn't back down, didn't give in and didn't lose.
Toughness isn't just a physical attribute, it's a mental one. This team showed it has that.
• I'm thankful another old saying is true. A door closed on Washington State in the offseason. But a higher power opened a window. And, like Mary Poppins, Gardner Minshew flew through it.
No team had a worse few months (other than maybe Maryland), and it seemed as if the Cougars would spend the fall in the backwash of the offseason's sorrow. But it didn't happen. A lot of credit has to go to Minshew, whose oversized persona helped his teammates turn their eyes toward the future while honoring the past.
Plus, he's made a boatload of big plays, which doesn't hurt.
He's been the Cougars' spoonful of sugar, that's for sure.
• You think there is any chance the Mariners could put together a Cougar-like season come 2019? If so, I would be the most thankful guy in the Northwest, I promise you.
Years ago a crusty old sportwriter – is there any other kind? – told me the best stories come from really great teams or really awful ones. He was right.
The Mariners haven't been historically bad or historically great in a long time. Maybe one of them will happen next season. Got any odds on which is more likely? Doesn't matter though. I would give thanks for either, as it would make the summer more interesting.
• There is so much more to be thankful for in sports around here. We have successful teams at all levels of football, from WSU to Eastern to Whitworth. The basketball, from youth to college, excels way above what an area of our size should expect. Baseball, hockey, golf, heck, you name the sport, there is something around here to point at and say "thanks."
And the outdoor opportunities. Wow. Within minutes of anywhere there is a spot you can walk a few hundred steps and feel as if you are all alone in the world. That's worth thanking the big fella for, and vowing to preserve for our descendants.
• Finally, I can't believe how lucky I am. I get to do this. I have a great family. I have great friends. I have great readers. I have … I just have so much.
So it's easy to be thankful. Every day.
•••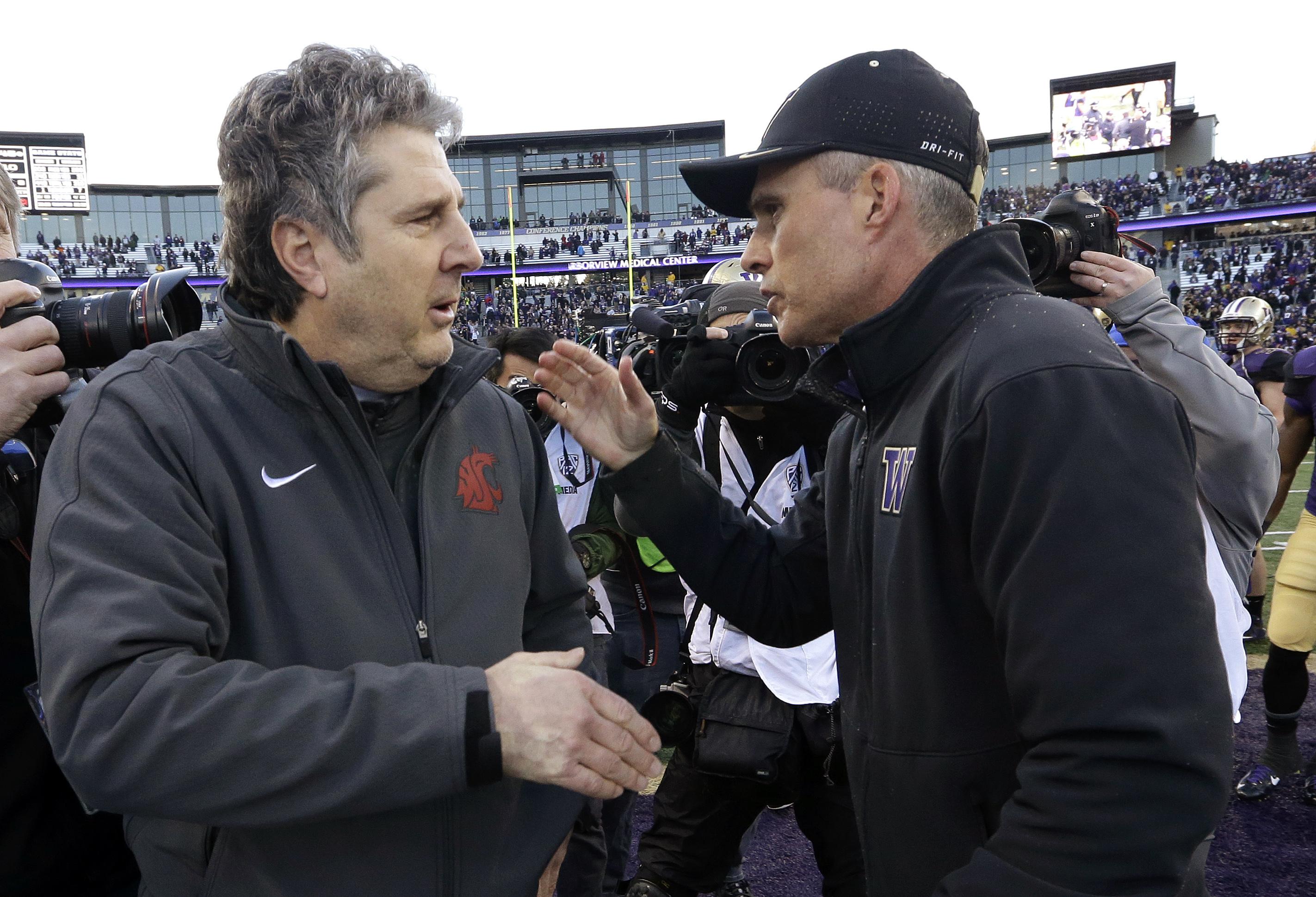 WSU: One more day. Do you think there will be a lot of folks gathered around Inland Northwest tables today saying a quiet prayer for Minshew, Mike Leach and the rest of the Cougars? Theo Lawson spent time yesterday with many folks who will be doing that today and has a transcript of their chat. … He also looks back at the 1988 Apple Cup, one that sticks out in my mind among the many. … Theo also has his picks for this week's conference games, except the AC of course. That will be revealed tomorrow. … Theo has news from the awards' front – always – about Mike Leach and his usual keys to a potential WSU win. … In other Apple Cup related items, Ryan Collingwood examines Chris Petersen's perfect rivalry record and Kip Hill talked with Husky fans in Spokane. … How does Minshew look to those on the wet side of the mountains? Try this on for size. … There are keys for both teams. Stopping the run is always crucial for UW. … The Huskies' Myles Gaskins is a special player.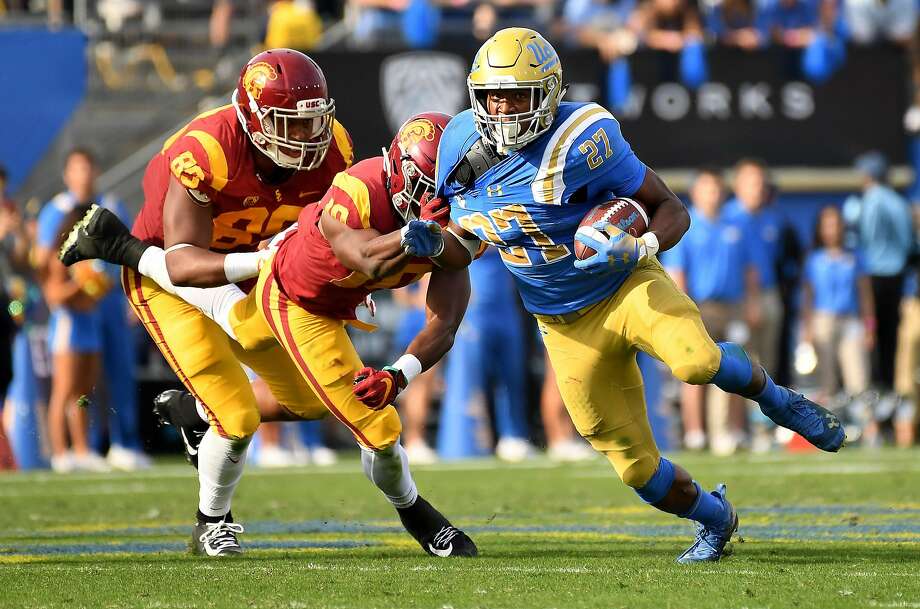 Elsewhere in the Pac-12, we can examine bowl destinations. … The Civil War this season will probably feature a handful of Oregon State trick plays. Jonathan Smith did coach with Chris Petersen after all. … California is surging and Colorado is not. … Stanford has its eyes on UCLA's running game. … USC is hoping for a monumental upset against Notre Dame. … The running game should dominate for Arizona State and Arizona. … Utah's last regular season game is a rivalry one. … In basketball, Washington lost to undefeated Minnesota. … UCLA features a big man in the mold of other Bruin bigs in the past. … Arizona State won a tournament. … Arizona left Maui with two losses.
Gonzaga: It's too bad yesterday's game was on the day before Thanksgiving. Early April would have been better. Ah well, it's a win that should pay dividends for GU come March's selection Sunday as well. Anyway, Jim Meehan has an analysis of how the Zags won, and the keys to the title. … John Blanchette is also in Maui (for more than just the tournament) and he has some context in his column. … The guys in the office put together the highlights, a look at what former GU players were saying on Twitter afterward and a photo report from wire sources. … I have my usual observations in the TV Take and shared some pregame thoughts on Larry Weir's Press Box pod (they stood up OK). … The women will also face the No. 1 team in the land, Notre Dame, in Vancouver today. Remember, it is not Thanksgiving in Canada, where the holiday is on a different date – this year it was on my birthday. Kendra Andrews has a preview of the impressive tournament. … Around the WCC, in case you missed it, as I did, San Diego is 4-1 after a home win versus Colorado on Tuesday. … USF is 5-0 after defeating Harvard.
EWU: Aaron Best had to deal with losing one of the best players in the FCS midway through the season. His Eagles didn't miss a beat. That may be why he was named co-Big Sky Coach of the Year. Ryan has more in this story.
Seahawks: How many Hawk fans have been clamoring for more zone read plays? Just about all of them, right? Their wish has been granted. … There will be injuries to deal with against the Panthers. … The Hawks trust Tyler Lockett. And Ed Dickson.
Mariners: The M's have hired a coach with a famous Spokane name.
•••
• We start the holiday with the best breakfast imaginable. Kim calls it "Aunt Norma's Eggs." Where that name came from, I have no idea, though she did have an Aunt Norma. Anyhow, it has eggs (of course), plus bread, sausage, cheese and a whole bunch of other things baked into a casserole. It's a Thanksgiving and Christmas morning staple in our house. Food coma, here I come. Until later …
Subscribe to the sports newsletter
Get the day's top sports headlines and breaking news delivered to your inbox by subscribing here.
---