News > Spokane
Black Friday crowds small, but determined, at locations throughout Spokane
UPDATED: Fri., Nov. 23, 2018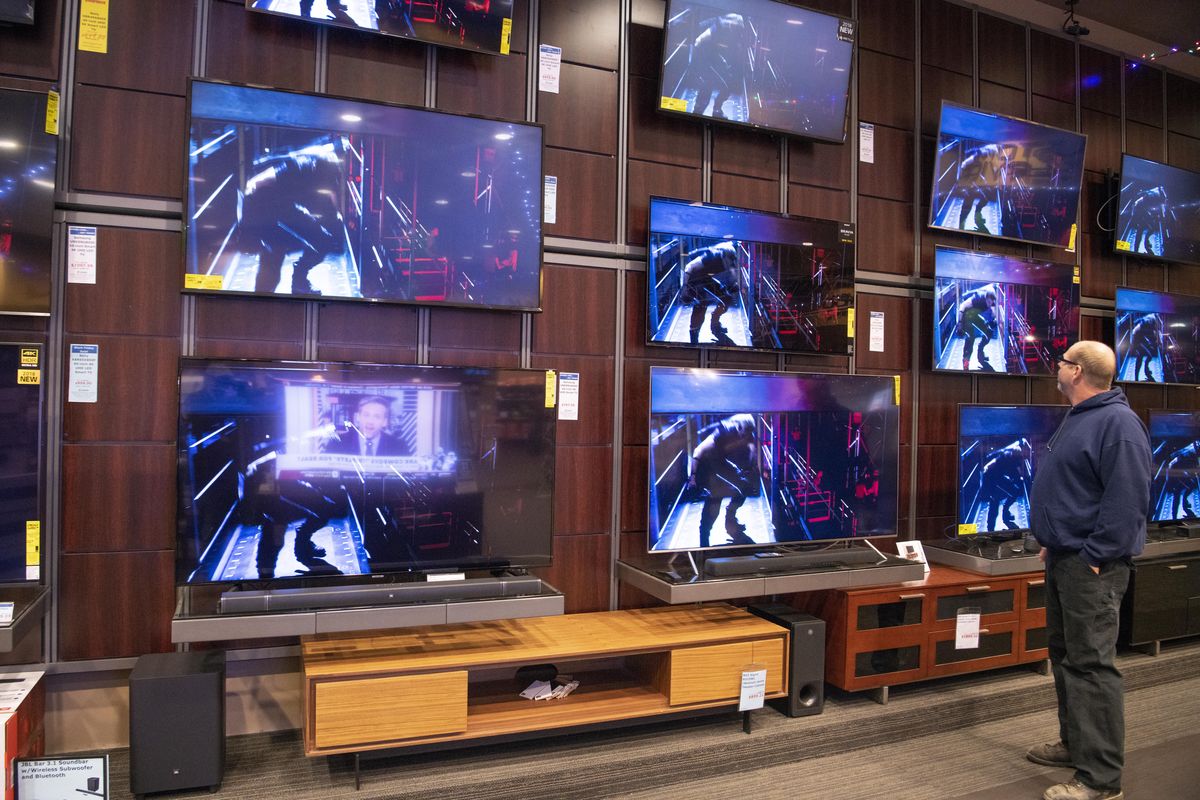 Scott Haisley peruses a wall of giant televisions, many with the latest smart features such as ultra high definition, at Huppin's in North Spokane, Friday, Nov. 23, 2018. (Jesse Tinsley / The Spokesman-Review)
Bargain hunters in the Spokane area on Friday morning may have had to wait a few minutes in the predawn chill to get their hands on Black Friday deals, but those waits appeared to be the exception, not the norm.
"This is pretty docile," said Neal Powell, a Spokane Valley resident who lined up a few minutes before 7 a.m. outside the Target location on East Sprague Avenue. "They used to have those really low items to attract you. It just doesn't seem like there's as many anymore."
It was Powell's first Black Friday venture in a decade, he said, and like many other stores Target had already opened its doors Thursday night for the eager crowd. A family of three waiting at the front of the line from Wenatchee got the bad news the Razor scooter they hoped to score a deal on had already sold out the night prior.
Andrew and Julia Reese were luckier at the Fred Meyer location on Thor Street, which opened its doors at 5 a.m. to a line that stretched close to 100 people long. They were looking for a Playstation 4 video game system for their sister in Oregon and her children, but had struck out everywhere they'd visited on Thursday.
"This is our last option," Andrew Reese said.
Ahead of them in line were couple Brandy Rodgers and Nathan Johnson. Rodgers arrived at the store around 1:30 a.m. with visions of a discounted KitchenAid mixer dancing in her head.
"We finished with Christmas shopping a month ago," Nathan Johnson said. "Black Friday's for us."
The doors opened and shoppers, defying the broadcast images of the mad Black Friday dash, instead filed in one at a time past a table full of mini donuts, coffee and juice. Most made a beeline for a $49 InstaPot cooker, an item most of the early shoppers had piled into their carts. There was also a crowd around boxes full of socks and underwear of all shapes and sizes, half off for the holidays.
"These are kind of cute. They look like owls," said Heather Troglia to her sister, Amanda Boyer, as the latter picked through the offerings for a gift for her daughter.
"We come here to get socks. It's their one huge thing," Troglia said. The pair planned to continue their shopping at World Market.
Upstairs, Andrew Reese held aloft a receipt for his PS4, and Rodgers and Johnson walked to the registers with the mixer in their cart.
Some department stores were open overnight at Spokane Valley Mall, while other shops within waited to lift their metal gates until 6 a.m. That included Bath & Body Works, where sisters Bonnie Slayton and Gail Johnson waited to pick up some items for themselves.
"I said, hey sis, let's show up early," said Slayton, but even as the clock drew nearer to 6 only a few people mingled about, checking deals on their phones or sipping drinks from the food court.
Only the darkness outside and the newly hung Christmas decorations would indicate to mallgoers this wasn't a typical Friday afternoon. The younger crowd waited outside Victoria's Secret, some visitors piling into a photo booth for a group photo while others simply turned their phone cameras on themselves for a selfie.
"In the morning, we always hit this one," said Shelby Linehan, who was sitting with her friend Stephanie Bremer outside a Hollister location that promised a "Wiggity, Wiggity Wack Friday" sale. "Black Friday is wack," a sign outside the store read. "Embrace the wackness."
The friends traveled from Idaho, they said, where there weren't as many shopping options.
"I don't really pay attention to the deals," Linehan said. "It's the only mall around here."
Kevin Osborne, who lives outside Edwall, Washington, was waiting for his wife and daughter to finish their shopping in Bath & Body Works after spending a portion of the morning at Cabela's.
"I've been doing this about three years," Osborne said. "My wife, probably 10 to 15."
Osborne said he liked to get his shopping done for his three children and the rest of his family early in the season, but for him that didn't include scoping out deals on Thanksgiving, as more than a few early shoppers did around the area.
"Thanksgiving, it's been bombed," Osborne said. "With a lot of these sales happening Thursday, I think people should be home with their families."
Workers at the Huppin's electronics store on Division Street steeled themselves at a staff meeting a few minutes before 8 a.m. Friday. But when an associate walked to the door and announced he was "breaking the seal" promptly at 8, only one or two customers shuffled in toward the audio equipment and TVs.
"I'd say it was the early 2010s, when it really, really peaked," said Murray Huppin, CEO and president of the electronics store that started as a tailor shop in downtown Spokane in 1908. "Everyone knows what the deals are going to be now."
Still, Huppin said, he planned to sell a few TV sets ahead of Friday night's Apple Cup.
A couple of dozen shoppers grabbed carts outside the new Costco location on Newport Highway, just outside city limits, as workers prepared to open the doors there an hour early at 9 a.m. Among those waiting was Spokane County Commissioner Al French, who noted that the new location meant ringing registers would benefit county coffers as he prepared to buy some home security equipment on sale.
"I'm here to stimulate the economy," French joked.
Also in line were Andrew and Julia Reese, and fellow family members Ilona and Daniel Boyd. After buying their PlayStation, the family had shopped some deals at the Spokane Valley Mall, Petco (where they scored a half-price electronic dog collar) and then worked their way to the warehouse store as part of a morning of holiday spending.
Ilona Boyd was a little more cagey about what she was looking for on this stop.
"She does, but it's a present," Julia Reese said, gesturing toward Daniel Boyd. The doors rolled up, and the family was off in search of its next Black Friday trophy.
Local journalism is essential.
Give directly to The Spokesman-Review's Northwest Passages community forums series -- which helps to offset the costs of several reporter and editor positions at the newspaper -- by using the easy options below. Gifts processed in this system are not tax deductible, but are predominately used to help meet the local financial requirements needed to receive national matching-grant funds.
Subscribe now to get breaking news alerts in your email inbox
Get breaking news delivered to your inbox as it happens.
---