News > Family
Earning his wings: Jevin Kerbs achieves Eagle Scout rank in face of cerebral palsy
Fri., Nov. 23, 2018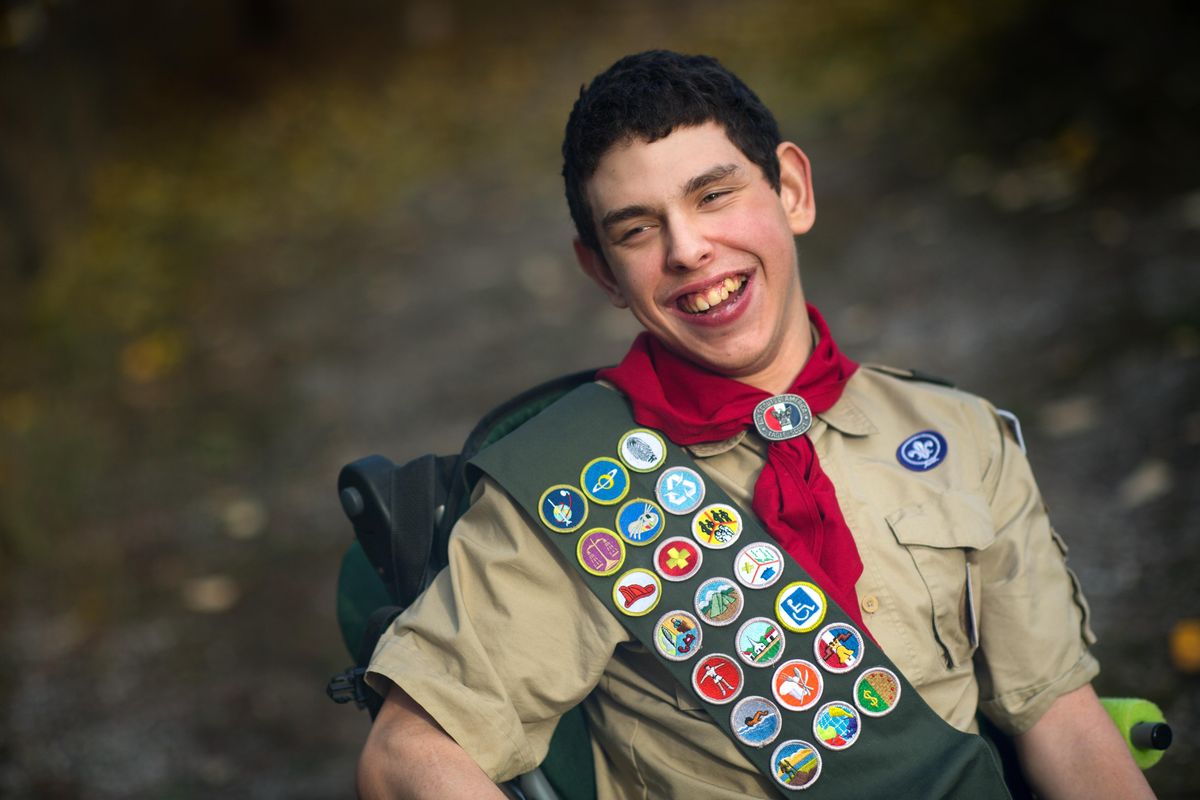 Eagle Scout Jevin Kerbs, 18, poses for a photo on Friday, Nov. 2, 2018, at his home in Clayton, Washington. Kerbs' fellow scouts were determined to help him earn his Eagle Scout rank and didn't let cerebral palsy stand in his way. (Tyler Tjomsland / The Spokesman-Review)
It takes dedication, determination and hard work to become an Eagle Scout. Requirements include earning 21 merit badges, which can involve miles of hiking, a community service project, and demonstrating communication skills. A small percentage of Boy Scouts achieve this ranking after a lengthy review process.
That's a lot to tackle for many young men, but for Jevin Kerbs the goal seemed sometimes unattainable.
Jevin has cerebral palsy.
"He's had to work three times as hard as everyone else," said his mother Connie Kerbs.
She knows what she's talking about. She and her husband, Mike, have 16 kids, including 13 children they foster or have adopted. Jevin has four older brothers who'd already attained the rank of Eagle Scout.
"Jevin was determined not to let anything stand in the way of this goal," Kerbs said.
In the living room of their Clayton, Washington, home, Jevin beamed.
Last month he achieved his long-held goal.
He came to the Kerbs family through the foster care system at age 8, and immediately plunged into scouting with his older brothers, quickly making new friends.
"What was enjoyable for me is that I could go through Scouts with my friends," he said.
And when it came to achieving his goal of becoming an Eagle Scout – those friends made all the difference.
Take earning his swimming merit badge, for example.
"The swimming merit badge was my favorite," he said. "I love swimming. My muscles get all tight because of my disability, but in the water I can relax."
His mom smiled.
"He's a fish in the water," she said.
But to earn the badge meant he had to demonstrate certain strokes and swim 200 yards, unassisted.
"We tried three or four times to get it done," Jevin said. "The first time, my hip went out and we didn't even realize it."
They discovered he had inoperable, congenital hip displacement, and he had to wait almost two years to try again. That required not only higher council approval, but also intensive medical treatments.
Still he persevered, and when he was ready to try again, his scout buddies were in the water with him, every grueling yard.
"All my friends were in the water and they were supporting my arms in case I needed them," Jevin said.
However, the emotional support proved even more pivotal.
"It took every ounce of his determination," his mother said.
When asked how he felt when he met that merit badge requirement, a grin split Jevin's face.
"I was really exhausted," he said.
Then there were camping and hiking badges to earn.
He spent 20 nights camping, whether with his family on their 80 acres in Clayton or on trips with his troop.
He also earned his cooking badge, grilling hot dogs over the campfire and making chili with his brothers.
"We competed in chili cook-offs," Jevin said. "We won one year and came close another year."
Earning his hiking merit badge became a family affair, but finding paths that were wheelchair accessible was a challenge.
"We hiked all over – wherever we could find trails," Kerbs said.
The final 10-mile hike happened on Jevin's birthday at the track at Riverside High School. Fellow troop members took turns pushing his heavy chair, but they weren't the only ones.
"My sisters helped out, too," he said.
As if he didn't have enough challenges, redistricting meant a change in troops. He started with Troop 28, but ultimately finished with Troop 911.
Jevin just smiled.
"I made new friends," he said.
For his Eagle Scout community project, he found a way to help kids in the foster care system. He organized a book drive for the Department of Child and Family Services.
"He wanted social workers to have a book to hand to children when they picked them up from rough or yucky places," Kerbs said.
His goal? Five hundred books.
He pulled together a team and set out 40 boxes throughout the Deer Park/Chewelah community.
"We got over 2,000 books," Jevin said. "It took us all night to count them!"
His mother stressed that he earned every merit badge and each rank advancement with no shortcuts.
Jevin spent hours memorizing and reciting every slogan, oath and motto so that he could be understood by scoutmasters and committees holding reviews.
But he didn't do it alone.
"It takes a village," Kerbs said. "His friends were with him every step of the way. The friendships formed through scouting are friends for life."
Jevin admits it wasn't always easy.
"Sometimes I wanted to give up, but my friends and family kept encouraging me," he said.
At the meeting when his achievement was recognized, the speaker asked that anyone who'd been inspired or influenced by Jevin to stand.
"Every person in that room immediately stood up," Kerbs said.
Jevin, 18, had set his eyes on becoming an Eagle Scout since he was an 8-year-old Cub Scout, and he hopes his accomplishment encourages others.
"People are surprised that someone in a wheelchair with mobility issues can be an Eagle Scout," he said. "But people with disabilities are just as good as Eagle Scouts who can walk. Overcoming barriers might be hard, but when people see it, their eyes will be opened and maybe they will say, 'This kid did it. Maybe my son can do it, too.' "
Local journalism is essential.
Give directly to The Spokesman-Review's Northwest Passages community forums series -- which helps to offset the costs of several reporter and editor positions at the newspaper -- by using the easy options below. Gifts processed in this system are not tax deductible, but are predominately used to help meet the local financial requirements needed to receive national matching-grant funds.
Subscribe now to get breaking news alerts in your email inbox
Get breaking news delivered to your inbox as it happens.
---