A&E
Stream on Demand: Invite 'Crazy Rich Asians,' 'Little Women' into your home
Fri., Nov. 23, 2018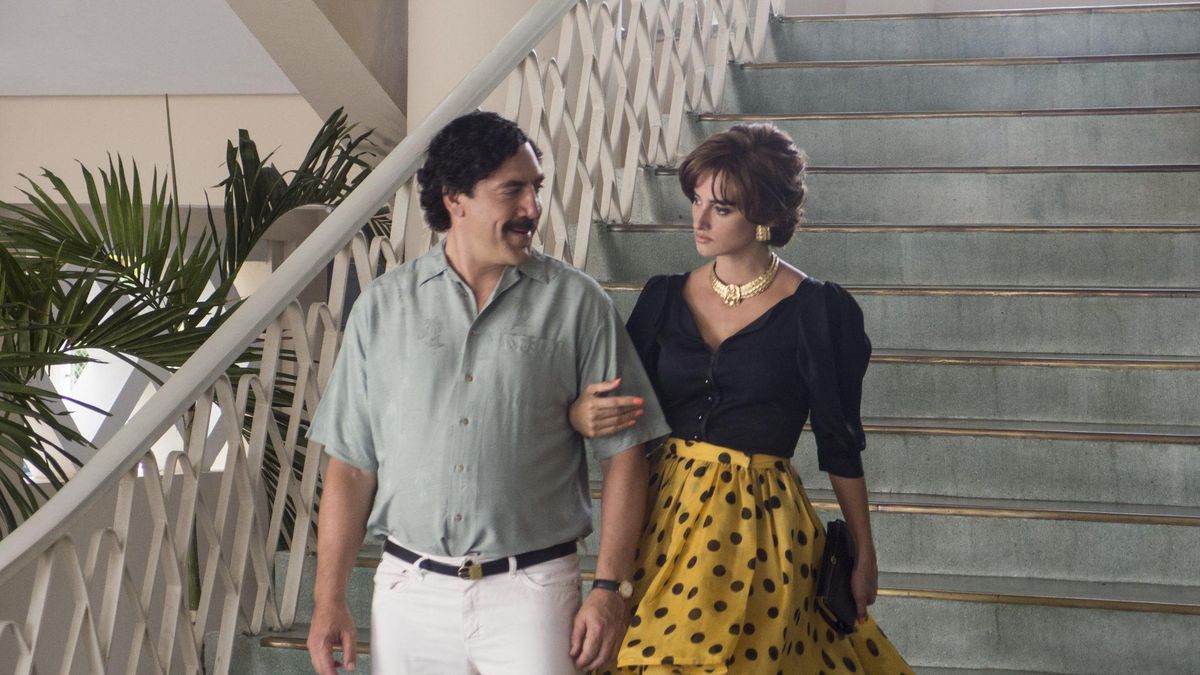 Javier Bardem is the drug lord Pablo Escobar and Penélope Cruz is journalist Virginia Vallejo in "Loving Pablo." (Universal Pictures)
What's new for home viewing on Video on Demand and Netflix, Amazon Prime, Hulu, and other streaming services.
Top streams for the week
A Chinese-American professor (Constance Wu) collides with the culture of the ultra-rich in Singapore when she meets her boyfriend's family in "Crazy Rich Asians" (2018, PG-13), the hit romantic comedy based on the semi-autobiographical novel by Kevin Kwan. Henry Golding, Awkwafina, and Michelle Yeoh co-star. Now on Cable On Demand and VOD, also on DVD and at Redbox.
The British miniseries version of the classic "Little Women," starring Emily Watson as the mother of four sisters, originally played on PBS in the U.S. and is now on Prime Video.
Ethan Hawke is a priest facing a spiritual crisis in the provocative "First Reformed" (2018, R), a personal drama from filmmaker Paul Schrader. Now streaming on Amazon Prime Video.
FilmStruck, the premiere streaming service for American and international classic movies, ends its service after two years on Thursday, Nov. 29. Criterion has announced a plan to restart its own service in Spring 2019 and Warner promises to bring back its classics in a new streaming service in a year, but until then this is the end. If you're a subscriber, time to see those films on your watchlist or browse through the catalog one last chance to stream some of the greatest films ever made.
Pay-Per-View / Video on Demand
The American indie drama "Blindspotting" (2018, R) follows a man on the final days of probation as his best friend pulls him back into crime. Also new:
· sci-fi thriller "Kin" (2018, PG-13) with James Franco and Dennis Quaid;
· romantic comedy "Dog Days" (2018, PG) with Nina Dobrev and Vanessa Hudgens;
· Sundance award-winning drama "We the Animals" (2018, R);
· indie drama "Skate Kitchen" (2018, R) set in the skateboarding culture of teenaged girls in New York City;
· award-winning documentary "Science Fair" (2018, PG).
Netflix
Kurt Russell is Santa Claus in the Netflix Original family holiday film "The Christmas Chronicles" (2018, not rated).
"Mystery Science Theater 3000: The Gauntlet" offers six more cheesy films for Jonah Ray and the bots aboard the Satellite of Love to heckle.
Foreign affairs: In the comedy "The Tribe" (Spain, 2018, with subtitles) a CEO loses his fortune and his memory, and is reunited with his biological mother, who leads a vocational dance troupe. Also new:
· horror film "Sabrina" (2018, Indonesia, not rated, with subtitles), about a demonic doll;
· "Fugitiva: Season 1" (Spain, with subtitles), a crime thriller starring Paz Vega as a mother who takes drastic measures to protect her children from her husband's enemies.
Rupert Grint and Nick Frost star in "Sick Note: Seasons 1 & 2," a black comedy from Britain about a compulsive liar misdiagnosed with a fatal illness. Lindsay Lohan co-stars in the second season.
More streaming TV: the culinary competition show "The Final Table: Season 1" pits the top chefs from around the world in a series of cook-offs. Also new:
· "The Last Kingdom: Season 3," the drama about the birth of the British nation;
· "Frontier: Season 3" from Canada with "Aquaman" star Jason Momoa.
Kid stuff: two new animated series begin – "Kulipari - Dream Walker," a sequel to the adventure fantasy "Kulipari – An Army of Frogs," and the music-centric "Motown Magic: Season 1" for young viewers.
True stories: "Jiro Dreams of Sushi" (2011, PG) profiles the legendary Tokyo sushi chef and "The Pixar Story" (2007, G) looks at the successful animation studio.
Stand-up: "Trevor Noah: Son of Patricia" presents the "Daily Show" host in a new stand-up special.
Amazon Prime Video
Javier Bardem is drug lord Pablo Escobar and Penélope Cruz is journalist Virginia Vallejo in "Loving Pablo" (2017, R), based on the true story of their romance.
Also new: thriller "Siberia" (2018, R) with Keanu Reeves;
· indie drama "Madeline's Madeline" (2018, not rated) with Molly Parker and Miranda July;
· one-man show "The Primary Instinct" (2015, not rated) with Stephen Tobolowsky;
· animated drama "Wrinkles" (Spain, 2011, not rated) about a friendship in an elder care facility;
· Richard Linklater's black comedy "Bernie" (2011, PG-13) with Jack Black and Shirley MacLaine;
· Oregon Trail frontier drama "Meek's Cutoff" (2011, PG) with Michelle Williams;
· homefront war drama "The Messenger" (2009, R) with Ben Foster and Woody Harrelson;
· romantic comedy "Party Girl" (1995, R) with Parker Posey;
· Robert Altman's "Images" (1972, R), a heady psychological thriller with Susannah York.
Streaming TV: Before he became the Doctor, Peter Capaldi was the ruthless political fixer Malcom Tucker in "The Thick of It" (2005-12), the sharp British political satire from Armando Iannucci (creator of "Veep"). Prime Video has three seasons. Also new:
· medieval mystery series "Cadfael: Complete Series" (1994-1998) starring Derek Jacobi as a crime-solving monk;
· the original, award-winning British miniseries "Brideshead Revisited" (1981) with Jeremy Irons, Anthony Edwards, and Laurence Olivier.
Foreign affairs: "The Night Eats the World" (France, 2018, not rated, with subtitles) is a zombie horror about the last human in Paris overrun with the undead. Also new:
· "Jeannette: The Childhood of Joan of Arc" (France, 2018, not rated, with subtitles), an offbeat rock musical from Bruno Dumont;
· "Fox and His Friends" (Germany, 1975, with subtitles), one of the most personal films from the prolific Rainer Werner Fassbinder.
Kid stuff: new special holiday episodes of the animated shows "Creative Galaxy" and "Pete the Cat" are now available. Also new: the natural history series "Wild Kratts: Creatures of the Deep Sea" (2016).
Prime Video and Hulu
John Turturro and Sam Rockwell star in "Box of Moonlight" (1996, R), a charming and warm tale of an uptight executive rediscovering wonder. Prime Video and Hulu.
Hulu
Jonathan Rhys Meyers stars in the spy thriller "Damascus Cover" (2018, R) with Olivia Thirlby and John Hurt.
Jet Li takes up the sword to unite ancient China in "Hero" (China, 2002, PG-13, with subtitles), the Oscar-nominated action spectacle from director Zhang Yimou.
Streaming TV: The Emmy-winning comedy "Baskets: Season 3" is now available.
HBO Now
John Boyega takes the pilot's seat in the giant monster invasion sequel "Pacific Rim: Uprising" (2018, PG-13) from producer Guillermo Del Toro.
The miniseries "My Brilliant Friend" (Italy, with subtitles) looks back on a lifelong friendship that began in 1950s Naples. New episodes arrive Sunday and Monday nights over the next few weeks.
Kid stuff: the new season of "Sesame Street" rolls out new episodes every Saturday morning.
Available Saturday night is "Tomb Raider" (2018, PG-13), the big screen reboot of the video game adventure franchise starring Alicia Vikander as Lara Croft.
Showtime Anytime
"Enemies: The President, Justice & the FBI" (2018) is a four-part documentary series from Oscar-winning filmmaker Alex Gibney that looks at the tensions between the White House and the FBI. New episodes each Sunday.
Other streams
"Agatha Raisin and the Wizard of Evesham" (2018), the first of three feature-length mysteries starring Ashley Jensen as the London public relations professional who develops a second career solving mysteries in rural England, debuts exclusively on Acorn TV. The next features debut in December and January.
David Morrissey is a police detective in "The City and the City" (2018), the British TV mini-series adaptation of China Miéville's acclaimed novel about a murder in a world where two cities co-exist in the same space. It makes its American debut on BritBox.
Catherine Zeta-Jones plays a ruthless beauty pageant coach in "Queen America," a new dark comedy series on Facebook Watch. Three episodes now available, new episodes each Sunday.
The Scandinavian crime drama "Acquitted" (Norway, with subtitles) begins on MHz.
New on disc
"Crazy Rich Asians," "Kin," "Blindspotting," "Dog Days," "Skate Kitchen"
Now available at Redbox: "Crazy Rich Asians," "Kin," "Blindspotting," "Little Italy"
Sean Axmaker is a Seattle film critic and writer. His reviews of streaming movies and TV can be found at http://streamondemandathome.com.
Local journalism is essential.
Give directly to The Spokesman-Review's Northwest Passages community forums series -- which helps to offset the costs of several reporter and editor positions at the newspaper -- by using the easy options below. Gifts processed in this system are not tax deductible, but are predominately used to help meet the local financial requirements needed to receive national matching-grant funds.
Subscribe to the Spokane7 email newsletter
Get the day's top entertainment headlines delivered to your inbox every morning.
---