University of Washington marching band cancels Apple Cup performance after bus crash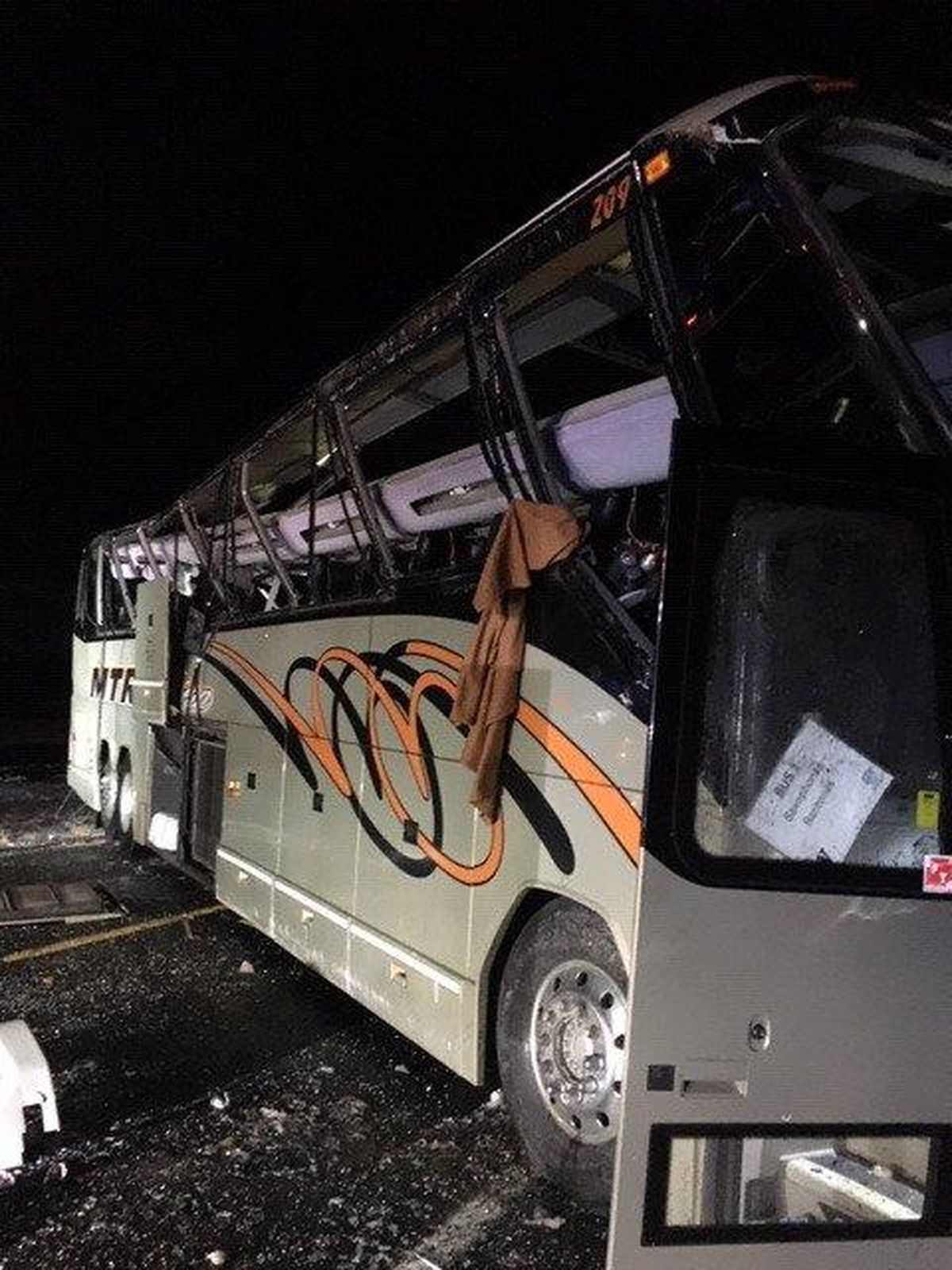 The University of Washington marching band canceled plans to perform during the school's annual rivalry game against Washington State University after one of the band's six charter buses crashed on an icy stretch of freeway Thursday evening.
UW Athletics Director Jennifer Cohen said in a statement Friday the band members decided they needed to recover and return home instead of continuing to Pullman, where the Cougars and Huskies played Friday night in the Apple Cup.
The band was traveling from Seattle when the bus rolled onto its side on Interstate 90 near the town of George in central Washington.
Of the 56 people aboard, 47 were taken to hospitals for evaluation or treatment. The university said Friday morning that two students remained under medical care for injuries that were not believed to be life-threatening.
Some band members and staff spent the night sheltered at George Elementary School. One student wrote on Twitter that cafeteria workers cooked hot food for the band, and some Grant County residents showed up to donate Thanksgiving leftovers.
In her statement, Cohen thanked first responders, locals who offered support and "the administration and staff of George Elementary who went far out of their way to take such incredible care of our students on Thanksgiving night."
"Many of the most helpful and supportive community members were Cougars fans, who demonstrated the caring values of WSU which transcend rivalry," Cohen said.
WSU Athletic Director Pat Chun tweeted Friday that the UW band's reserved seats at Martin Stadium would be left unfilled "in honor of our friends from the Westside."
Wearing full-length gray coats in a deluge of fluffy snowflakes, the Washington State marching band played the fight song for the missing Washington band.
"In the spirit of sportsmanship" the band "honors the University of Washington by performing their fight song," said Dean Luethi, the director of the WSU School of Music and the voice of the Cougar marching band said to the crowd.
In a later interview, Luethi said rival bands sometimes play the fight song for the opposing team if the band can't make the trip.
"We have this rivalry, but we wouldn't wish this on anyone," Luethi said of the bus crash. "The band travels to provide spirit. If we can provide that just for a moment, that's great. If we can help their band, why not? This moment transcends our rivalry."
The Associated Press contributed to this report.
---