News > Spokane
Activists plan rally after city threatens to remove homeless protesters' belongings from outside City Hall
Nov. 25, 2018 Updated Sun., Nov. 25, 2018 at 10:16 p.m.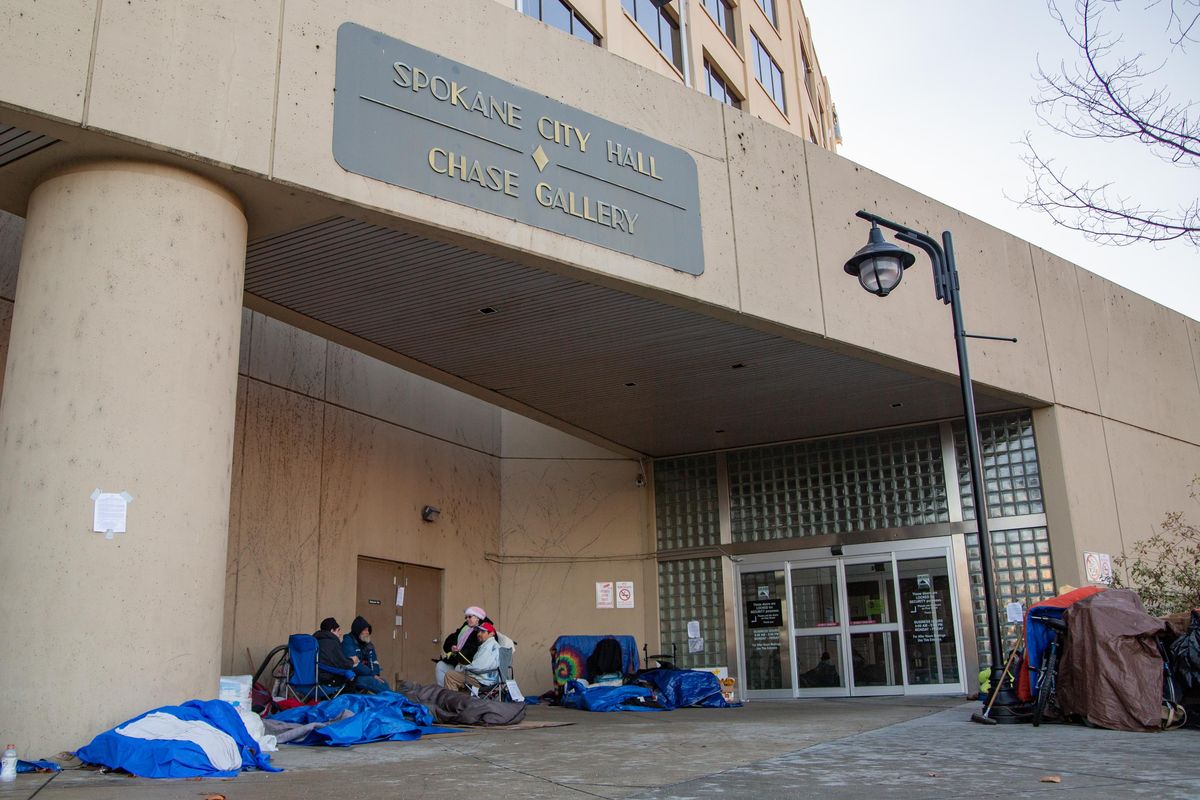 People gather outside of Spokane City Hall on Nov. 25, 2018. A notice was posted on Saturday that any property remaining in this area would be removed at 9:30 a.m. Monday and would be destroyed. (Libby Kamrowski / The Spokesman-Review)Buy a print of this photo
Activists plan to form a human wall Monday around a group of homeless individuals who have camped out in front of City Hall in protest of the city's sit-and-lie ordinance.
The action was organized after notices were posted Saturday on City Hall by the Spokane Police Department, informing the group camped there that tents and other belongings would be removed at 9:30 a.m. Monday if not previously cleared away.
The camping protest began after Alfredo LLamedo, a frequent voice of dissent at City Council meetings, staged a weeklong hunger strike outside of City Hall over a law that barred people from sitting or sleeping on downtown sidewalks during the day. He said once City Council officially suspended enforcement of the law, his protest ended, but the group of people camping outside of City Hall agreed to stay until additional beds at warming shelters opened up.
The notice requiring the campers to remove their belongings from outside the building's entrance appeared Saturday morning. Ken Lee, one of the people staying outside of City Hall, said he usually preferred to find places to sleep that were out of sight, but was afraid that if there wasn't a visual reminder for the council of the commitment they made to add more warming shelters and address the sit-lie ordinance, it might not happen.
"I think it's a good idea to keep their feet to the fire," he said.
LLamedo said the law the notice references, a prohibition against camping on public property, cannot be enforced when there are no shelter beds available. The notice listed several local shelters and other resources people can use, including Union Gospel Mission, which is not included in the bed count used to determine if the law is enforceable due to the religious restrictions on to their their services.
City Council President Ben Stuckart said he told the people camping in front of City Hall last week they wouldn't be removed Monday night and stated that City Council was not behind law enforcement's decision to post the notices.
He added that he thought it was "dumb" to remove people from outside of City Hall before warming shelters were open.
City spokeswoman Marlene Feist said police did not plan to cite anyone under the sit-and-lie ordinance, but that the city has an obligation to ask people to move along or to clean up public areas if prompted by concerns over health or safety.
The city has received several calls from people concerned with the encampment, she said.
LLamedo said he received an email from police Chief Craig Meidl stating that law enforcement was advised to not enforce the no-camping law, but said he would continue the protest in case code enforcement or any other city officials attempted to remove people's belongings from in front of the building.
The protest action is scheduled to begin at 8 a.m.
Local journalism is essential.
Give directly to The Spokesman-Review's Northwest Passages community forums series -- which helps to offset the costs of several reporter and editor positions at the newspaper -- by using the easy options below. Gifts processed in this system are not tax deductible, but are predominately used to help meet the local financial requirements needed to receive national matching-grant funds.
Subscribe now to get breaking news alerts in your email inbox
Get breaking news delivered to your inbox as it happens.
---