Captain and postman: On the water with the Lake Pend Oreille mailboat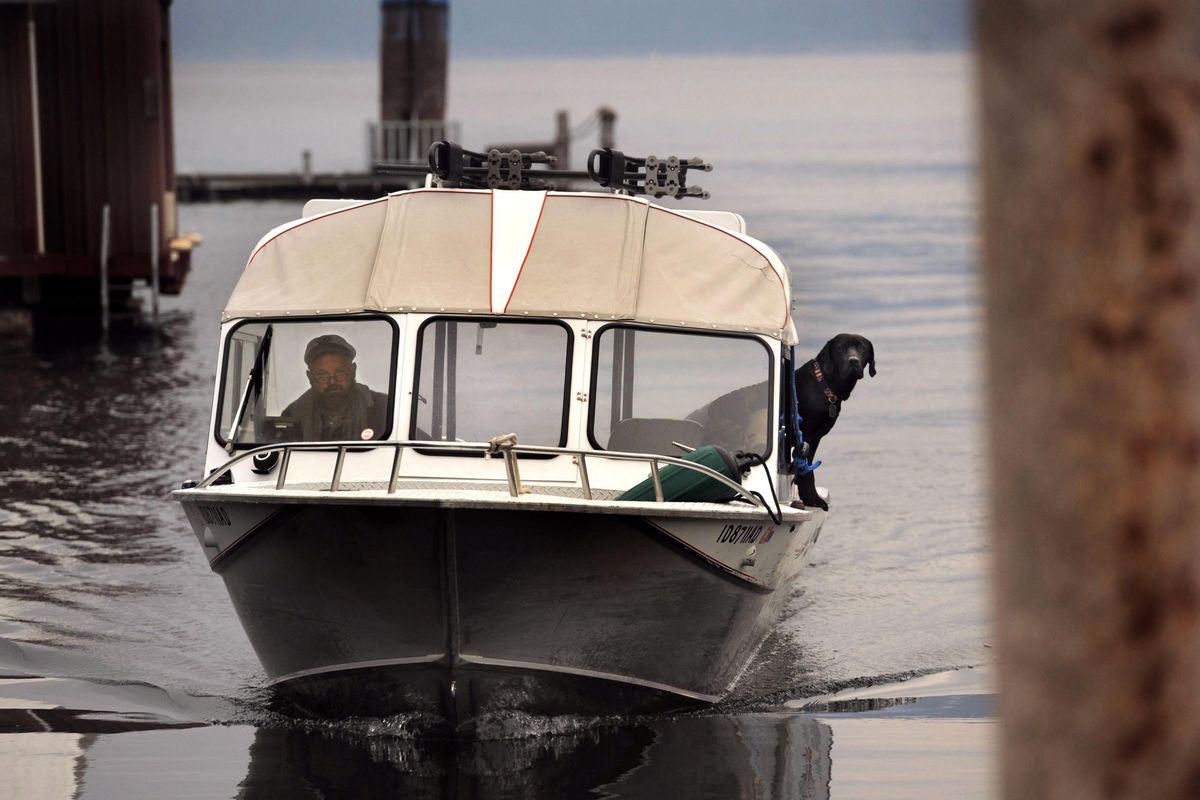 On a chilly November morning, the Liquid Limo – Lake Pend Oreille's resident mailboat – cut a solitary path across the water, slate-gray waves chopping at its underside. In the distance, a couple of boats sat at anchor, rocking gently.
"Being out here like this, you find yourself," said Captain James Wesley "Wes" Jones, throttling back on the engine and letting the 2001 Duckworth Navigator find its rhythm. On his lap, Hank, a 1-year-old black Labrador, nestled his head into the crook of one arm.
"When you're traveling, going from place to place, nothing's crowding you," Jones went on. "That's the personality of the boat. It's something I wish I could share with more people."
As the lake's designated mail carrier – the latest in a line going back to the late 1930s – traveling from one place to another is pretty much Jones' job description. Aside from his work as a contractor with the U.S. Postal Service, a typical day can include ferrying passengers, carrying cargo, delivering groceries, and – on this particular November morning – transporting a stack of cabinets from Bayview to Granite Creek, the farthest stop on his route.
For Jones, the mailboat gig caps a varied career that has included stints as an airline steward, medical assistant, pastry chef, house painter and security guard. He's earned licenses as a captain, a trucker, marriage officiant and real estate agent, and recently launched the Bayview Shuttle, a guided tour that coincides with his mail route. As a younger man, he sailed around Cape Horn on the aircraft carrier U.S.S. Independence, part of a our-year Navy tour that included actions in Operations Desert Storm and Desert Shield.
The way hasn't always been easy. Dyslexia played a part in his irregular career path, he said, making detail-oriented tasks like itemization and scheduling a challenge.
"A while ago, a boss sat me down and said something that really stuck with me," he said. "He said, 'You can't fit a square peg in a round hole.' " The job he was in at the time, his boss said, was a round hole, and Jones was the square peg. "And for that job," Jones said, "He was right."
When work as a trucker brought him to North Idaho, something clicked, he said. He relocated, and after working a couple of jobs in Sandpoint, signed on as weekend relief for the previous mailboat operator, Scott Bjergo. When Bjergo decided to leave the business four years ago, he passed it on to Jones.
"I never had an easy time in school, but when it came time to get my captain's license, I put my guts into it," Jones said. Mail carrying became a full-time job, and Jones found himself part of a new community – loosely spaced but tied together by water, ranged along the east bank of Lake Pend Oreille.
Friends and neighbors
Pamela Haussler waved from the Cedar Creek dock as the mailboat slowed and drew up alongside. This morning she was catching a ride into Bayview, a monthly sortie into town to stock up on produce and other perishables.
Haussler and her husband, David, have wintered in the enclave of Cedar Creek for the past 20 years. "In 1998 people accused us of being Y2Kers," she joked. "Now they call us 'preppers.' Whatever that means."
The attraction of the location overcomes the isolation, she said. In the winter, animals come down from the mountains, passing close to or through their property. "Everything from beavers to bobcats, and whatever's in between," she said. Less skittish with fewer people around, the animals treat the winter residents as a kind of kindred spirit.
And she likes the neighbors, she said.
Considering she and David are Cedar Creek's sole winter residents this year, the neighbors in question are five miles to the north, at Whiskey Rock, and 11 miles to the south, in Lakeview.
During the summer, Pend Oreille's eastern bank draws a steady flow of tourists and local weekenders. "Like Grand Central Station," as Dale Gulliford, a Whiskey Rock resident, put it.
By late November, though, the flow has slowed from an eddy to trickle, and only a handful of residents are still around to pick up the mail: Pamela and David at Cedar Creek; Dale and his wife, Jennette, at Whiskey Rock; a scattering of families in Lakeview; a few more at Granite Creek.
And yet despite the distance, everyone in the loosely connected winter community appears to be on a first-name basis: Pamela, Dale, Steven, Angella, Scott, Jim, Elsa. Captain Jones is Wes, or Captain Wes, to the people along the route. Threading its way between them, its path crisscrossing Pend Oreille's surface, the mailboat is a daily reminder that a community is people, no matter how far apart.
Into the woods
Coming up the road from the Granite Creek dock – Jones and Hank's second stop of the day – Hank's ears pricked forward and he took off at a dash. Ahead, the full-throated baying of half a dozen hounds rolled out from the woods, the first sign that the Karbo family property was close by.
The Tree House, as it's known among Lake Pend Oreille's winter residents, looms two stories high against the trees, a stone's throw back from the road. Gathering up Hank's leash and tying it to a nearby post, Jones headed up a steep wooden staircase, a package under his arm.
Angella Karbo was working on a laptop when Jones came in, her sons Rowdy, 7, and Ledge, 1, playing on the floor beside her. The house was warm, the living room and kitchen situated around a cast-iron wood stove. The home had the comfortable feel of an ongoing project, tools competing for space with DVDs on the shelves along the walls.
Once upon a time, Angella and Steve Karbo were residents of Everett, Washington, city kids living a city life. But the life didn't fit, and first Steve, then Angella headed east, eventually settling in Granite Creek. They've lived on the property for the past four years, Angella homeschooling the boys, Steve working on the property, building it out bit by bit: a new deck, a new bedroom, stone inlaid on the bathroom walls. This winter, he'll run a trap line from their property to the Coeur d'Alene River, on the hunt for bobcats and wolves.
The outdoors life was something they picked up along the way, Angella Karbo said. But it suits the family, and they're hardly isolated – the Forest Service Road is passable by snowmobile even after it closes to cars, and there are neighbors to the north and south. And, of course, the mailboat crew makes their daily rounds.
"Just wait for Christmas," Jones said, leaving the Tree House behind. "Business picks up, let me tell you."
Still here
Scott Taylor was perched halfway up a mountain of split logs when Jones came around the corner of his two-story log cabin in Lakeview, letters in hand. Taylor shouted down a greeting, then a warning to Gabriella, his German Shepherd, who stood bristling on the porch as Hank came trotting up.
"It'll take 15 cords to heat this place through the winter," Taylor said, coming down off the pile, tossing a log behind him. There's a generator under the cabin, he said, but he won't turn it on until temperatures drop low enough to threaten his plumbing – somewhere in the vicinity of minus-10 degrees.
The town of Lakeview dates back to the late 1800s, when rumors of gold, silver, lead and zinc brought an influx of prospectors. Within 15 years, from 1880 to 1895, a town of more than a thousand sprang up, bringing with it the attendant collection of saloons, hotels, brothels and schoolhouses.
Taylor can trace his genealogy nearly to the beginning. A fourth-generation resident, his great-grandfather, a dentist, platted the site where his home now stands. The cabin his grandfather built sits next to it.
Today, only seven or eight people weather the winter in Lakeview. But Taylor is holding out hope that his children and grandchildren will leave their mark. "That'd be six generations," he said. "That'd be something."
Finding a fit
In the cup of the mountains, November sunset comes early on Lake Pend Oreille. Eagles wheeled overhead, on watch for the kokanee salmon that spawn in the lake's tributaries this time of year. Work done for the day, the mailboat headed back towards Bayview, strains of jazz trumpet playing from the radio.
Around 5 p.m., Jones would pick up a fresh batch of mail from the Bayview Post Office, prepping for the next day's deliveries. Barring postal service holidays, he'll run the route year-round, six days a week.
Captain Jones has seen a lot of things, done a lot of things, been a lot of things. He's spent a lifetime looking for the right fit. Maybe the mailboat is it.
"You can hammer out widgets all week and never touch a soul," he said. "Me, I'm a people person, through and through."
Editor's note: Photo captions accompanying this story were changed on Nov. 28th to correct for an error. Captain Jones does not deliver mail in the town of Bayview.
---