A&E
Spokane baker Ricky Webster wins $10,000 on Food Network's 'Christmas Cookie Challenge'
Mon., Nov. 26, 2018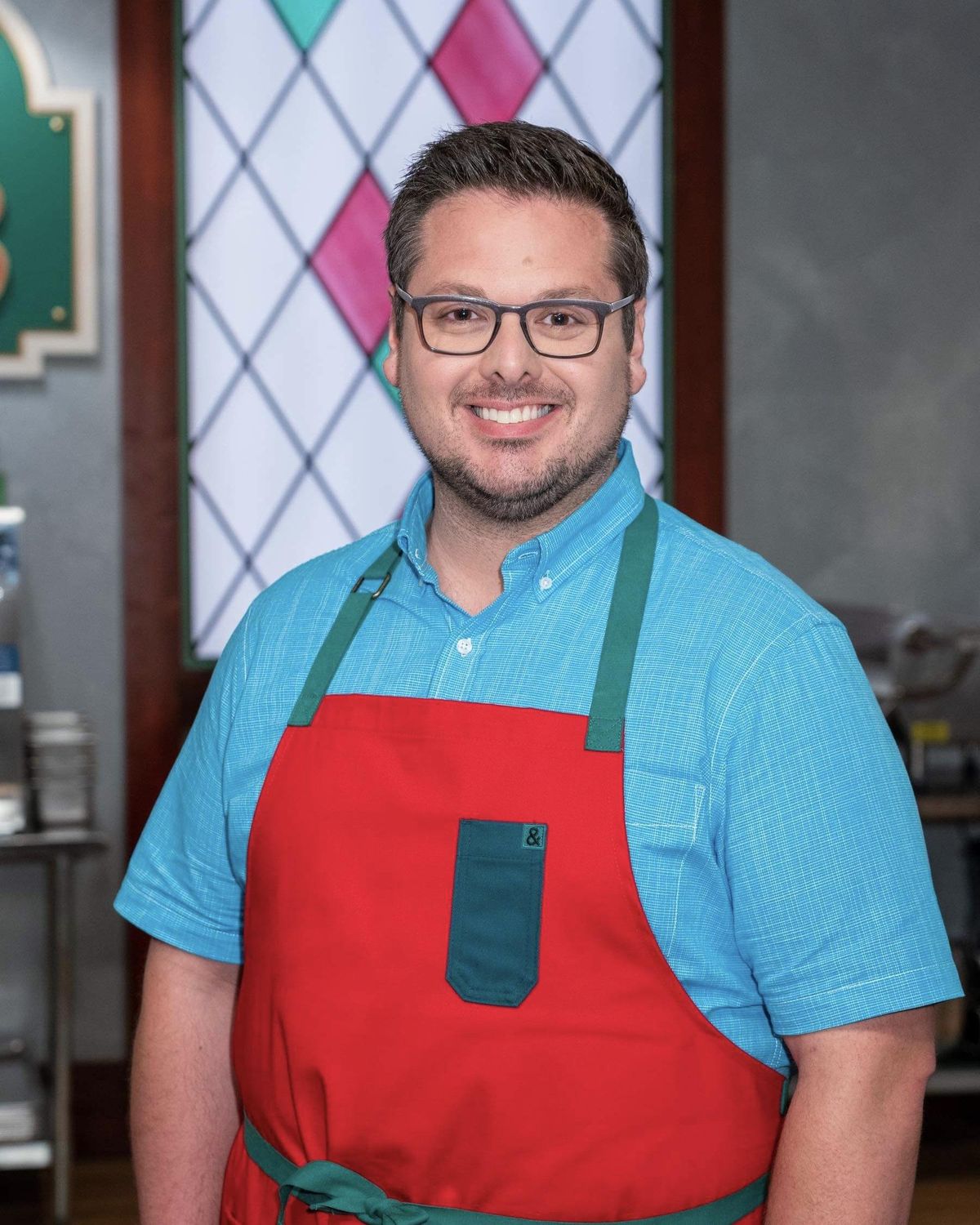 Spokane chef Ricky Webster competed Monday night on Food Network's "Christmas Cookie Challenge." (Courtesy of Food Network)
Spokane bakers Ricky Webster and Amber Stout appeared on Food Network's "Christmas Cookie Challenge" Monday night, and one of them won the $10,000 grand prize.
Webster, a business resources consultant with Sysco Spokane, won the money as well as the title of Christmas Cookie Champion.
And he's slated to appear on another Food Network baking show in December.
For both of them, he said, "I pulled out my gingerbread."
The goal is for all of the Christmas baking creations to "look great." But, Webster said, "It was really important to me that everything tasted as good as or better than it looked."
Webster and Stout, who runs Flour and Frosting, a custom cookie business, competed against three other bakers on "Christmas Cookie Challenge," which was filmed over three days in California during the summer.
Monday night, Webster and Sysco held a viewing party at Northern Quest Resort and Casino to watch – and celebrate – his win, which had been kept a surprise.
In the episode he won, titled "Modern Classics," all five contestants were challenged to make six Christmas cookies in the first round.
In the second round, the three finalists – including Webster – were tasked with making a Christmas cookie frame to fit an 8-by-10 photo.
"I took a very whimsical approach," Webster said. "I went big. I always go big or go home. I always do my best and bite off more than I can chew."
But, he said, "It's hard to do everything you have going on in your mind. You have to make the dough and roll it out and cut it and bake it and decorate it and make icing and hope it dries in time."
During the competitions, Webster said he tried to concentrate on his work and tune out the other contestants.
"I think of it like I'm competing with myself," he said. "A lot of times, in the kitchen, I'll set an alarm for myself. This recipe takes 25 minutes, and I'll set the alarm for 22. It's like a motivator for me, the internal competition with myself."
On the show, he said. "I get into the zone. Not a whole lot affects me. The kitchen is a very busy place. I've learned the art of tuning people out when I have to."
That's a good skill to have because on set, Webster said, there were "a couple dozen people behind the scenes making sure everything's running smoothly."
There's also, he said, "a lot of pressure."
Judges were Vivian Chan, Ree Drummond and Gesine Prado.
Webster moved to Spokane about two years ago from Los Angeles, where he worked as the executive sous chef and executive pastry chef for the Ace Hotel. He's been cooking professionally since he was 17.
And he's no stranger to Food Network.
In 2012, Webster competed on Food Network's "Cupcake Wars." And Dec. 9 at 9 p.m., he and Spokane pastry chef Megan Gaines will compete on Food Network's "Holiday Gingerbread Showdown."
Webster and Gaines made local headlines last holiday season when they worked together on a life-size gingerbread house at Spokane's Hotel RL, now the Centennial Hotel, where Webster was the corporate executive chef.
He created the walk-through gingerbread house and Gaines, who now works at Cole's Bakery and Cafe, helped him execute the plan. The endeavor called for 1,300 gingerbread bricks fashioned from 800 pounds of dough and decorated with 100 pounds of fondant.
The gingerbread house was on display in the hotel lobby last year to help raise funds to feed the homeless in downtown Spokane.
Webster said producers from Food Network contacted him for both shows because of the gingerbread house. "I think that drummed up some attention, and they reached out to me because of that," he said.
On "Holiday Gingerbread Showdown," Webster and Gaines will compete against two other teams to try to win a spot in the finale and the chance to win $25,000 and a feature in FN magazine.
Filming also took place in California during the summer.
The theme for that episode is "Santa's Most Incredible Workshop." In it, three bakers and their assistants race to create a gingerbread North Pole. And, of course, they're thrown a twist.
"It was stressful. It was really stressful. But I love gingerbread," Webster said. "And I was going to have fun no matter what."
Webster put his gingerbread recipe to use for both of the shows. Gingerbread is his favorite.
"You can create this whimsical home or structure, and you can imagine yourself in side it and what it might be like to live there," he said. "It puts you in that magical world, and it just kind of sweeps you away. You're creating an experience."
Webster can't say how well he and Gaines fared in "Holiday Gingerbread Showdown." Fans will have to tune in next month to find out. But he said he had a "fantastic time" on both shows.
He noted he was particularly excited to meet two of the judges: "Pioneer Woman" Drummond on Monday night's "Christmas Cookie Challenge" and cake queen Kerry Vincent, who he "grew up idolizing.
"She's like the Mary Poppins of sugar and cake. She's practically perfect in every way, you know?"
Local journalism is essential.
Give directly to The Spokesman-Review's Northwest Passages community forums series -- which helps to offset the costs of several reporter and editor positions at the newspaper -- by using the easy options below. Gifts processed in this system are not tax deductible, but are predominately used to help meet the local financial requirements needed to receive national matching-grant funds.
Subscribe to the Spokane7 email newsletter
Get the day's top entertainment headlines delivered to your inbox every morning.
---