Sports > EWU football
Eastern Washington describes playoff opponent Nicholls State as fast, athletic
Nov. 27, 2018 Updated Tue., Nov. 27, 2018 at 10:43 p.m.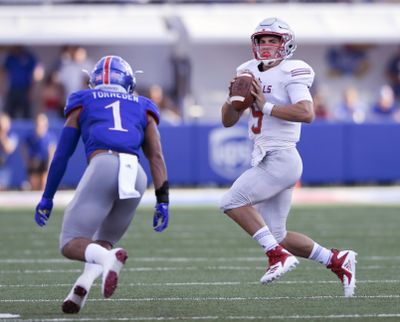 If they didn't watch Nicholls State's 49-30 dispatching of San Diego on their parents' couch Saturday, members of the Eastern Washington football team absorbed a video of the FCS first-round playoff game on Monday.
By virtue of sharing the Big Sky Conference title and earning a No. 3 seed in the FCS playoffs, fourth-ranked EWU (9-2) enjoyed a first-round bye. Many players made the trek home for Thanksgiving weekend.
Meanwhile in Thibodaux, Louisiana, host Nicholls State led by as many as 32 points in its handling of San Diego, earning the right to face EWU on Saturday at 2 p.m. at Roos Field.
EWU linebacker Ketner Kupp was impressed with the Southland Conference champion.
"They look good," Kupp said. "Watching their offense, they got some guys up front who like to stick it on you, have good running backs and a lot of speed outside. Good quarterback. Everything you'd want in a offense."
That quarterback, Chase Fourcade, is the Southland Conference Player of the Year.
Fourcade threw for 2,447 yards and 19 touchdowns during the regular season. He also rushed for 488 yards and nine touchdowns, spearheading a four-pronged rushing offense that ranked first in the Southland Conference (2,973 rushing yards).
In the Colonels' rout of San Diego, he completed 21 of 31 passes for 337 yards and two touchdowns, adding 82 rushing yards and two TDs.
Eastern Washington ranks second in total offense (553 yards per game). Nicholls State ranks 11th (481 yards per game).
EWU head coach Aaron Best used three descriptors for the Colonels, who started their season with a a 26-23 upset of the Kansas Jayhawks and have won their past five games.
"Speed. Athleticism. Champions," said Best, the Big Sky Conference Coach of the Year. "They have a quarterback who can beat you with both his legs and his arm. Their defense is stout, only gives up 102 yards a game on the ground. They've played their best ball late."
EWU running back Sam McPherson, who eclipsed the 1,000-yard mark in a 74-23 win at Portland State two weeks ago, agreed.
"(Nicholls State is) going to be a tough matchup for us," he said. "They're a good defensive bunch. They're kind of small in the linebacker area, but they have a lot of speed. Their front four is pretty big, too. They're going to present a challenge for us. They're very athletic, so we need to take advantage of the little things."
Ronald Ollie, a 6-foot-2, 310-pound defensive lineman for the Colonels, was one of the main subjects in the first season of Netflix's "Last Chance U', a popular documentary exploring the football program of East Mississippi Community College.
Nicholls State's win over San Diego was the program's second postseason win in program history, the first coming in 1986.
EWU, which surrendered just 16.8 points per game in Big Sky play, is playing its 14th consecutive playoff game in Cheney since the beginning of the 2010 postseason.
Big Sky-heavy field
Twenty-five percent of the remaining FCS playoff teams are from the Big Sky Conference.
On Saturday, other than EWU hosting Nicholls State, second-seeded Weber State entertains Southeast Missouri State, No. 6 seed UC Davis hosts Northern Iowa, and Montana State travels to No. 1 North Dakota State.
EWU and UC Davis wins would set up a rematch in Cheney next week in the quarterfinals. The Eagles handled the Aggies, who shared the Big Sky title with the Eagles and Weber State, 59-20 in Cheney on Nov. 10.
Montana State was the only one of the four teams to not earn a first-round bye. It beat Incarnate Word of San Antonio 35-14 in Bozeman.
Fettig out
EWU senior and All-Big Sky safety Mitch Fettig's successful career has come to a close.
Fettig, who totaled 282 tackles in his career, suffered an injury at Portland State two weeks ago. He was seen on crutches after the game.
"He sustained an injury that won't allow him to continue his career in pads at Eastern, which is unfortunate," said Best, who noted that Fettig suffered a "weight-bearing injury."
Calin Criner and Dehonta Hayes are listed as the starting safeties this week on EWU's two-deep. Tysen Prunty, who started most of the season at safety alongside Fettig, was also injured at Portland State.
All-Big Sky defensive end and Cheney product Keenan Williams, who was also injured at Portland State, isn't listed on EWU's two-deep this week.
"Everyone else (besides Fettig) has the potential to return Saturday," Best said. "Some closer to probable than others."
All-Big Sky kicker and punter Roldan Alcobendas, who sat out the Portland State game with an injury, is listed as a starter at both positions this week.
Local journalism is essential.
Give directly to The Spokesman-Review's Northwest Passages community forums series -- which helps to offset the costs of several reporter and editor positions at the newspaper -- by using the easy options below. Gifts processed in this system are not tax deductible, but are predominately used to help meet the local financial requirements needed to receive national matching-grant funds.
Subscribe to the sports newsletter
Get the day's top sports headlines and breaking news delivered to your inbox by subscribing here.
---