News > Spokane
Giving Tuesday: Spokane nonprofits look online for donors after post-Thanksgiving consumer holidays
Nov. 27, 2018 Updated Tue., Nov. 27, 2018 at 12:54 p.m.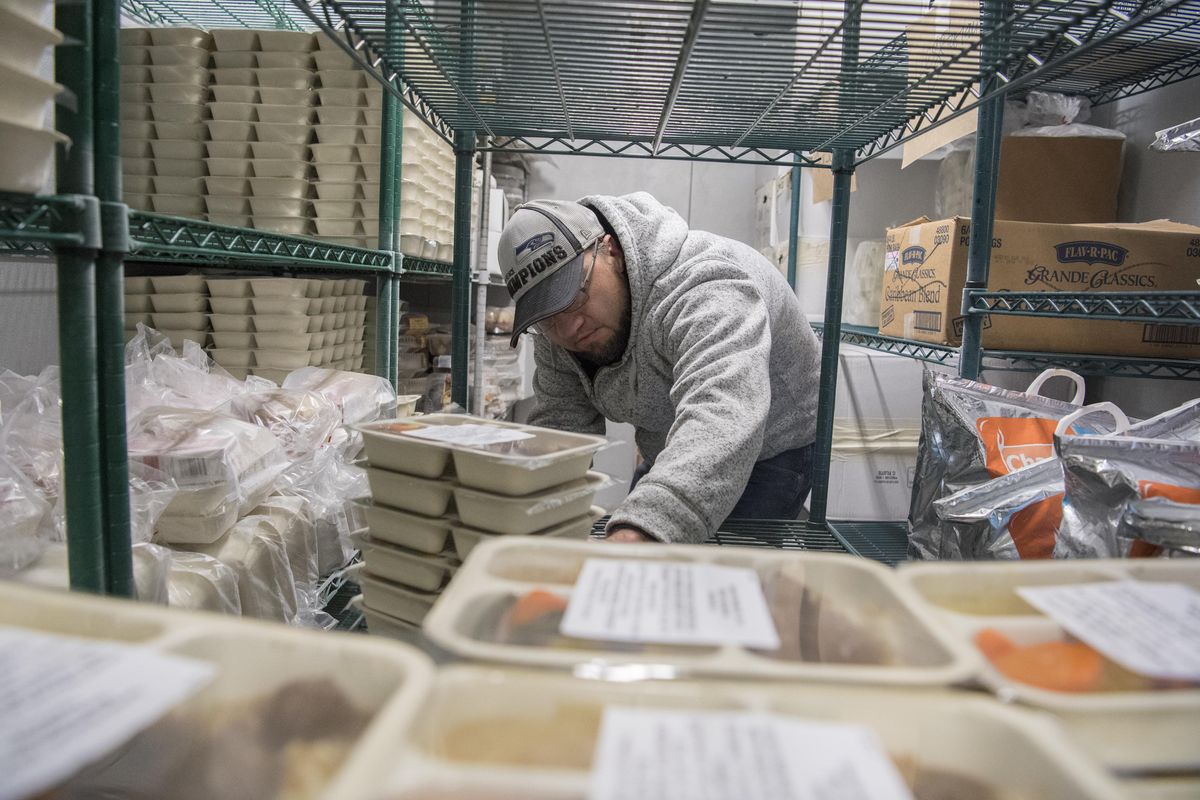 Fabrice Brucheu stacks the walk-in freezer with senior meals prepared that morning Monday, Nov. 20, 2017 at the Senior Meals center in East Spokane. Meals on Wheels, like other groups that serve older clients in Spokane, is adopting CDC advice for how to reduce the spread of coronavirus. (Jesse Tinsley / The Spokesman-Review)Buy a print of this photo
Sarah Brown is hoping those in a giving spirit will open up their wallets early Tuesday morning.
For this Giving Tuesday, a day when nonprofits and charities nationwide make their pitch to those burned out on the post-Thanksgiving commercial holidays, Facebook and PayPal will match private donations made online to registered charities up to $7 million. That includes the group Brown is in charge of, the American Childhood Cancer Organization of the Inland Northwest, which provides financial assistance to those diagnosed under age 21.
The kicker? The matching begins at 5 a.m. local – 8 a.m. on the East Coast.
"There's a lot of early birds out there," Brown said.
Giving Tuesday has grown each year since its inception at the 92nd Street Y in Manhattan and the United Nations Foundation in 2012. A response to the popularity of Black Friday, Small Business Saturday and Cyber Monday, the annual day devoted to charitable giving saw online donations totaling $274 million last year nationwide, according to the national publication The Chronicle of Philanthropy.
This year, local nonprofits have been provided assistance by Innovia Foundation, formerly the Community Foundation. The nonprofit released social media tools and a locally inspired logo for use by area charities to help boost their online presence.
"Giving Tuesday is primarily a digital and social media movement to spur charitable giving," said Aaron McMurray, chief strategy officer for Innovia. "Charitable giving has traditionally been bricks and mortar, with larger gifts from older donors. The promise of Giving Tuesday is to get the millennials, Gen Z's and Gen X's, interested in philanthropy."
Innovia plans to submit surveys to local nonprofits after Tuesday in an effort to determine just what effect the giving holiday has on the bottom line of area charities.
Here are some of the organizations hoping that this year's giving holiday will benefit them.
Helping those with a childhood cancer diagnosis
Brown has been director of the American Childhood Cancer Association of the Inland Northwest for the past four years, having first started volunteering when her son, Parker, was diagnosed with leukemia in 2003 at age 2.
Parker Brown died Dec. 20, 2009. For those six years, Brown saw firsthand the benefits the organization, known previously as Candlelighters, offered families facing a diagnosis.
"We offer emergency funds for the gaps, anything they're not able to get funding for," Brown said. "Whether that's rent, facing a car breakdown, or gas and grocery cards."
Services also include support groups not only for the children diagnosed, but also families. And that support doesn't end when the child is too old to receive direct financial assistance, Brown said. Some members of the support group are now in their 40s, as the organization was founded in Spokane in 1978.
But that continued assistance puts a drain on the group's resources as cases continue to mount. Brown said her group is providing help for 54 new childhood diagnoses made last year. This winter will mark the second time Brown's group has made a coordinated effort to raise money on Giving Tuesday.
"I just started to research different tricks to help fundraise, and what are the biggest giving days of the year," Brown said. "Up popped Giving Tuesday, so I decided we'd try to figure that out and it was a big hit."
The group has set a fundraising goal of $20,000, and is encouraging visitors to its Facebook page to set up their own individual fundraising efforts to support the organization.
Feeding the hungry, and those who can't feed themselves
One of every seven people living in Spokane County doesn't have access to affordable, nutritious food, according to the latest report from the food-providing nonprofit Second Harvest.
"We find that folks in our food bank lines are often working poor," said Julie Humphreys, community relations manager for Second Harvest. "They have jobs, but they may be working low-wage jobs. And the first thing people let go is food."
Every dollar given to Second Harvest, which has been participating in Giving Tuesday since its inception, goes toward getting donated food to the people who need it, Humphreys said. That includes the cost of shipping donations to one of the dozens of food banks throughout Spokane County, as well as refrigerating and storing the goods in the organization's 85,000-square-foot warehouse just off East Sprague Avenue.
Second Harvest distributed 11.1 million pounds of donated food throughout Spokane County in 2017, the most recent year for which data is available. Humphreys said that despite the improving economy and low unemployment, reliance on food banks in the area has remained stable following the economic crash of 2008.
"It's an easy issue to identify with," Humphreys said. "I think everyone can identify with hunger."
That includes members of the community who may not be physically able to leave their home to buy food or prepare it in their homes. Greater Spokane County Meals on Wheels is also seeking financial support during the philanthropic holiday.
"This year's our big push, we're crossing our fingers," said Clare Gaffney-Brown, communications manager for the nonprofit.
The group has broken down donation amounts by the number of meals that can be provided to an eligible senior citizen over the age of 60. A donation of $5 will cover one meal for a recipient, while a donation of $150 will cover meals for a full month. Donors may also contribute toward the cost of providing emergency meals that will keep in the event of inclement weather ($100), supporting the "Silver Cafe" program that provides hot meals at community, neighborhood and senior centers throughout the county ($150) and providing funds for the purchase of Christmas gifts, like scarves and blankets, that will be delivered along with holiday meals ($200).
While the focus will be on fundraising Tuesday, Gaffney-Brown said Meals on Wheels also needs drivers to deliver the food.
"This year we're focusing more on monetary donations, but we always need volunteers," she said.
Supporting students at Eastern Washington University
Tuesday marks the third year the Eastern Washington University Foundation will seek charitable donations to benefit students at the four-year university in Cheney.
"A lot of schools do a giving day on their anniversary or birthday," said Kyndell White, assistant director of annual giving at the foundation. "We just kind of thought, let's take advantage of people giving on that day."
That doesn't just mean monetary gifts. The university is encouraging students to donate their time and energy to charities in the surrounding area, whether that's taking dog biscuits to the local dog shelter or the student government assisting with a bone marrow donor drive.
The school has set a goal to raise $275,000 on Tuesday, with donors able to select where their dollars will go. That can include a general scholarship fund for students, money to support university athletics or what's called the Eastern Fund, an account that allows the university's deans to devote the money to the areas of greatest need within their colleges.
Each year, the school has exceeded its fundraising goal, and organizers are hoping that trend continues in 2018.
"It's for anyone in the community," said White. "There are people in our community who didn't go to Eastern, but want to support the school."
Health care for sick animals
When animals are dropped off at the Humane Society in northeast Spokane, they sometimes arrive with health problems that weren't diagnosed.
That's where the Mend-a-Pet program comes in.
"It pays for medical expenses, and any type of surgery we can't do here at our clinic," said Pia Hallenberg, development director at the Humane Society.
The nonprofit was successful late last year in raising money online to pay for heart surgery for a labrador mix named Bruno, who was later adopted by an owner who had been treated for the same cardiovascular defect.
"He came on a transport from Texas. We didn't know he had a heart problem until we checked him out here," Hallenberg said.
The Humane Society is now looking to raise $10,000 that will be used to cover similar medical services for other animals, including MRIs, X-rays and other tests.
"That's about half of what we're expecting to spend next year," said Hallenberg. "If we know we have money set aside in that fund, we don't hesitate to take the animals to the vet for a procedure."
Local journalism is essential.
Give directly to The Spokesman-Review's Northwest Passages community forums series -- which helps to offset the costs of several reporter and editor positions at the newspaper -- by using the easy options below. Gifts processed in this system are not tax deductible, but are predominately used to help meet the local financial requirements needed to receive national matching-grant funds.
Subscribe now to get breaking news alerts in your email inbox
Get breaking news delivered to your inbox as it happens.
---