News > Idaho
Ivanka Trump and Apple's CEO visit the Treasure Valley
UPDATED: Tue., Nov. 27, 2018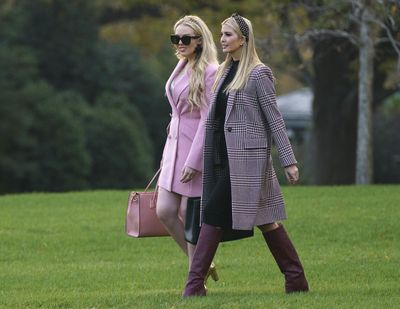 Ivanka Trump, President Donald Trump's adviser and daughter, and Apple Inc. CEO Tim Cook visited Wilder schools Tuesday to examine the district's use of technology.
"Adviser to the President Ivanka Trump is traveling to Idaho as part of her ongoing workforce development and STEM initiatives and will visit the Wilder School District with Apple CEO Tim Cook," said Judd Deere, director of media affairs at the White House.
The stop is the latest in a series of tours by Trump as part of her work with the National Council for the American Worker. Last month, for example, she visited the NASCAR Technical Institute in Mooresville, North Carolina, the Raleigh News and Observer reported.
Trump tweeted about coming to Idaho on Tuesday morning, underscoring the visit's focus on technology in the classroom.
Apple has recently worked with Trump and the White House to highlight education best practices for STEM and computer science. Cook connected Trump earlier this year with the Waukee Innovation and Learning Center, part of the Waukee School District in Iowa.
The ConnectED program that Wilder benefited from dates to the Obama administration. Wilder was among 114 low-income schools in 29 states to receive help from Apple two years ago for students without easy access to technology, the Idaho Statesman reported in March 2016. The company at that time donated an iPad to every student and teacher in the district, for use at school and at home.
"Apple is working with districts where the low-income student population is at least 96 percent. Wilder is the only school district in Idaho to receive the Apple grant," the 2016 story said.
"Apple's donation is a key ingredient in Wilder School District's plan to move next fall toward an education system based on mastery of subjects, not hours spent in a classroom. The plan will do away with regular class periods as students use their devices to guide their education and teachers become more like mentors," said Superintendent Jeff Dillon.
Students might move quickly through some subjects such as English, for instance, but need greater time for math, Jensen said.
Local journalism is essential.
Give directly to The Spokesman-Review's Northwest Passages community forums series -- which helps to offset the costs of several reporter and editor positions at the newspaper -- by using the easy options below. Gifts processed in this system are not tax deductible, but are predominately used to help meet the local financial requirements needed to receive national matching-grant funds.
Subscribe to the Coronavirus newsletter
Get the day's latest Coronavirus news delivered to your inbox by subscribing to our newsletter.
---