Sports > Gonzaga basketball
Gonzaga's No. 1 history comes with highs and lows
Nov. 28, 2018 Updated Wed., Nov. 28, 2018 at 6:43 p.m.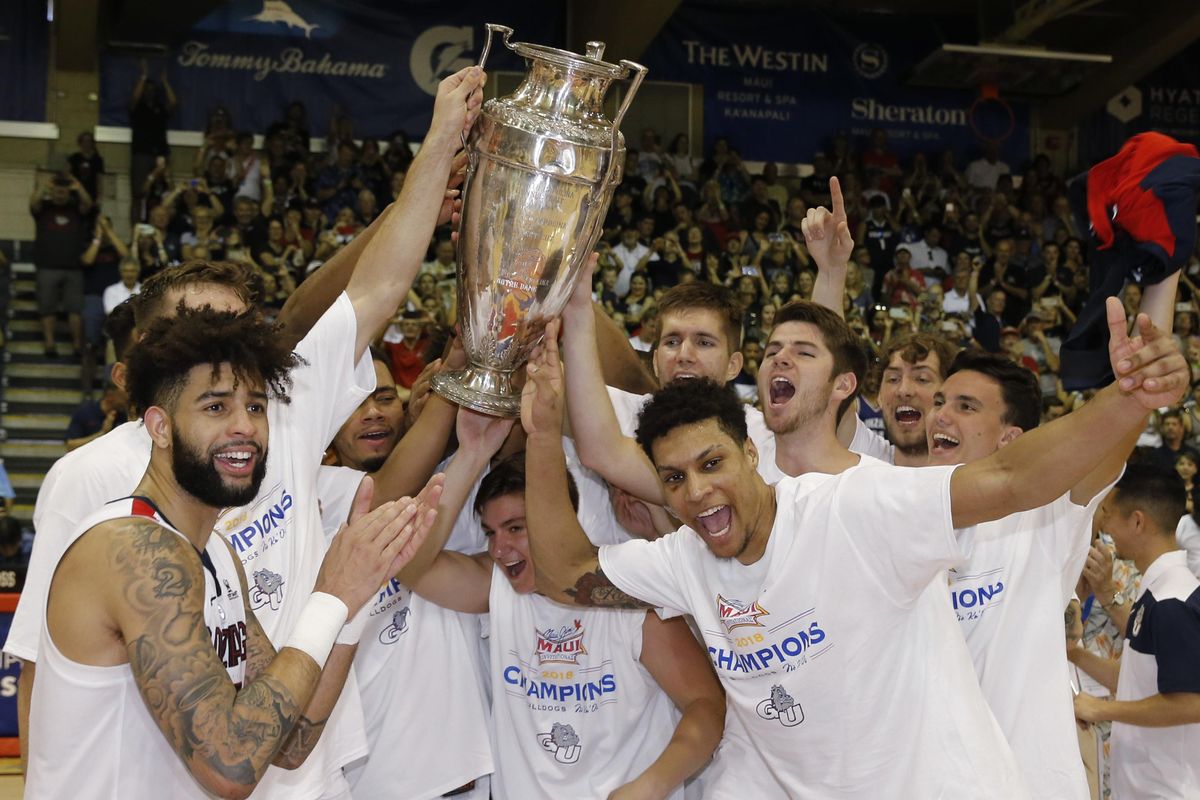 Gonzaga players hold the trophy after they defeated Duke 89-87 to win the Maui Invitational on Nov. 21 in Lahaina, Hawaii. (Marco Garcia / AP)
This article wasn't possible prior to the 2013 college basketball season.
Gonzaga's rise from 1999 NCAA Tournament party crashers to full-blown national power has been the product of dozens of program firsts in the last two decades. One of the biggest milestones came late in the 2013 season when the Zags were ranked No. 1 for the first time.
Gonzaga, No. 21 in the preseason, reached the summit of the AP and USA Today polls after winning a tough road game at BYU and thumping Portland while No. 1 Indiana and No. 3 Duke absorbed losses.
"Deep inside we have to keep in mind we're still going to be the underdog," senior forward Elias Harris said at the time. "People aren't going to look at us like a Duke or North Carolina or a Kentucky, you name it. People, for some reason, still think Gonzaga is a Cinderella story, and that's after more than a decade of playing great basketball."
Gonzaga was back in the top spot for four weeks during its magical 2017 season that ended with a heartbreaking loss to North Carolina in the national championship game. There was some obligatory grumbling but no Cinderella references when the Zags moved up to No. 1.
Same goes for the current Zags, who reached No. 1 earlier this week. This isn't old hat for GU, but it isn't out of the ordinary, either.
"If you walk around this locker room, I don't think too many guys are hyped about it," sophomore wing Zach Norvell Jr. said. "You still have to play your best every night. It brings a bigger target on our backs, but it's dope, just seeing all the hard work we put in."
A look back at GU's stints at No. 1 shows the precarious nature of the lofty perch. Top-ranked Zags teams have gone 11-2, including Monday's blowout over North Dakota State.
FIRST THINGS FIRST
The Zags finally reached No. 1 with a 29-2 record at the conclusion of the 2013 regular season. Two-thirds of The Spokesman-Review's front page was dedicated to the achievement with pictures from each of the 31 games below the headline: "The road to No. 1."
But Gonzaga was never quite able to replicate the regular-season form it showed in ascending to the top spot.
The Zags' first outing as No. 1 was against Loyola Marymount (11-22) in the WCC Tournament semifinals. Gonzaga had its hands full, trailing by five midway through the first half before pulling away in the second half for a 66-48 win.
"We didn't come out with the fire we've been playing with the whole year," guard Gary Bell Jr. said. "We got it going in the second half. We need to carry that on."
The Zags did just that, taking apart Saint Mary's 65-51 in the championship game. Kelly Olynyk had 21 points and 12 rebounds and tournament MVP Harris added 19 points, four boards and three assists.
"They're the best (inside duo) we've had," coach Mark Few said at the time. "(Ronny) Turiaf was a great passer, some of our other bigs were really adept at that, but those two really play off that. Kind of lost in this great season Kelly has had is (Harris') unselfishness. A lot of Kelly's opportunities have come off Elias' dimes."
Gonzaga was rewarded with a No. 1 seed in the NCAA Tournament for the first time, but the Zags were pushed to the buzzer in a 64-58 win over No. 16 Southern in the opening round. Olynyk scored 17 points in the second half and Bell and Kevin Pangos were clutch in the closing minutes.
Gonzaga was in another battle two days later, but ninth-seeded Wichita State hit five 3-pointers in the final 6 minutes – including a dagger 3 by Fred VanVleet over David Stockton – to pull off a 76-70 upset. The Shockers reached the Final Four.
"It was silent (in the locker room)," said Pangos, who finished with 19 points. "We had goals of going deeper in the tournament. I didn't think this team would lose so early. Everyone was just in shock."
Gonzaga was No. 1 for two weeks. The AP doesn't issue a postseason poll. The Zags (32-3) finished No. 12 in the final USA Today rankings.
SECOND TIME AROUND
The path to No. 1 in 2017 opened up for Gonzaga after No. 1 Villanova and No. 2 Kansas dropped games in late January. The Zags moved to the top rung with a 22-0 record.
Gonzaga kept right on winning, beginning with a hard-fought 85-75 road win over BYU behind 33 points from Nigel Williams-Goss. Przemek Karnowski and Jonathan Williams combined for 36 points as GU handled Saint Mary's 74-64 with ESPN's GameDay crew on hand in Moraga, California.
The Zags posted three more blowouts. It looked like another was brewing when they built an early 18-2 lead, but visiting BYU rallied and Gonzaga sputtered in a rare close game. The Cougars ruined the Zags' Senior Night and bid at an unbeaten regular season with a 79-71 shocker.
"There were some breakdowns we had at the end," senior guard Jordan Mathews said. "We missed a box-out, we should have made our free throws. Those came back to bite us. The season's not over."
The Zags dropped to No. 4 in the next AP poll, but Mathews' comment proved prophetic. They cruised to the WCC Tournament title. The top-seeded Zags ripped off five NCAA Tournament wins, the fourth cementing the program's first trip to the Final Four. Their bid for a national title came up just short as North Carolina scored the last eight points for a 71-65 victory.
Local journalism is essential.
Give directly to The Spokesman-Review's Northwest Passages community forums series -- which helps to offset the costs of several reporter and editor positions at the newspaper -- by using the easy options below. Gifts processed in this system are not tax deductible, but are predominately used to help meet the local financial requirements needed to receive national matching-grant funds.
Follow along with the Zags
Subscribe to our Gonzaga Basketball newsletter to stay up with the latest news.
---