Sports
Grip on Sports: 'Follow the money' is not only a good tip for reporting but it also seems appropriate advice for college football's major conferences
Wed., Nov. 28, 2018, 8:45 a.m. A GRIP ON SPORTS • As a former editor, I would like to present an edited version of a saying everyone knows: Money is the root of all. The word evil is too limiting. After all, college football isn't inherently evil, money just makes it that way. But to be any good, money is needed as well. Read on.
••••••••••
• Why are we all uppity about money and college football today? The penultimate College Football Playoff rankings came out yesterday. The postseason at college football's highest level always gets us thinking about money because, at its roots, it is all about money.
And the CFP selection committee's decision, if it stands next week, which seems highly likely considering the games this week, would not only cost the Cougars a New Year's Six bowl – think Peach or Fiesta – but also cost the Pac-12 Conference some bucks as well.
And that seems to be an unspoken goal of everyone connected with college football these days.
(We interrupt this football rant to draw your attention to a story published yesterday by the Oregonian's John Canzano, the first of a four-part series on the Pac-12 Conference. It is about money. And the wasting of it. Now back to the playoff situation.)
The Cougars are slotted 13th in the latest rankings. They were eighth the week before. They lose a 28-15 in a snowstorm to the 11th-ranked team (this week) and drop six spots. More importantly, they drop below the cut-off line for consideration in the top tier (read: best payout) bowl games.
Let's look at the teams above the Cougars and see if this makes sense.
1. Alabama: OK, the top six teams, in order, the Crimson Tide (12-0), Clemson (12-0), Notre Dame (12-0), Georgia (11-1), Oklahoma (11-1) and Ohio State (11-1) all deserve their ranking, though Ohio State is probably the weakest of those six (which means the Buckeyes are right where they belong).
7. Michigan: Though the Wolverines (10-2) were blown out by Ohio State on Saturday, giving up 62 points in the process, they dropped just four spots in the rankings. Seems like it wasn't enough.
8. UCF: OK, the Knights are undefeated (12-0) but they did lose their best offensive player McKenzie Milton to a season-ending leg injury last week. They still should win the AAC title this week against Memphis (8-4) but aren't anywhere near the team they were before. Think Washington without Gardner Minshew or Washington without Jake Browning.
9. Florida: This is unexplainable – unless the explanation is "The SEC, you know?" The Gators have two bad losses, both at home: Kentucky and Missouri. The Wildcat loss is akin to Washington State's loss at USC, as both opponents were thought to be pretty good at the time but turned out to be overrated. And WSU lost on the road on a controversial finish. Florida got beat by double digits. And then Missouri, a middle-of-road FBS school this year, won by three touchdowns in Gainesville. Those losses should disqualifies Florida from any New Year's Six consideration. But, for some reason, they don't.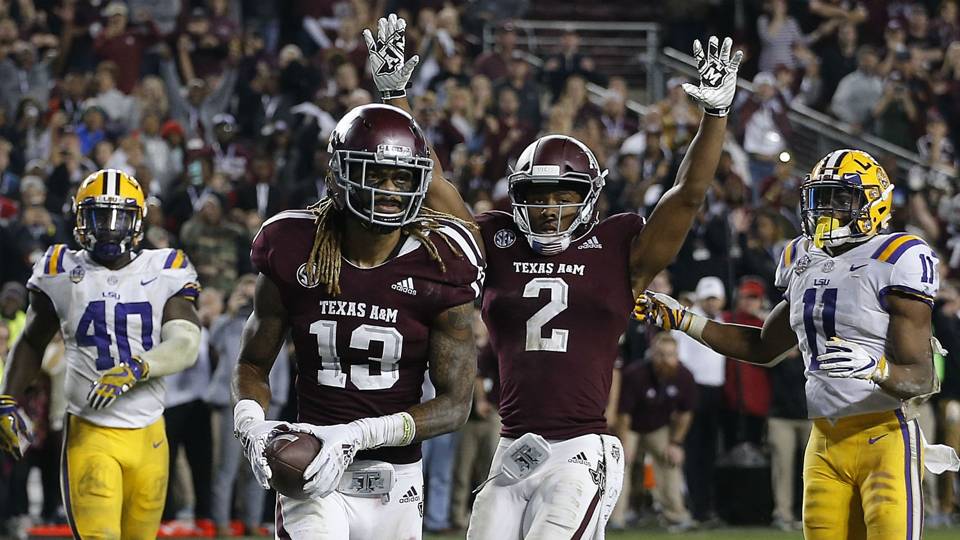 10. LSU: The Tigers have been an enigma this season. They lost at Florida. The barely edged Auburn. They defeated Georgia. They were shutout by Alabama at home. And they played the highest scoring game in years, losing in 118 overtimes at Texas A&M. Kind of a tough resume to decipher. But "The SEC, you know?"
11. Washington: The Huskies just won on Washington State's home field, which leads to this spot. It's the right thing to do. But if the Pac-12 season was flipped, and the resumes were put side-by-side, you could make an argument that WSU's overall resume should put it ahead. Recent performance is important, however, so this is the right call.
12: Penn State: I don't get this one at all. The Nittany Lions lost to both good teams they played: Ohio State and Michigan. Then throw in a loss to underwhelming Michigan State. The last one was at home as well. Their resume – two good losses and a bad home one (and don't try to mention Pitt; the Panthers were not that good) – doesn't stack up against Washington State's, unless you think the Pac-12 is just so bad that only the champion should be invited. Oh. I get it. If I were a betting man, I would put my money on that being the sole reason.
• If you are wondering why this is so long today, I wasn't picked for a trial yesterday and wasn't called back in today. So a day off from jury duty. Back to semi-normal around here. For a day at least.
•••
WSU: There was good news (on the basketball front and football front) and bad news (football) yesterday. The good news? The basketball team scored 100 points in a home win over Cal State Northridge. And the football team received a commitment from a highly sought-after running back. Theo has the latter story as well as one concerning Minshew and Andre Dillard, who have been invited to the Senior Bowl. … The bad news? The CFP rankings, which we covered above. … Theo also has his power rankings, which isn't in either category.
Elsewhere in the Pac-12, it was a bleak day for the conference office. Another one, actually. Canzano has another story, this one on the replay situation and how it may not have changed much since the USC fiasco. That's Woodie Dixon's picture if you are wondering. And Jon Wilner relays the news of AT&T dropping the Pac-12 Networks as well as the bowl hits due to WSU dropping to 13th in the CFP rankings. … Before we get to football, it was also a bad week for Pac-12 basketball, with Oregon's home loss to Texas Southern still reverberating. … Back to football, not only are Washington and Utah preparing for Friday's Pac-12 title game in the Bay Area, California and Stanford are getting ready for the Big Game the next day just down the road. Got to believe that will cut into the championship game attendance at least a little. … USC didn't get rid of Clay Helton, but he is cleaning house. … UCLA is a year into its rebuild. … Here is another power ranking.
Gonzaga: Jim Meehan has a replay of the North Dakota State win, which was, bottom line, a rout. … He also chats with Larry Weir for the latest edition of the Press Box pod. … The women host Colorado State tonight in the Kennel. There will be a person related to me by marriage in attendance.
EWU: The Eagles, who were hit pretty hard by injuries in their season finale at Portland State, will meet Nicholls State on Saturday in the FCS playoffs. Ryan Collingwood has a first look at their second-round opponent. … The basketball team was knocked back early by Washington and never recovered, losing 83-59. … Around the Big Sky, UC Davis prepares for a visit from Northern Iowa. The winner faces the Eastern/Nicholls winner. … In basketball, Weber State and Montana State won easily last night while Idaho State lost to Pepperdine on Monday.
Idaho: The Vandals needed a replacement game when one of their opponents dropped basketball recently. They found it. But it wasn't much of a challenge. Peter Harriman covered last night's easy home win.
Whitworth: The Pirates had one of their best football seasons ever. If not their best. As Dan Thompson relates, they hope to build upon it.
Preps: And so it begins. There was prep basketball last night. All over. We have roundups of the action from GSL girls, GSL boys, area girls and area boys.
Seahawks: Though there are the usual injuries, it looks as if the Hawks will get a key component back this week. Just like they did last week. … Even their shoes make a statement. … A rookie has an interesting way to train.
•••
• I specifically wrote "semi-normal around here" earlier. It is never normal in the Grippi household, no matter what day it is. Until later …
Subscribe to the sports newsletter
Get the day's top sports headlines and breaking news delivered to your inbox by subscribing here.
You have been successfully subscribed!
There was a problem subscribing you to the newsletter. Double check your email and try again, or email
webteam@spokesman.com
---