News > Spokane
Union Tavern opens on East Sprague in old palmistry building
Wed., Nov. 28, 2018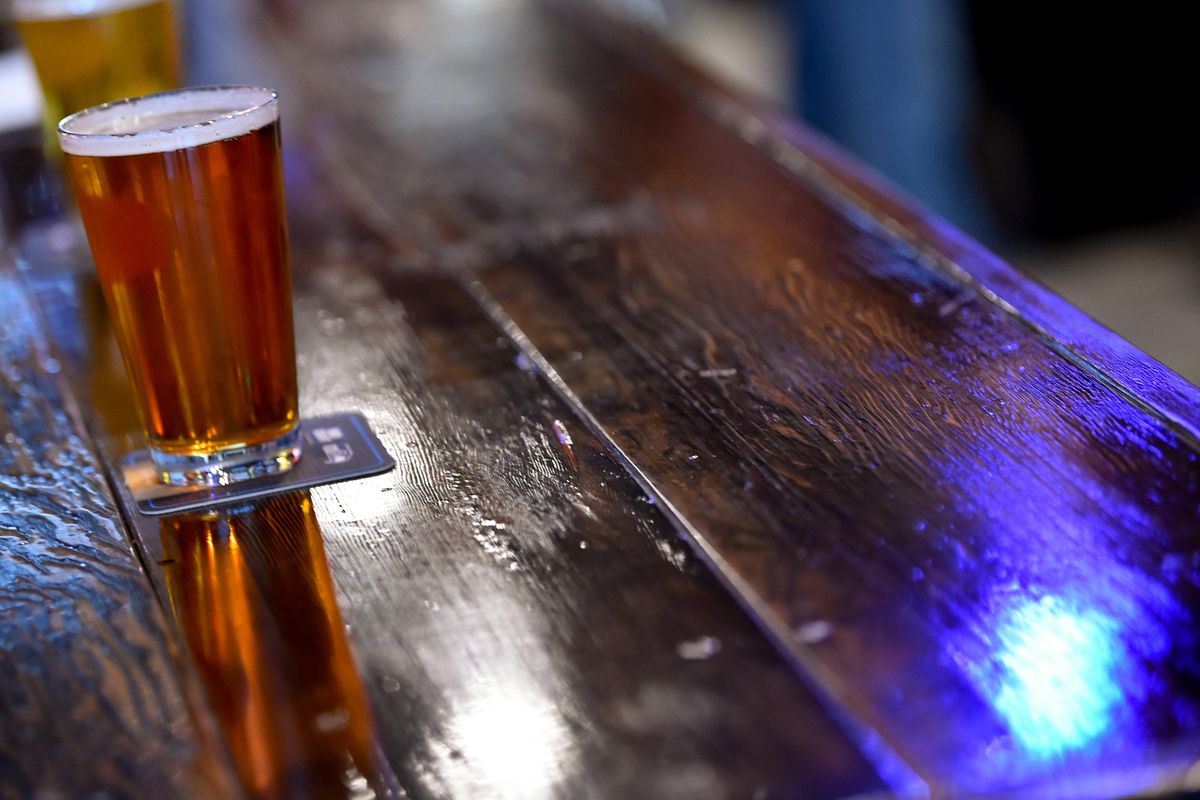 The Union Tavern, located in the 111-year-old "palmistry" building, features hardwood from the old GU Kennel, or the Charlotte Y. Martin Centre, seen on Tuesday, Nov. 27, 2018, at 1914 E. Sprague Ave in Spokane, Wash. (Tyler Tjomsland / The Spokesman-Review)Buy a print of this photo
Palms were read there. Hair was cut there. Radios were rented there. Now, the 111-year-old "palmistry" building on East Sprague Avenue is slinging microbrews and fish and chips.
Longtime Spokane restaurant and bar owner Dale Kleist opened the Union Tavern this week at 1914 E. Sprague Ave.. He's moved the palmistry signs inside for display, salvaged a back bar from Montana and reused some old wooden bleacher seats from Gonzaga University's old "Kennel" – the Charlotte Y. Martin Centre that was home to the men's and women's basketball teams until 2004.
"We're going for the old-new look," he said, adding that he's also been buying up vintage beer signs on eBay. "Lucky, Oly, Miller, some old Budweiser ones, some real miscellaneous stuff. The majority of them are 1960s."
Like his decor, Kleist is not new to the dining business, even if his new venture is mere days old.
He owned Fast Eddie's bar downtown for 25 years, until he sold it in 2011. In 2010, he and Mark Starr, owner of David's Pizza, opened Famous Ed's restaurant near 57th Avenue and Regal Street on the South Hill, which was closed last year when Rock City Grill moved into the space and purchased kitchen equipment and furniture from Kleist and Starr.
All those years have led to a pretty focused menu, Kleist said. The one-page menu features his previous ventures' "greatest hits." There's the fish and chips and dip sandwich from Famous Ed's, as well as burgers and salads. All ages are allowed in the tavern.
On weekends, a simple breakfast will be available.
"Nothing too elaborate," he said. "Just what good old mom made."
The full bar serves hard alcohol, microbrews and domestic beer. On tap, Kleist said, he'll have selections from local breweries like No-Li Brewhouse and River City Brewing, as well as some locally made hard cider.
Inside, beside the vintage beer and palmistry signs, patrons will see a lot of exposed brick and a stylish wooden back bar salvaged from the defunct Club 93 Casino and Lounge in Hamilton, Montana. The club, which began as a country-western nightclub called The Brass Rail, was a landmark log structure made of wood harvested from the Bitterroot Mountains.
The back bar's story is almost as good as the building's, which has housed many businesses over the decades, including Pete Seeberger's barbershop and one of the city's first radio rental services, Fidelity Radio Co. More recently, it was occupied by a member of the Marks family – a prominent Roma family in Spokane – with promises to tell someone's past or future by reading the lines of their hand.
It sat vacant for years until this January, when Kleist purchased it for $150,000 from Dan and Brenda Overhauser, who own a number of buildings in Spokane's East Central neighborhood. They had bought the building, which was built in 1907, from the Marks family in 2015 for $25,000, according to county property data.
Following the purchase, Kleist had to do some demolition and expand the building by 1,000 square feet to add a kitchen in the back.
Kleist said it was the city's $4.3 million rehabilitation of the street completed last year that persuaded him to open a business in a part of town dismissed for decades as dangerous and unwelcoming.
"The city just did all that work out there, so that was appealing," he said. "Bennidito's is right across the street and they've done a good job."
He noted the price of the building was also a factor. "It was what I could afford," he said.
Kleist's venture is just the latest in a series of building renovations that have followed the city's work. Across the street from Kleist, the Quality Garage building underwent significant renovation in the past year and recently was placed on the Spokane Register of Historic Places. Next door to Kleist, Christopher Morlan Architects moved in following major rehabilitation to the building.
Though Kleist has a bright outlook for the future of East Sprague, he had a few suggestions on how to improve it.
"What we need is more down here. I think we need one or two more restaurants," he said. "And they need to slow down the traffic. They keep trying to compare it to the Perry District, but it's not the Perry District. Speed limit there is 20 mph. Trucks drive down here at 40 mph. They need to discourage this as a secondary highway."
Local journalism is essential.
Give directly to The Spokesman-Review's Northwest Passages community forums series -- which helps to offset the costs of several reporter and editor positions at the newspaper -- by using the easy options below. Gifts processed in this system are not tax deductible, but are predominately used to help meet the local financial requirements needed to receive national matching-grant funds.
Subscribe now to get breaking news alerts in your email inbox
Get breaking news delivered to your inbox as it happens.
---