Sports > Gonzaga women
Zykera Rice collects double-double, Gonzaga women slow down Colorado State
Nov. 28, 2018 Updated Wed., Nov. 28, 2018 at 9:37 p.m.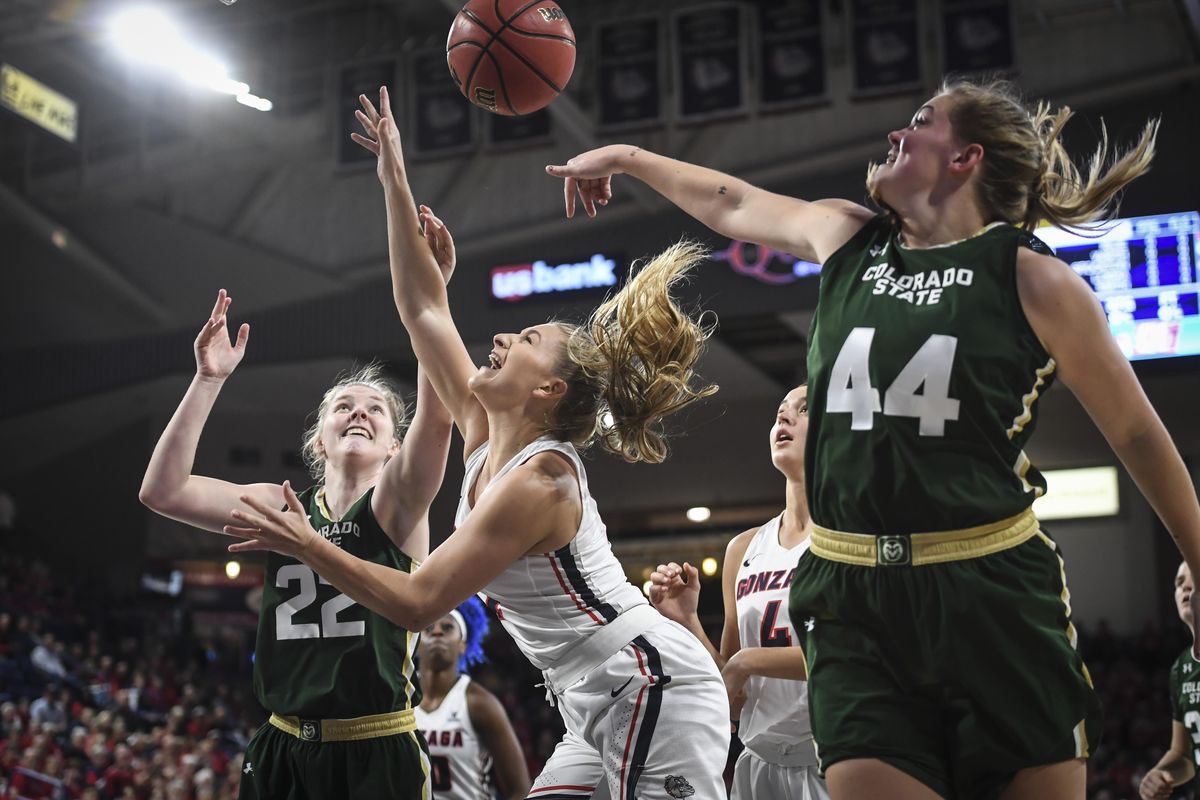 Gonzaga guard Laura Stockton is fouled by Colorado State forward Tatum Neubert (44) as Lauren Brocke (22) also defends, Nov. 28, 2018, in the McCarthey Athletic Center. (Dan Pelle / The Spokesman-Review)
The rims must have looked small or maybe the ball felt heavier, for the Gonzaga women and Colorado State couldn't get in an offensive groove Wednesday night.
It may have been their lowest scoring game of the young season, but the Zags did just enough to win, defeating the Rams 50-39 in nonconference play to move to 7-1 on the season.
"It's a grind," GU coach Lisa Fortier said. "They played us 40 minutes of pack-it-in-defense and it gets at you. Overall, we were able to do it and come out ahead, so that's a very big positive and I'm happy. We always say kick their butts by one is our goal and we did that today. Zags win, it's all good."
Colorado State handed GU one of its rare losses last season, topping the Zags 65-49 in Fort Collins, Colorado.
GU finished the night shooting 31 percent from the field and 27 percent from beyond the arc.
Zykera Rice led the way for the Zags, scoring 12 points and grabbing 11 rebounds for her second double-double of the season. She also had two assists and two blocks. Laura Stockton added eight points, three rebounds, three assists and two steals.
The start of the second quarter saw the Zags begin to pull away from the Rams (2-3). What began as a three-point lead grew to seven on a Rice jumper. The lead soon reached 13 after another jumper by Rice and Katie Campbell's third 3-pointer of the game.
Gonzaga managed to increase its lead despite some sloppy play – making lazy turnovers off bounce passes and getting tangled in CSU's zone defense. The Zags committed 14 turnovers. Colorado State converted those 14 miscues into nine points.
GU held a 33-24 lead at halftime, but there was plenty of room for improvement. At the break, the Zags were shooting 41 percent from the field on 13-of-32 shooting, and 33 percent from beyond the 3-point arc.
The Rams didn't do much better on the offensive end, shooting 42 percent from the field.
"It happens. It happens to individuals and teams sometimes," Fortier said "There are other ways to get going. You are creating offense off of your defense with a few layups, interior passing to the inside players, getting yourself to the free-throw line, offensive rebounding. There are a lot of things we can do. We have good shooters on this team, but that's not our identity and it's not going to be."
The Zags quickly extended their lead, outscoring the Rams 12-3 to take a 45-27 lead into the fourth quarter. The Rams made just 1 of 13 shots from the field in the period.
The Zags' defensive presence was strong all night. In addition to holding the Rams to 31 percent from the field, the Bulldogs held CSU's leading scorers Lore Devos and Mollie Mounsey, to 17 and eight points, respectively. The Rams committed 17 turnovers, which GU converted into 17 points. The Zags also limited the Rams to 24 points the final three quarters, something Fortier attributed to putting a cap on Devos' scoring.
"We really locked in on defense," Rice said. "They had a couple plays where they are able to isolate us and go straight to the basket and we talked about that not being something they should be able to do. So we came out and made sure that defense was one of our main focuses."
An example: After a GU turnover with 4 minutes remaining in the game, Melody Kempton chased down Liah Davis to prevent a breakaway basket.
Next, the Zags play No. 8 Stanford at McCarthey Athletic Center on Sunday at 2 p.m.
Local journalism is essential.
Give directly to The Spokesman-Review's Northwest Passages community forums series -- which helps to offset the costs of several reporter and editor positions at the newspaper -- by using the easy options below. Gifts processed in this system are not tax deductible, but are predominately used to help meet the local financial requirements needed to receive national matching-grant funds.
Subscribe to the sports newsletter
Get the day's top sports headlines and breaking news delivered to your inbox by subscribing here.
---