News > Spokane
Deaf and hard-of-hearing children speak to Santa thanks to local program
Nov. 29, 2018 Updated Sat., Dec. 1, 2018 at 4:36 p.m.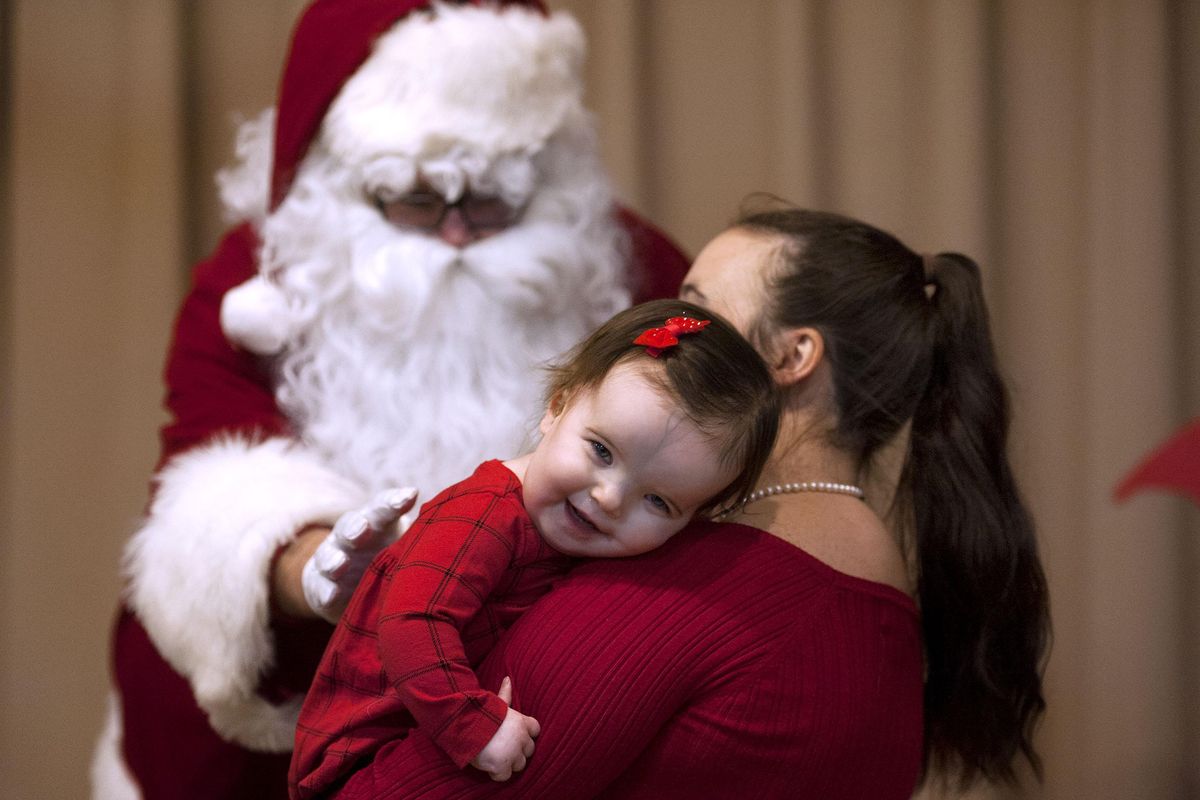 Naomi Porter, 15 months, holds onto her mother Shanna before visiting with Santa as part of Spokane HOPE's annual Ho Ho HOPE Santa Breakfast at Sinto Senior Center in Spokane on Saturday, Dec. 1, 2018. She has a rare genetic condition called osteopathia striata with cranial sclerosis syndrome. She receives services from Spokane Hearing Oral Program of Excellence (HOPE). They provide early intervention auditory and language therapy to children with hearing loss during the early years of rapid brain development. (Kathy Plonka / The Spokesman-Review)
Santa says that talking to the deaf and hard-of-hearing children who attend the Hearing Oral Program of Excellence (HOPE) School, a local nonprofit, is like talking to any other kid.
"It isn't different," he said, while standing in a room at the Sinto Senior Center filled with about 50 families, each with a heard-of hearing or deaf child. "They are incredible kids. They're learning everything."
Take Keely Nielson, age 4, who has bilateral cochlear implants. She was 4 months old when her parents discovered her hearing loss, but now, thanks to the implants behind her ear, she can hear every word her parents speak. All she wanted from Santa was to take a picture with him – and a Rapunzel doll.
Then there was Gabe Durbin, age 5, who was diagnosed with hearing loss at birth, but can now hear and speak full sentences. He's getting ready to transition to regular kindergarten thanks to the time he spent at HOPE. He came to ask Santa for a gingerbread house.
These kids, about 50 of whom showed up Saturday, have blossomed because of the HOPE School, said their parents and one of the school's teachers, Amy Hardie. Hardie taught all the hearing-impaired children present for Santa's appearance Saturday, she said.
"It's a wonderful opportunity for families to be together and talk about their kids' hearing loss," she said. "It's wonderful to see how successful the kids can become."
The HOPE School, founded in 2004, trains kids to deal with hearing loss by familiarizing them with technology like cochlear implants and hearing aids. The school offers in-home teaching, a parent and toddler program and a preschool program. The latter two programs let kids come to the classroom to interact with others, and the preschool program has standards equivalent to the state standards for kindergarten readiness.
Gabe's dad, Tyson Durbin, said that before the HOPE School, Gabe tried every therapy imaginable, but there was no progress. "The HOPE School was a night-and-day difference," he said. "He wasn't saying any words. Now he speaks in full sentences."
"The HOPE teachers teach children how to make sense of the new sounds," said Danette Driscoll, executive director. "If you never had heard a word before, how would you differentiate between words, or a bell ringing, or a faucet running?"
Local journalism is essential.
Give directly to The Spokesman-Review's Northwest Passages community forums series -- which helps to offset the costs of several reporter and editor positions at the newspaper -- by using the easy options below. Gifts processed in this system are not tax deductible, but are predominately used to help meet the local financial requirements needed to receive national matching-grant funds.
Subscribe now to get breaking news alerts in your email inbox
Get breaking news delivered to your inbox as it happens.
---