Sports > High school sports
Gonzaga Prep senior Jacob Parola has learned to love defense
Thu., Nov. 29, 2018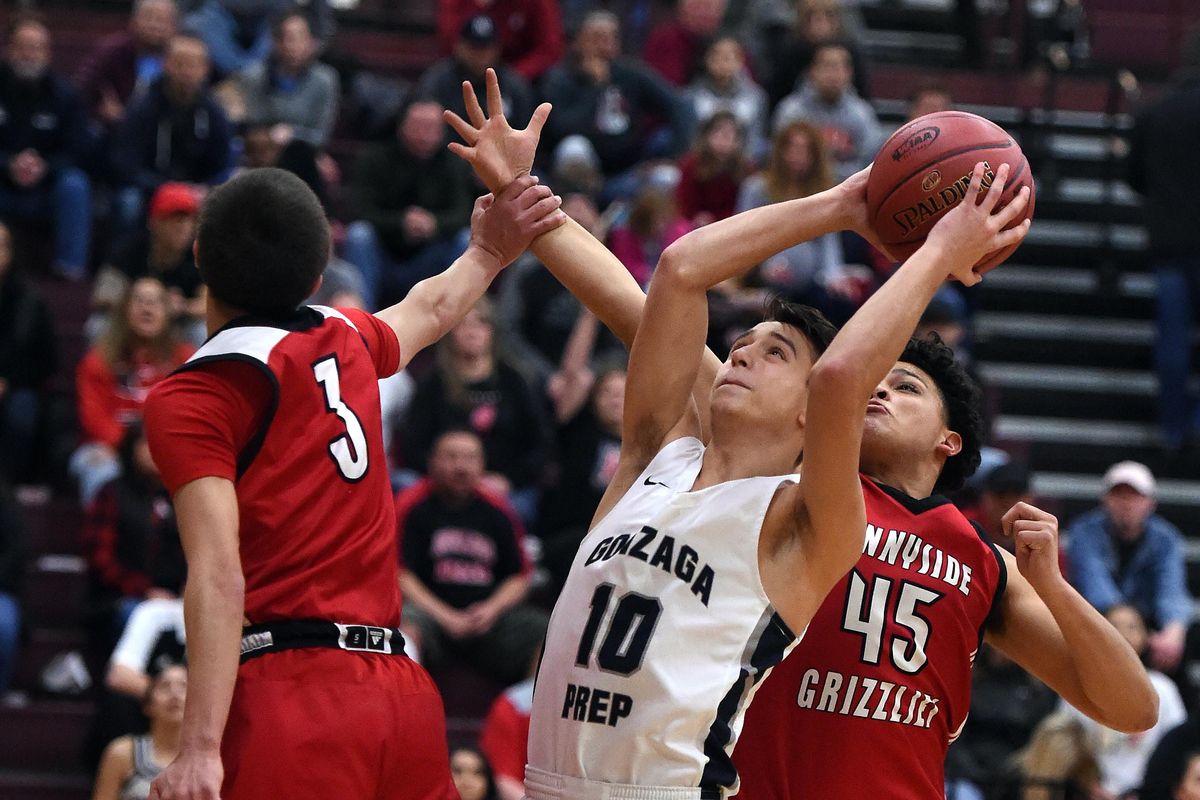 Gonzaga Prep's Jacob Parola (10) heads to the basket for a layup as Sunnyside's Art Salacious (3) and Ismael Zavala (45) defend during the first half of a WIAA 4A regional playoff basketball game, Friday, Feb. 23, 2018, at University High School. Parola has developed into a tough defensive player on the court. (Colin Mulvany / The Spokesman-Review)
The change happened for Jacob Parola early on.
The Gonzaga Prep senior point guard started out the way most players do – enamored of offensive prowess.
"The coach of my sixth-grade team saw that I had that fire in me, and he told me that I had what it takes to be a really good defensive player," he explained.
Coaches tell young players things like that all the time, but this coach had a cachet most can only dream about.
"My coach was John Stockton," he said.
And when John Stockton speaks, especially about basketball, people listen. Intently.
The seed that Stockton planted has been nurtured and grown.
"He's been a blessing in my life, for sure," Parola said.
As the Bullpups prepare to defend their 27-0 season and state Class 4A championship from a year ago, Parola is concentrating even more on his defense.
It's a necessity.
A running back and linebacker for the Gonzaga Prep football team, Parola suffered a shoulder injury that, while it didn't necessarily alter his game, it did change his approach.
"Right now, honestly, my shoulder is hurting pretty bad," he said. "I sprained my right shoulder and strained two ligaments. The last couple games of the football season I tried to hit using just my left shoulder so that I wouldn't damage it any further. I was a lot more tentative than I usually am."
It hurts. Especially when he shoots.
"I'm not going to come off the court, though," he said. "It's not a major problem. Once I get in the game and the adrenalin starts to flow, I tap into the energy that I have that wants to win. I can shrug it off. And I can't let my team down."
Boys basketball coach Matty McIntyre appreciates his point guard's toughness, although he admits that it was tough to watch the Bullpups football season and see his basketball players get banged up.
"These are tough kids," he said. "We want them to play football. As young men, this may be the only time in their life where they can play organized football like this."
The toughness and grit that Parola displayed through the football season is something the basketball coach saw early on.
"The way Jake played on the football field was special," he said. "He was injured most of the season but you couldn't get him off the field.
"Jacob is all smiles off the court. He's very coachable and he's pretty easygoing with a great demeanor. But when he competes, he just has a tenacity and a ferociousness. He competes bigger than his physical stature."
Those qualities rub off on those around him, the coach said.
"He's authentic; he's real," McIntyre said. "It's who he is, and it rubs off on kids."
Parola said he got a numbing injection prior to the state quarterfinal football game with Woodinville last weekend. And, he said, once he realized that his team wasn't going to win that game, he took himself out of the lineup.
"It was important for me to play that game," he said. "I know there were a lot of people out there who never thought we could get that far and I was glad I could help prove them wrong. I'm proud of what we accomplished.
"But I knew I just had to shut it down instead of risking getting hurt worse. I owed that to my basketball teammates."
Parola said he likes bringing the toughness it takes to excel at football onto the basketball court.
"I hate to admit it, but I like hitting people," he laughed. "I like playing a physical game. I'm not the biggest guy on the floor, but I like to think I can play bigger than I am by being physical."
"Jacob is not a stats guy," McIntyre said. "He doesn't need to get his name in the paper. He's much more interested in team success. He's a true old-school point guard that way. At the defensive end he's tenacious; on the offensive end he's more than capable.
"He put so much emphasis on defense. That's why he made the varsity when he was a sophomore."
A major part of what makes his defense works, Parola said, is having a 6-foot-7 stopper looming behind him.
"Having Anton Watson playing behind me is incredible," he said. "It amazes me to see how much he can get to on the court with his wingspan and watch the way opponents alter their shot when they go inside against him."
At the offensive end, he said, he concentrates on being a good distributor.
"The great thing about being on the court with a player like Anton is that I know there will be time when he will give the ball back to me," he said. "He's a great passer, and if you are open he will find you with the ball."
Local journalism is essential.
Give directly to The Spokesman-Review's Northwest Passages community forums series -- which helps to offset the costs of several reporter and editor positions at the newspaper -- by using the easy options below. Gifts processed in this system are not tax deductible, but are predominately used to help meet the local financial requirements needed to receive national matching-grant funds.
Subscribe to the sports newsletter
Get the day's top sports headlines and breaking news delivered to your inbox by subscribing here.
---