A&E > Books
Travel author Rick Steves shares love of adventure at Northwest Passages Book Club
Nov. 29, 2018 Updated Thu., Nov. 29, 2018 at 11:07 p.m.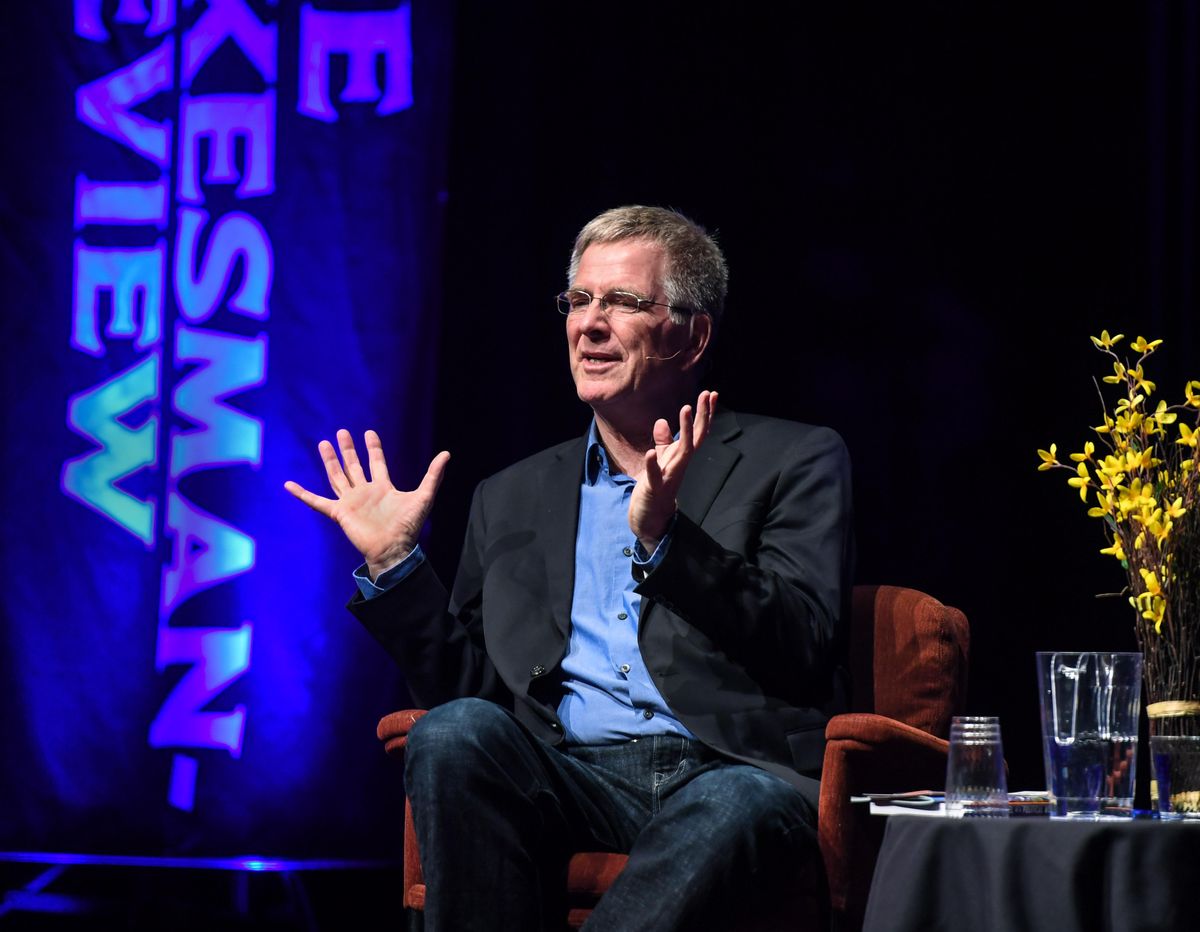 Travel author Rick Steves talks about traveling with his father in Germany at the Northwest Passages Book Club event, Thursday, Nov. 29, 2018, in the Bing Crosby Theater. (Dan Pelle / The Spokesman-Review)Buy a print of this photo
For travel author and television host Rick Steves, Europe is the "wading pool for world exploration."
"My mission is to inspire Americans to venture beyond Orlando," said Steves, speaking before hundreds of attendees at the Bing Crosby Theater Thursday evening.
Steves was the latest author to be featured by The Spokesman-Review's Northwest Passages Book Club. The Steves event was held in partnership with KSPS Public Television.
Steves is a leading authority on travel – and European travel in particular – with more than 50 published European guidebooks, a weekly National Public Radio show and PBS television series, "Rick Steves' Europe," which is carried by more than 300 stations.
Steves took his first trip to Europe in 1969 to visit piano factories with his father, a piano importer. He recalled one eye-opening experience in a Copenhagen train station during the trip that helped pave the way for his future career.
"I was seeing these kids a couple years older than me, with their rucksacks and their Eurail passes, and I remember exciting destinations clicking up on those old-fashioned readerboards – Berlin, Amsterdam, Stockholm – and I looked at them and they were free as the wind and Europe was their playground," he said. "I thought, 'I'm going to Europe every year from now on.' That was a beautiful moment."
Steves began traveling on his own at 18, financing his adventures by giving piano lessons. In 1976, Steves launched his business, Rick Steves' Europe, which has grown from a one-man operation to more than 100 employees. The company offers a European tour program and attracts more than 18,000 travelers annually.
Steves said he was inspired to become a travel writer while visiting Dartmoor in southwest England. Most tourists want to visit Stonehenge, he said, but he found his personal Stonehenge at a collection of stone circles.
"It was just me and the winds of the past all alone in this vast expanse, and I thought, 'Nobody knows about this place.' And it was all the magic I'd hoped for at Stonehenge," he said. "I remember I was writing that up and I thought, 'I could make it my work to find these kinds of places and then bring them home and share them with other Americans.' I decided right then I wanted to be a travel writer."
Steves self-published his first travel skills book, "Europe Through the Back Door," in 1980. In 2009, he penned "Travel as a Political Act," a collection of stories that illustrate how travel can broaden peoples' perspectives.
"Travel as a Political Act," which was recently updated for the third time this year, urges Americans to step out of their comfort zone and look beyond typical tourist attractions.
Steves said the book's updates reflect travel changes post-9/11 and touch on the evolving political climate in other countries, such as El Salvador.
"For me, this book is a work in progress and I love sharing it," he said. "I think it's more timely now than ever as our country becomes more ethnocentric."
Local journalism is essential.
Give directly to The Spokesman-Review's Northwest Passages community forums series -- which helps to offset the costs of several reporter and editor positions at the newspaper -- by using the easy options below. Gifts processed in this system are not tax deductible, but are predominately used to help meet the local financial requirements needed to receive national matching-grant funds.
Subscribe to the Spokane7 email newsletter
Get the day's top entertainment headlines delivered to your inbox every morning.
---